Artificial grass is growing in popularity, largely because it provides a high quality, low maintenance lawn that is compatible with pets and children, making it perfect for use at home. It can also be used in the office, in retail spaces and at corporate events and exhibitions, too. More and more people are deciding that the upfront cost of artificial grass is worth it for all the resulting benefits, but how much does an artificial lawn cost to buy and install?
So, How Much Does Artificial Lawn Cost?
There are many types of artificial grass available with a range of costs; but regardless of which option you choose, it is important to make an informed decision before committing to the change. We've broken down all the costs involved in buying and installing artificial lawns into the following sections:
Artificial grass costs
Artificial grass installation costs
Artificial grass maintenance costs
Broadly speaking, the cost of buying and installing artificial grass for your lawn is approximately £45-60 per m2 including VAT, but this heavily depends on the type of lawn you choose. For example, a 30m2 lawn installation of artificial grass would cost in between £1,500 - £1,800, largely depending on access to the area, the current substrate and the amount of waste you would get from the artificial grass, but if you choose a more premium option, this can drastically change.
As a rule of thumb, you get a better price per square metre for larger artificial grass installations, but for very small gardens, the installation cost has a minimum of about £800.
Read on to discover how the prices are broken down and where you might be able to save a little bit of money on your total artificial turf cost.
Artificial Grass Cost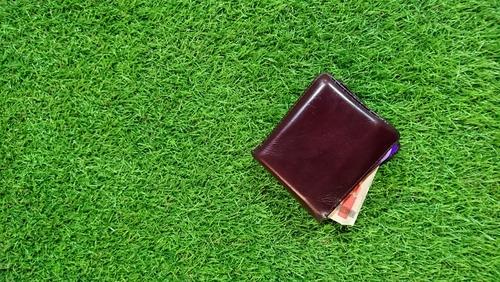 It probably doesn't need any explanation that the first cost associated with an artificial lawn is that of the grass itself. Artificial grass comes in a range of qualities and therefore at a range of price points. We offer a number of types of artificial grass, ranging from budget to luxury options.
Do you know what's more expensive than expensive artificial grass? Cheap artificial grass.
We always advise people against opting for the cheapest artificial grass option. Whilst a more costly grass might appear more expensive in the short term, it will need much less maintenance and will last considerably longer, therefore costing you less over time. Never sacrifice quality in order to save a few pounds.
All that being said, you're probably wondering 'how much is artificial grass?'
Here's an idea of artificial turf costs. This gives an overview of what you can expect to spend on artificial turf. We've included a few examples of the artificial grasses in our range. If you'd like to see the whole range click here.
| | | |
| --- | --- | --- |
| Artificial Grass | Description | Cost* |
| Luxury Lawn | A top of the range, 40mm mixed pile that is one of the most realistic lawns on the market. Four different colours are interwoven into the grass results in a true to life finish. | £25.95 |
| Landscape Lawn | A mid-range option, this is an aesthetically pleasing grass. The 30mm two-tone pile has a natural and real feel to it. | £22.95 |
| Easy Lawn | The lowest costing lawn in our range, the 25mm shorter pile features a three-tone colour mix for a quality yet affordable option. | £15.95 |
*(inc VAT) per square metre
Artificial grass Installation Cost
There are a number of costs involved in the installation of artificial grass, and whilst it is possible to handle the installation yourself (we've even put together an Installation Project Guide for you), we find people get better results when they hire installation experts, particularly when it comes to getting the perfect level, cutting-in and joining.
To keep the numbers simple, we've based the following costs on a 30m2 garden. This is similar to the average garden size we carry out installations for.
Preparing Your Lawn and Subbase
There are a few costs that will be involved, regardless of whether you install the lawn yourself or hire experts.
If you choose to install your own lawn, skip hire will most likely be necessary as the turf from the existing lawn needs to be removed and disposed of professionally and responsibly. Skip hire will cost approximately £200-£250 for a small skip. If you use our professional installation service, you need not hire a skip because our team will take your old turf away in their vans and we will dispose of it responsibly.
Once the grass is removed you then need a suitable subbase. We use a crushed granite aggregate. The thickness varies depending on the drainage of your garden, but we recommend at least 25mm which equates to about £180 (1.5 ton for a 30m2 area).
The Cost of Installation
We recommend using a specialist installer to ensure a level lawn with a high-quality finish.
For jobs up to 40m2, you can expect to be charged one day's labour to complete the project, which typically works out about the same price as the grass. In this case, the labour would be around £600. You can save this cost by installing the grass yourself; however, if you do you should expect the project to take a couple of days to complete. You might want to rent some tools to make the process simpler and relieve some of the manual labour.
The (Essential) Extras For Artificial Lawns
They don't cost very much, but whether you're installing your lawn yourself or not, you're going to have to pay for some essential extras.
Jointing tape – you will need enough tape to span the length of the join and we sell it by the metre, so please consider how many joins you will be needing to make before ordering.
Cost - £0.90 (inc VAT)
Jointing adhesive - each tube covers 3 linear metres of artificial grass, so please consider this when ordering your new lawn.
Cost - £6.00 (inc VAT)
Geotextile Weed Membrane – this is an excellent underlayer addition to help control weed growth and we would certainly recommend it. Available in 4m width, please order the length accordingly if required.
Cost - £0.90 (inc VAT) per square metre
You will also need to order kiln dried sand for infilling your new lawn. You can buy a 20kg bag for approximately £5. We recommend using about 5kg of sand per 1m2 of grass although this can vary depending on the grass product.
Artificial Grass and Lawn Installation - Total Cost
The total cost of preparing the lawn, purchasing quality artificial turf and installing it in a 30m2 garden would be between £1,500 - £1,800 depending on the access to the area and what the area is currently (natural grass, concrete etc). This normally equates to roughly £45 - £60 per m2 including VAT.
Depending on how you choose to install your artificial lawn, here's a breakdown of estimated costs and quantities, for a 30m2 lawn:
| | |
| --- | --- |
| Activity | Cost |
| Skip Hire (Small 4 yard skip) | £220 |
| Crushed Granite aggregate (1.5 ton) | £180 |
| Labour | £600 |
| Artificial Grass (30m2 at £22.95 per m2, assuming a 4x6m squarish shape with no waste and no joins) | £689 |
| Extras (30m2 geotextile and 8 bags of kiln-dried sand) | £67 |
| Total | £1,756 |
Artificial Grass Maintenance Cost
In short, there are no artificial grass maintenance costs. You don't need to mow the lawn; in fact, all that's required is the odd brush down and an occasional wash. Over the years you might need to top up the sand and re-brush it in, but the costs will be negligible, and the leftovers from your 20kg bag will last you a good few years.
Is Artificial Grass Worth The Initial Cost?
Installing an artificial lawn comes with an upfront cost, but there are many benefits that come with having a fake lawn:
Less time spent maintaining the garden
A healthy, luscious lawn all year round
Money saved on water bills by eliminating the need to water the garden
A safer place for children to play sport
A more pet-friendly option
A practical way to prevent children from bringing grass and mud into the house
Artificial grass is often much more affordable than people expect. Please give our team a call on 01474 364320 with any questions you might have and we will do everything we can to help.
We offer artificial grass and an installation service. Get a full quote for your installation here.
Looking for help installing? Request a quote below.