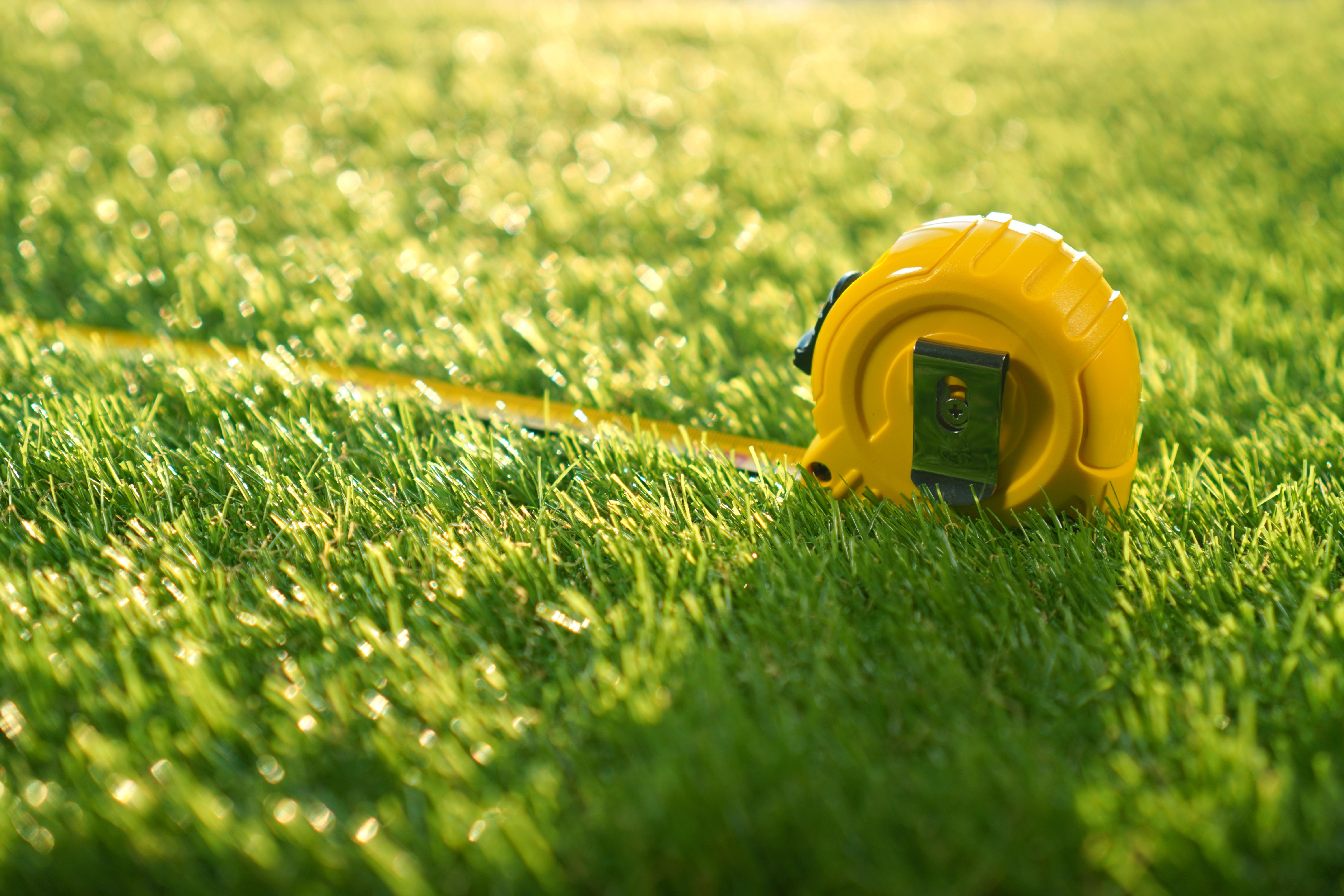 Thinking of taking the plunge and installing artificial grass in your garden? If so, you'll probably be wondering how much it is going to cost you. The price of an artificial lawn will depend largely on how much turf you need, but determining the amount you will require to cover your garden can seem daunting.
If you are within our installation catchment area, we will assess your garden prior to installation in order to generate an accurate quote for you and to see how much work needs to be done. This will also entail our professional team measuring your lawn for you.
Many of our customers live outside our catchment area and so undertake the installation themselves. In this case, we've put together this easy guide on calculating how much synthetic lawn you will need to order and what you can expect to pay, even if you are within our local area. So, if you're wondering 'how much turf do I need?' question it no more.
How Artificial Grass is Measured
Fake grass is essentially an outdoor carpet. It Is measured in m² just like indoor carpet is, so it's a good idea to approach measuring your garden for an artificial lawn in the same way you would approach measuring a room for a new carpet.
Our lawns are supplied in 25m long rolls and either 2m or 4m widths. You will need to decide the most efficient way to measure your lawn based on the roll sizes. This will minimise joins and make the installation process easier.
As artificial lawn is measured in m², it is also priced per m². We have various types of lawns in our range, with some more budget-friendly and others more premium. This means the price of your lawn will depend on the type you choose, but all are measured the same way.
Measuring Square and Rectangular Lawns
Once you've chosen your desired lawn and understand how artificial lawn is measured, you can begin to measure your garden. In order to calculate how much turf you need, you will need to take into consideration the shape of the area you want to cover with artificial grass. The easiest calculation will be for square or rectangular lawns.
To find out how many m² you need, measure the length and the width of your lawn in metres. When you have these dimensions, multiply them. For example, if you a 5m (w) x 5m (l) garden, you would need 25m² of artificial lawn to cover the area.
For a rectangular lawn that is 3m (w) x 5m (l), you will need 15m² of artificial turf. Keep in mind of course that either the width or length will need to be rounded up to the nearest 2m or 4m length and there will be some waste from the grass. So, although the area is 15m2, a single 4 x 5m piece would be required (20m2).
Calculating Artificial Turf for Circular Gardens
A lot of people like to have a section of their garden with an artificial lawn and border it with plants, decking, gravel or other materials. This creates a lovely, landscaped look and is a popular choice, but knowing how to calculate how much turf you need for an area that isn't a basic square or rectangle can appear somewhat tricky. The good news is, it's actually easier than you think.
First, measure the width of the circle/oval area, and then measure the length – both in metres. Like with rectangular lawns, multiply these two dimensions together. For example, if you have a 3m (w) and 3m (l) circular area, you will need 9m² of lawn.
With circular lawns, you will be supplied with a square or rectangular piece of lawn that you will need to cut to shape (if you are installing it yourself). For those in our installation catchment area, we will cut the lawn to shape for you.
Angled Lawn Calculations
For those with angled lawns, you will need to approach the project exactly the same way as with rectangular or square lawns. Measure the widest part of the area in metres, and then measure the longest part in metres. For example, you might have a 4m (w) part at the base and a 6m (l) part on the longest side. Even if your lawn tapers off to less than 1m (w) at the top and 3m (l) on the shortest side, you will need to base your calculations on the longest and widest sections. So, a 4m (w) x 6m (l) lawn will require 24m² of lawn, even though some of that will be wastage when it's cut to shape.
Calculating How Much Lawn is Needed for an L-Shaped Garden
We commonly lay lawn in L-shaped gardens which means we need to join multiple pieces together. If you have an L-shaped lawn, it's easy to calculate how much you need, even though the longest part and the widest part will be two different pieces.
First, split the L-shape up into two parts that separate at the right angle. You should end up with two rectangular pieces, and you will need to calculate these individually. For example, the longest part of the L (section one) might be 3m (w) x 6m (l). The second part of the L (section two) might be 2m (w) x 3m (l). This means you will need 18m² of artificial grass for section one, and 6m² for section two. Once you have these two measurements, add them together to determine how much you need overall. In the example case, you will need 24m² in total.
Double Check Your Measurements
Once you have a basic idea of how many m² of lawn you need, make sure you measure the entire thing again, and then once more to be sure. The last thing you want is to have miscalculated and pay for a lot of wastage or, even worse, not having enough lawn and having to piece together various offcuts or make another order. Our team also triple check measurements when completing an installation.
When you are completing a measurement, make sure to have someone hold the other end of the tape measure or weigh it down to ensure it doesn't move.
If you're completing the installation yourself, you can use our project planner and our DIY installation guide for reference. If you're really struggling trying to figure out how much grass you need, please send us a diagram of the area with measurements and we can calculate it for you!
Get Your Artificial Lawn
Once you have an idea of how much lawn you need, you can request a quote online that is inclusive of installation. Alternatively, you can place your order on our website or call us to talk through your options and ask us any questions you may have. Simply contact us and we'll be happy to talk through the next steps with you.