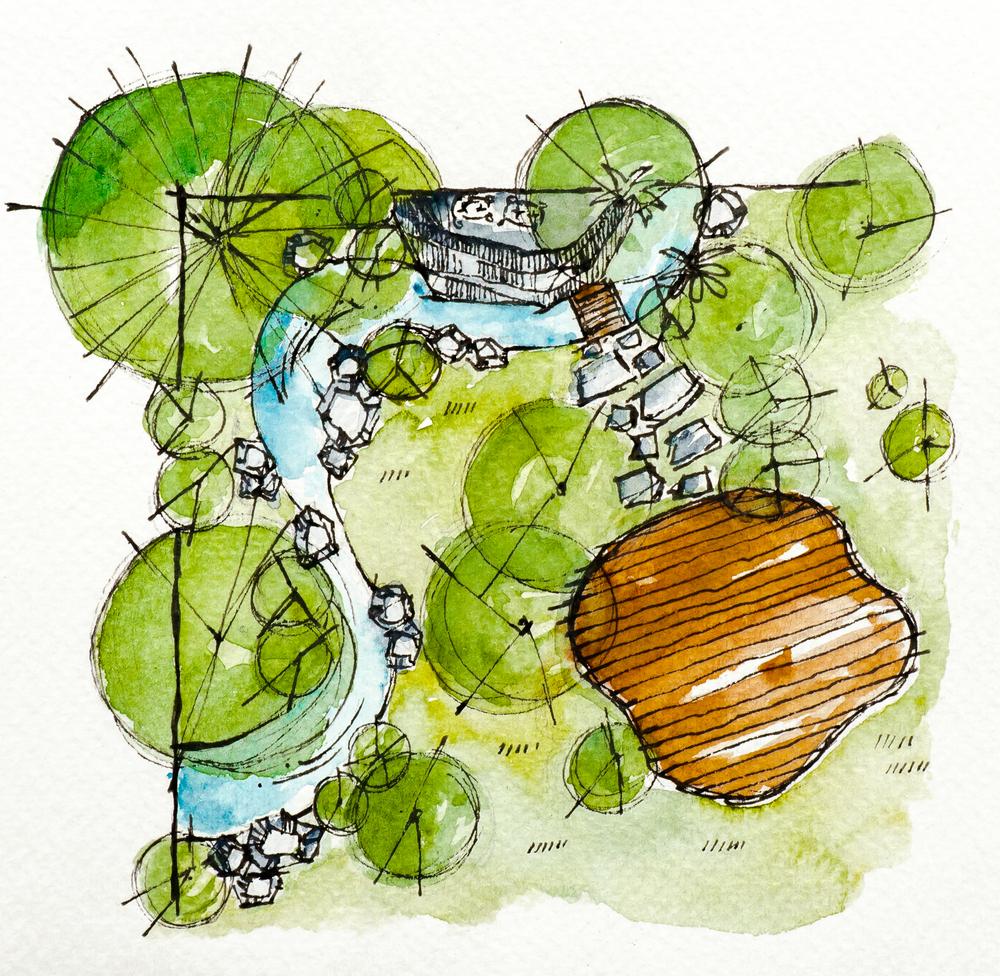 Here at Artificial Lawn Company, we speak to customers looking to design their dream garden every day. People come to us at various stages of their design and planning process; some are at the very start of forming their design while others are at a more advanced stage and are ready to begin the installation process.
Designing a Garden Plan
You should take your time when designing your dream garden, especially if it involves ripping up what is already in your outdoor space and starting from a blank canvas. Depending on the amount of space that you have at your disposal, you will want to think about exactly what features you want in your garden and whether you will have sufficient space for it all without cramming too much in.
Before anything else, however, you should set yourself a budget and stick to it. If you have an idea for what you want your garden to consist of, this can help you to come up with a loose figure that you can work towards. Without a budget, the risks are that you will easily run up costs which you cannot realistically afford and, by the time you realise, it may be too late.
When you have your budget and you know what features you would like in your garden, the next step is to measure your space and draw out your plan. This should be to scale and should be created by someone with design skills, either by physically drawing the plan out or through computer-aided design (CAD).
Ask an Expert
When it comes to designing your garden, especially if you may not naturally think of yourself as the green-fingered type, you should seek the opinion of someone who knows what they are talking about. Depending on the environment, such as average temperatures and expected rainfall, not all features and/or shrubbery might be recommended.
For example, plants found mostly in tropical lands might look beautiful and create an exotic feel in your garden, but can you actually expect your plant life to thrive and survive in colder conditions? The answer is probably not, as beautiful as a palm tree would look in the middle of London.
Seeking out a professional opinion will help you on your way to creating your dream garden design, tailored to suit your home, personal preferences, climate and environment.
Practicality and Maintenance in Your Dream Garden
As you design your new garden, as well as an attractive appearance, you also want to consider its practicality and maintenance requirements. After all, there isn't any point in spending thousands revitalising your garden space if it's not practical for you to sit outside and enjoy it. Neither do you want to create a garden that requires more maintenance than you are either willing or able to give it.
Gardens can require a lot of time to keep in order, with blossoms requiring the correct amount of sunlight and nutrition, grass needing to be cut and other features needing to be kept treated and clean. The dream garden is one that you can enjoy at any point of the year, not reserved exclusively for the bright sunshine of summer.
It is for this precise reason why the Artificial Lawn Company team has played such a vital role in the design and installation of many a customer's dream garden. Rather than sticking with real grass that requires numerous cuts in the summer, only for it to become patchy and ugly in the colder months, homeowners are making the move over to synthetics that look good all-year-round without the need for a lawnmower or watering.
As well as the maintenance side of things, in many ways, opting for an artificial grass lawn is more practical in the long run. Most notably, this is because if you wish to install a garden feature that takes prominence in your outdoor space (such as a pond, fountain or gazebo) then it may not actually be that practical to have real grass in your garden. Navigating around large or tightly clustered garden features with a lawnmower can be quite difficult, after all.
When and How Do I Design My Garden?
You can design your garden at any point of the year, taking as long as you like to get all the finer details correct. Many keen gardeners have been sitting on an idea for years, waiting for the opportune moment to put those plans into action, either as they save up for the required finances or look for the time to be able to get their hands dirty out in the garden.
Here at Artificial Lawn Company, we are always on hand to lend our advice when it comes to selecting and installing new synthetic grass surfaces. If you already have a detailed plan in place, complete with measurements, that will help to accelerate the buying process as you will already have a good idea as to the amount of artificial grass you require, the cuttings and, crucially, how big a budget you have for the project.
For more information on our range of artificial grasses or to speak to a member of our team about your garden plans and how we could be of assistance, please do not hesitate to give us a call on 01474 364320. Alternatively, you can send us through a message via the contact page and we will look to get back to you as soon as we can.