Laying a new artificial lawn is a step-by-step process with multiple essential aspects but before you can get started with the details, it's important to prepare the space first. Part of this preparation involves removing the grass or turf that is already present in the space you are going to adapt or upgrade.
Sadly, it's not as simple as just cutting an edge and then pulling the turf up. Removing grass from a working area can be quite an intensive job and as part of our Artificial Lawn Company installation service, we usually recommend that you let us handle the removal for you. Boasting over 20 years of experience in the supply and installation of artificial grass across London and the Home Counties, our expert team have laid countless lawns in thousands of different settings, so we're well practised in getting your grass removed quickly and efficiently.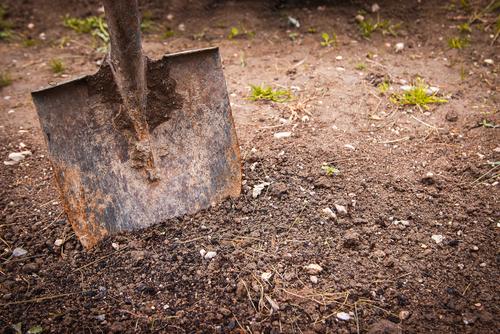 However, if you're still curious about the techniques available, here is a brief guide on how to remove turf. Pick the one that best suits your needs and time frame or contact our team and we'll gladly talk to you about your upcoming project. Note that regardless of what technique you opt for, you should water the grass one to three days beforehand to ensure it is soft and moist during removal which will make the whole process much easier.
Manual Digging (Recommended)
Depending on the size of the space that you are looking to cover in artificial grass, we usually recommend manually digging up your lawn. The best way to dig up grass for your garden can vary depending on the area you have to cover and the number of individuals working at the same time. In most cases, a simple digging technique can take only a few hours to completely remove any surface grass, though it's hard manual work. By far the easiest way to remove the turf and how our professional teams do it is using a turf cutting machine. These machines remove the top layer of soil in strips, making it very easy to roll up and remove; they can be hired but it would only really be worth it for a larger area!
The best way to lift turf manually is with a spade, cutting small squares into the grass and pulling them out. Usually, we aim for approximately 2 x 10 x 10-inch holes which are just deep enough to remove the majority of the roots and can be achieved quickly. The deeper you dig, the more subbase you will need later in the artificial grass laying process and the more effort it will take to remove the squares of turf, so try to be conservative.
Particularly for larger spaces, make sure to bring a wheelbarrow to transport the squares of turf too; otherwise, just when you think you're finished, you'll have to lug the grass cuts all at once. However you choose to approach the digging process, the more people on hand to help, the better.
Tilling
If you're wondering how to get rid of turf and soil, tillers are brilliant for churning up the earth and, as a result, removing any surface grass in preparation for artificial lawn installation. As the tiller does most of the work, this process is a lot less labour intensive but comes with major drawbacks, which is why we wouldn't recommend it fully.
The main issue with tilling is that it leaves weed and grass seeds within the ground, instead of removing them altogether. Even with a layer of granite dust or sand and artificial turf on top, these seeds can still gain access to the water and minerals required for initial germination. At Artificial Lawn Company, we install all of our artificial grass with weed-resistant underlays that prevent seedlings from penetrating your artificial lawn, but it still helps to remove the threat from the outset.
The other issue is that you will need a better-than-average, intensive tiller to shift solid, established turf. These machines are both expensive and difficult to transport, though you can rent them if necessary. This can also uncompact the lawn area so it will need thorough compaction before laying the lawn back on top for a long-lasting and even finish. Regardless, if you opt for tilling, ensure that your new lawn has a weed-resistant membrane installed, too, as a prevention method for future seedling germination.
Solarisation
Solarisation, though less commonly chosen by those pondering how to remove turf, can be very effective if you have lots of time to work with. The process of solarisation involves using the sun's rays to kill off the turf and any weeds present, therefore preparing it for a layer of artificial grass. Usually, this can be achieved in around six to eight weeks and involves cutting the grass very short before covering it with a transparent sheet of plastic.
The major drawback of this approach, other than the timescale, is that it is heavily dependent on the weather. Without regular sunlight, solarisation will take even longer to be successful or may not be entirely successful at all. Additionally, the plastic sheet is bad for the environment and will look ugly whilst in place, rendering the area completely unusable. If you are not rushed for time and want to do as little manual labour as possible this could be a viable method.
Smothering
This is similar to solarisation but instead of killing the grass via the sun's rays, the turf is denied sunlight instead. In the same way as before, the grass should be covered for six to eight weeks with a light-excluding, safe product – be it tarpaulin, plastic or cloth. What's essential is that the material is completely opaque and does not allow any sunlight to pass through it.
The temperatures underneath the cover end up increasing drastically whilst the grass is simultaneously denied water and sunlight, ultimately leading to death. After removing the sheet, the ground underneath is then ready for artificial lawn installation. Again, if you are not rushed for time and want to do as little manual labour as possible this could be another viable method.
These four techniques are not the only methods that can be used to remove turf and soil in preparation for artificial lawn installation, but they are the most common and effective. For almost all gardens and spaces the digging out of the turf is highly recommended. Our team at Artificial Lawn Company specialise in fast, effective and bespoke artificial grass installation that is catered to your needs and your schedule, causing as little disruption as possible.
If you are looking to install a new artificial lawn and want a professional approach that will leave you with a high-quality, long-lasting solution, get in touch with us today on 01474 364320 and walk us through your project.