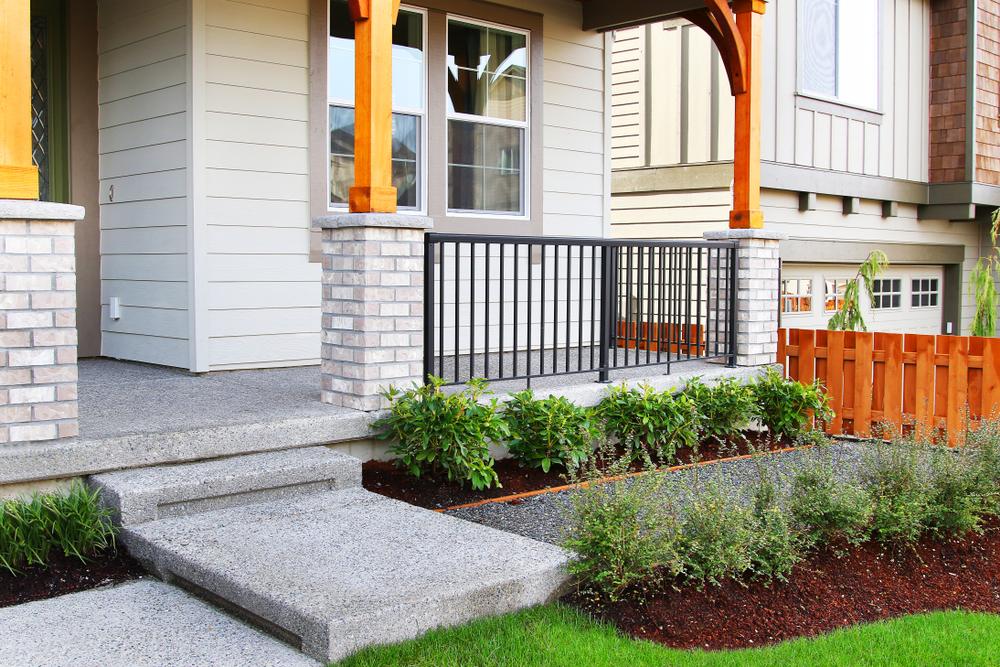 As the customers of Artificial Lawn Company will already know, you can install artificial grass pretty much anywhere and everywhere. Around the country, our products have been used to brighten up gardens, courtyards, balconies, playgrounds and even exhibition stands – but have you ever considered what an artificial lawn can do to transform your driveway?
If the answer is no, then you are in the majority. However, that doesn't mean that your driveway cannot benefit from a touch of greenery that requires little to no maintenance whatsoever. While we wouldn't recommend parking your car on a synthetic surface, you can still utilise artificial grass around the area of the driveway where your car will be parked.
Marking Your Parking Spot
When you have decided to introduce artificial grass into your driveway, the first thing that you should do is mark out the spot in which you park your car, motorbike or vehicle, as well as any other areas that are likely to see traffic. With a clear indication of where your vehicle is likely to move on, you can turn your attention to more decorative matters.
What we would recommend for the best divider between parking spot and artificial grass in your driveway is a suitable edging system. Not only will this clearly outline the space for your car from your front garden space, but it will help to anchor in your synthetic turf.
In this instance, patio or block paving will be a good choice of edging system, as the sub-base can be retained without the need for a raised edge that you would commonly find in a back garden. The surface can be fixed into place using either 6-inch steels pins or create a lip around the edge of the artificial grass before being fixed with self-adhesive glue.
Better for the Environment
We understand that when the idea of using artificial grass as part of your driveway first popped into your head it probably wasn't to lower your carbon footprint, but it would. Why? Because artificial grass reduces surface water run-off, which can lead to potentially harmful toxins getting into the water system.
Water and other liquids have only a limited chance of becoming absorbed and drain through to the ground. So, for example, any oil that you might spill when topping up your car is far more likely to be washed away by rain, finding its way into local watercourses and treatment plants, requiring the use of extra energy to remove the toxins.
With the presence of artificial grass, complete with a permeable sub-base, any water or other liquid substance that hits the surface will be absorbed and drain through to the ground. We certainly believe this to be much better for our environment than simply allowing harmful chemicals to drain into the shared water system.
Low Maintenance, Long Lasting Driveway
Much of the attraction for homeowners to invest in artificial grass is because of the considerable lack of maintenance that is required compared to the real thing. It is why the Artificial Lawn Company team have been called in to renovate hundreds of back gardens over the years, with homeowners refusing to settle for blocks of patio as their outdoor space's one and only feature.
The driveway shouldn't be any different, although it is commonplace to find houses with driveways made up of only a patio or pure concrete floor. If you don't want to go through the trouble of running the lawnmower up and down the garden during the warmer months, you certainly don't want to have to drag it round to the front of the property to mow a small space of grass. Even with all of that care, the grass will only turn to mud and look far from its best in the colder months (of which there are plenty in the UK) – and additionally, any messiness or ugliness will be difficult to disguise simply because the driveway sits at the front of the home.
Utilising artificial grass to create a driveway and front garden that grabs the attention of passersby is simple and will look great both at Christmas and at the height of summer.
Professionally Installed Artificial Grass Driveway
For the best results, we highly recommend calling on the Artificial Lawn Company's installation team to come out to your London or southeastern property to ensure that your synthetic turf is properly installed. Our team will work with you to arrange a time and date where we can install the artificial grass quickly and efficiently for you, leaving your space clean, tidy and ready to use.
Simply take the measurements of the space where you are looking to lay artificial grass and get in touch with a member of our team with the details. We also actively encourage our customers to complete their own installation with top fitting advice on hand. Additionally, we can also offer samples of the various types of synthetic turf that we offer, helping you to make an informed decision as to which artificial grass surface will suit your project.
For more information on how Artificial Lawn Company can transform your driveway and the products that we have in stock, please feel free to get in touch with a member of our team today.