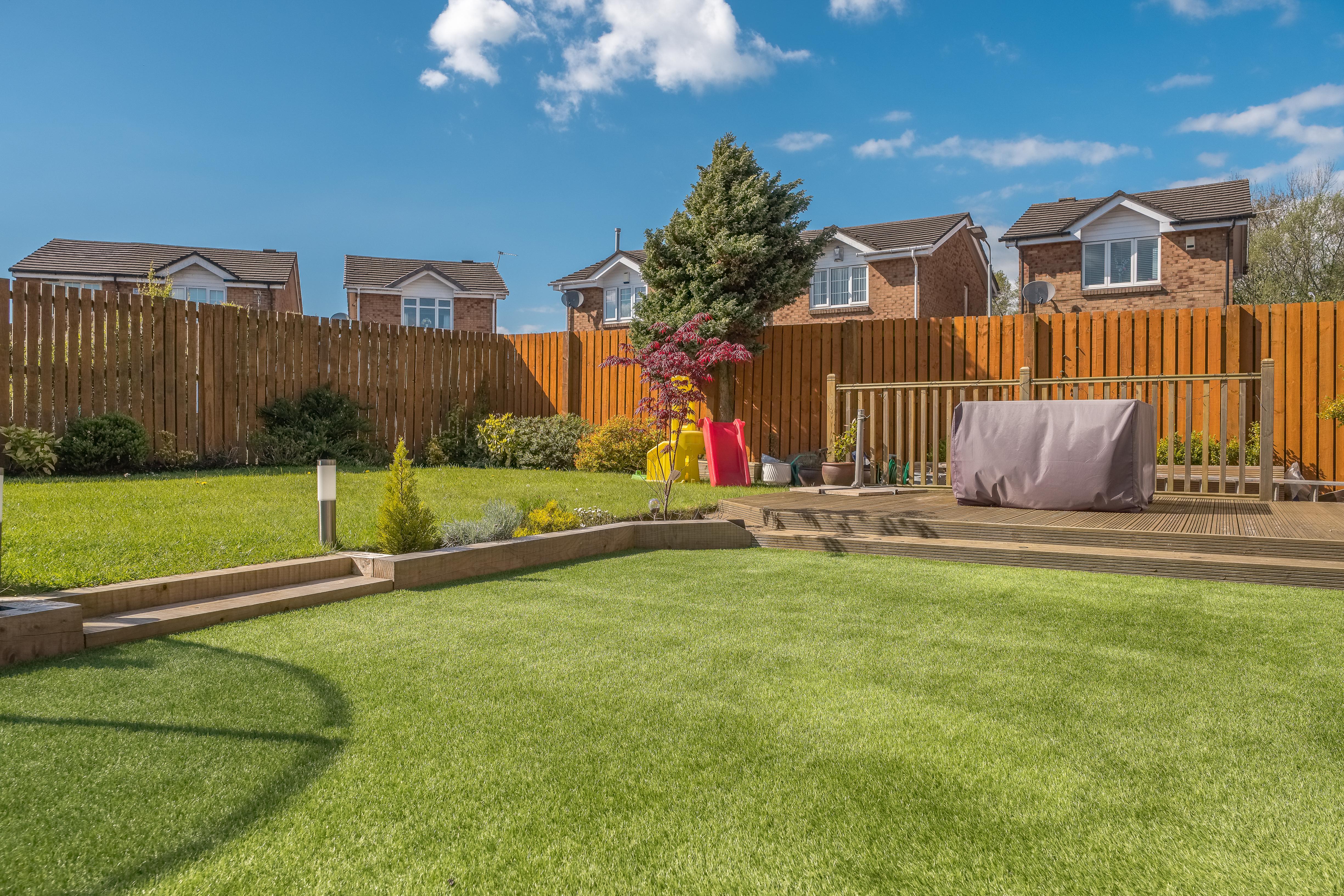 Love them or hate them, new build houses are increasing in prevalence within the UK. According to the government, in the year ending in June 2019, more than 170,000 brand new houses were built. It's no secret that new build homes are much needed to solve the housing crisis; plus, they're arguably the most affordable option for first-time buyers.
New build homes have many perks aside from their price, including the fact they tend to be finished to a high, contemporary standard – mostly. Whilst the interior of new build houses is admirable, the gardens attached to them are more often than not lacklustre, and that's putting it nicely.
If you've recently moved into a new build house and are looking for ways to bring the outside up to par with the inside, here are some new build garden ideas for you to draw inspiration from.
Family Garden Ideas
Many homeowners mould their gardens around their children and turn them into safe-havens free of any potential dangers like water features and heavy decorative rocks. If you're looking to do the same, the good news is, it's not too tricky.
Installing artificial grass is a good place to start since it's soft and easy to maintain. New build gardens might struggle with growing grass because the soil is often in a sorry state, with rubble commonplace in the soil which hinders the growth. To combat this and make your garden useable quickly, artificial grass is a worthwhile investment.
You can frame the garden with planters to add some flowery life that won't get trampled on or uprooted by tiny hands. This will beautifully frame the lawn and add some biodiversity which is great for children. In the summer, you can turn your garden into a waterpark by adding a paddling pool onto the turf without risk of it killing the grass.
Paired with a table and chairs and some string lights on the fence, you can turn your dull new build garden into a family-friendly haven in next to no time.
Easy Maintenance Garden Ideas
Not everyone is green-thumbed, but that doesn't mean your garden needs to lack in personality as a result. Fake grass is perfect for those who don't have the time to maintain a garden, and pairing it with a focal patio area is a great way to add some dimension that doesn't require any further effort.
Whether it's the first quarter of your garden or a corner in the back, laying down some paving slabs and putting some extravagant seating on top will instantly draw the eye and give you the means to enjoy all your garden has to offer in summer. You can frame the lawn with shrubbery or climbing plants. They require little maintenance but will add some much-needed life to your garden and transform it from a green box into something more special.
This is a simple solution for renovating your garden, but one that will make it perfect for entertaining guests and soaking up the sun.
Grassless Garden Ideas
Not every homeowner has a want or a need for grass, but that doesn't mean they're automatically resigned to a grey concrete slab. As mentioned previously, paving can add dimension and depth, especially if it's staggered into different heights. Creating raised areas that house different items, including furniture, outdoor cooking stations and vegetable planters, can instantly transform your garden into an entirely new space. With the help of some solar lighting, your paved garden will come to life and feel more homely, especially if you add feature candle holders and soft furnishings.
If you don't like the idea of a paved garden, gravel or decorative stones can be equally as inviting. By digging out a curved border around the perimeter of your garden and planting some wildflowers and bushes, you can encourage insects and birds to visit your garden, but in more moderation as opposed to having a lawn.
Water Garden Ideas
There are few sounds as relaxing as running water which explains why so many opt to have ponds or water features in their gardens. Many people assume that ponds need to be large which can turn many new build home buyers off because newer gardens tend to be relatively small, but this needn't be the case. The beauty of digging your pond lies in the fact you can make it as small or as large as you like, as well as any size. You can have a small, central circular pond, or you could have a long and narrow pond that runs the length or width of your garden. You could even replace a plant border with a pond border. The possibilities really are endless.
If pond maintenance and taking care of fish is too much for you, water fountains are a great alternative. You can have a spherical water feature or a sculptural one – whatever takes your fancy and suits your style! Whatever you choose, you'll get to enjoy the serene sounds of flowing water within the confines of your garden.
Get in

Touch
New build gardens are a blank canvas bursting with possibilities, and these are just a few different ways for you to transform your garden into a lively and welcoming space. If you think artificial lawn is what your new garden needs, contact us and we'll be happy to advise you with regards to a quote and installation.