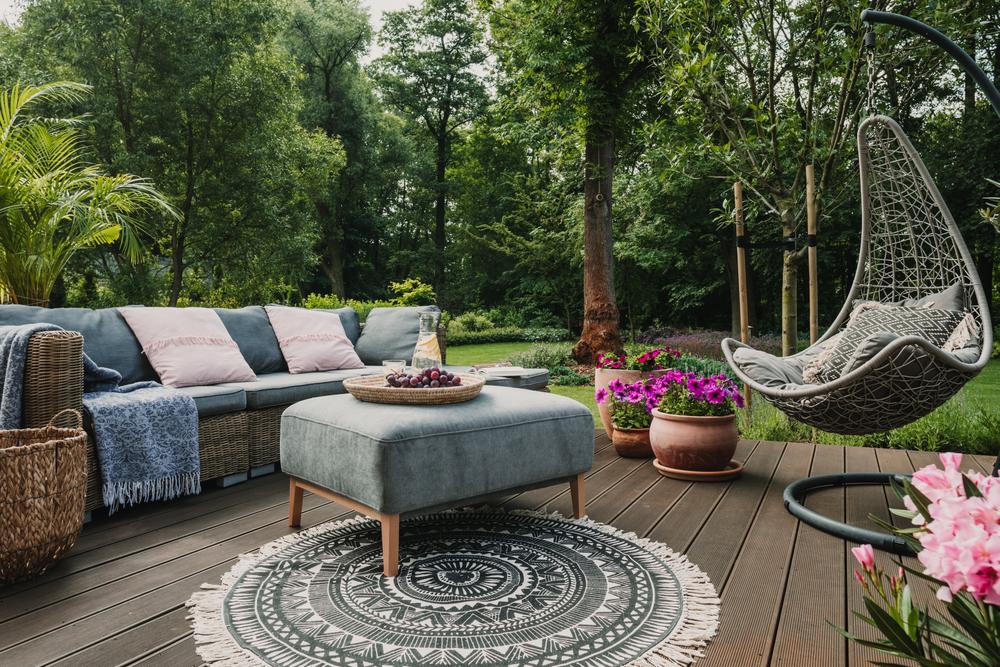 Furniture in your garden can really transform the space, creating a cosy outdoor sanctuary. Despite this, plenty of patio furniture sets can seem too mainstream and boring. Therefore, when looking to furnish your garden, you may opt for something on the quirky and creative side. This is a great way to express an exuberant personality whilst also ensuring that your garden stands out from the crowd.
Gone are the days of asking "can you put furniture on artificial grass?" Instead, you should be asking "can you put artificial grass on furniture?" Well, the answer is yes! Fake grass furniture is on the rise as an eccentric and innovative garden accessory. Outdoor artificial grass is no longer solely used as a flooring solution; it can be used for all manner of products and purposes.
With this in mind, what sort of quirky garden furniture can be made using our artificial grass?
Garden Sofa's/Chairs
One of the most common furniture solutions when it comes to artificial grass is seating. Sofas and armchairs are a great addition to any garden since they're almost solely responsible for a relaxing atmosphere. Despite this, standard garden furniture can often be uncomfortable due to the materials that are used. First and foremost, outdoor furniture must be durable since it must be able to withstand all weather conditions. As a result, the comfort factor can often take a hit, whether you're sticking to the chair in summer or sliding off it in winter.
However, seating made from artificial grass is both comfortable and practical and varying weather conditions shouldn't affect the chair's comfort. Additionally, you'll feel at one with nature as you sit amongst a grass imitation, contributing to your garden's serenity.
Coffee Tables
Standard outdoor tables are prone to excessive wear, from fading to staining; however, if you furnish your garden with a seating area, a table is essential. When it comes to creating an atmosphere of socialisation or relaxation, you simply can't go without a table, but the proper care of said table can seem like a lot of effort for somewhat little gain.
An artificial grass table is an ideal alternative. The durable fibres mean that the table's surface will be able to withstand a lot of weight without flattening the turf.
Loungers
Loungers are great additions for that cosy space of relaxation, allowing you to sit upright or recline all the way back. Loungers can often be rather uncomfortable when they're crafted from solely wood or a metal frame with a fabric covering. Therefore, you should be on the hunt for a lounger with ample padding to cushion your body whilst you relax.
Artificial grass loungers are the perfect example of a lounger with padding. Our artificial grass solutions each have several layers, creating a bouncy and cushiony surface. One of the common fake grass myths is that it's formed from scratchy fibres that would be uncomfortable for seating. However, our grass will not result in discomfort when covering a chair or lounger.
Outdoor Pouffes
A pouffe is a great addition to any room, acting as both a footstool and an extra seat. Despite this, you may not have considered a pouffe for your garden. There's no reason why a pouffe can't be an element of your garden furniture set. You don't have to sacrifice style and comfort just because you're sitting outdoors.
The durability of artificial lawn perfectly lends itself towards a pouffe acting as a footstool because it's designed to not incur damage from dirt. In order to keep your pouffe clean, you'll simply have to rinse and sweep it clean with a brush. Consequently, it won't end up discoloured or faded.
Outdoor Cushions
Throw cushions are important staples of indoor sofas, so why aren't they as vital to an outdoor sofa? You can make throw cushions appropriate for an outdoor setting by using artificial lawn as the cover. Therefore, you won't have to worry about constant washing when it comes to unexpected rain or dirt. Instead, these cushions will be resistant to such problems, alleviating worry and ensuring that your outdoor furniture is equipped to tackle anything.
Outdoor Rugs
Finally, you might consider an outdoor rug made from artificial grass. Whether this acts as a doormat in front of your exterior doors to collect dirt or sits in the centre of your patio, it's a great way to utilise synthetic grass. It's particularly useful on a patio for families with rambunctious children who need a cushioned space to play. This will put plenty of parents' minds at ease when letting their kids outside, as they won't be as concerned about bumps and falls.
Decorate Your Garden with Artificial Lawn Company
If the above ideas have inspired you to renovate your garden furniture, please contact us. A member of our friendly team will be happy to walk you through our product range and explain how to request a sample pack.