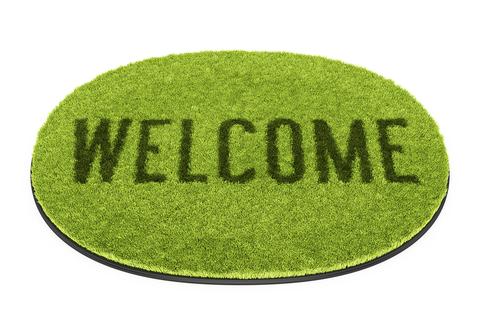 So, you've finished installing your artificial lawn, and you're more than pleased with the results! Your garden looks as pristine as ever, and you're all ready to invite neighbours, friends and family over for your annual summer BBQ.

But wait! What are you going to do with all those fake grass offcuts? Instead of simply throwing them away, why not try your hand at a little creative DIY?

To see what we mean, keep reading, as we take you through just three ways you can use scraps of artificial grass.

Welcome Mats

Whether we like to admit it or not, we all love unique welcome mats, and what better way to incorporate your fake grass offcuts than by crafting your own! Not only is it aesthetically appealing, not to mention perfect for showing off your eccentric side, but it is practical too. You see, any dirt or dust that collects can be easily washed away using a garden hose, leaving you with a mat in perfect condition, every time.

Tea Coasters

If you chose one of our short blade turfs instead, your scraps could be used to make tea coasters; yes, that's right! Thanks to the trimmed appearance, your cuppa is sure to perch nicely on a nature-inspired coaster. Just don't forget to make a couple for your guests too!

Shoe Cupboard Surface

Are you fed up of getting your beautiful, wooden shoe cupboard covered in mud every time the kids come in from a runaround? Why not line your cupboard with artificial grass. As mentioned, any dirt can be washed away with ease, and it's just the thing to keep shoes safe and sound after a long day. Alternatively, you can place a patch of fake grass near the front door for everyone to wipe their shoes on before placing them in the cupboard.

As it is built for wear and tear resistance, artificial turf really is the best option here.

So, with these three ideas in mind, how will you use your fake grass offcuts?