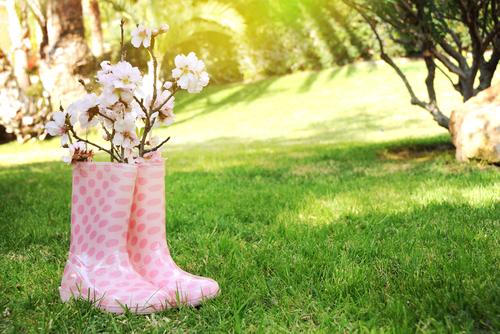 The sun is shining and spring is in the air - it's a beautiful day! So how are you going to spend your day? Getting out and about in your garden, of course!
Now that spring is here, it's the perfect time to head outdoors and start work on your garden again. After the long winter months, your garden will probably be looking a little worse for wear. Real grass, artificial grass, flowers, plants and garden decorations - however you want your garden to look, now is the perfect time to get it looking perfect ready for the summer ahead.
If you need some inspiration, here are three of our favourite ways to update your garden this spring.
Install Artificial Grass
Fed up of your lawn looking patchy, yellowed or muddy? Dreaming of a luscious green lawn? Make your dream a reality and invest in artificial grass for your garden. Synthetic grass looks great all year round, so you never need to worry about your lawn getting too dry in the summer or too muddy and boggy during the winter.
With limited maintenance required, artificial grass also frees up your gardening time to allow you to focus on other areas of your garden. Say goodbye to the time-consuming chores of mowing, edging and weeding once and for all!
Show Off your Garden
If you have put a lot of work into your garden, it makes sense that you will want to show all your hard work off to as many people as possible. Luckily, summer is the perfect time for garden parties and relaxed get-togethers with friends and family. Make sure your garden is summer ready by investing in staples like garden furniture, outdoor lighting for those long summer evenings, and, of course, a barbeque!
Add a Splash of Colour
During the winter months, the chances are that your garden will have been looking quite dull and uninspiring. However, spring is all about revitalising your garden, so inject some colour back into your garden's look. Go for a good mix of bright flowers and plants in borders or hanging baskets, or if you aren't particularly green-fingered, opt for some colourful garden decorations or fun ornaments to bring some personality back into your garden.
Of course, the best thing about updating the look of your garden is the fact that you can unleash your imagination and design your garden exactly to your own specifications. This spring, don't be afraid to get creative with your garden!