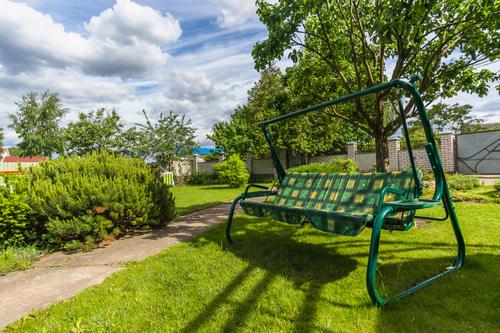 After the long winter months, often your garden can end up looking a little neglected or outdated. This calls for one thing - a change! While a complete garden overhaul each year may not be either practical or cost-efficient, making smaller changes on an annual basis can be a great way to revamp the look and feel of the space without breaking the bank.
While your synthetic grass is guaranteed to be looking its best all year round, can the same be said for the rest of your garden? Tired garden furniture or poorly-maintained flowerbeds can lead to an atmosphere of disarray - which is the last thing that you want as the summer season finally arrives.
If your garden is in urgent need of a quick spruce up, one of the best ways to get it looking great again is through the use of your garden furniture. A clever use of garden furniture, incorporating stylish yet functional seating arrangements, really can work wonders when it comes to improving the look of your garden.
If it is an innovative, creative and original approach that you want to go for, here are five unique garden seating ideas to get you started.
Chair Swing
A chair swing offers a fun and whimsical alternative to a traditional outdoor sofa or patio set. It's also great for the whole family - the kids will love swinging in the sun!
Hammock
Bring a taste of the Caribbean to your garden and pick a hammock for a truly relaxing experience. If you do decide to invest in a hammock, make sure to safely and securely attach both ends to something sturdy to avoid any accidents.
Planter Bench on Synthetic Grass
The green-fingered gardeners may like this option of incorporating either end of your bench into small planters. Wooden or stone benches are particularly good for this, and the planter bench is also perfect for saving space in a smaller garden.
Built-in
Looking for a traditional country garden feel, or hoping to create a secluded space to enjoy? A built-in seating area, in a wall, fence or another aspect of your garden, can be a great way to make full use of your garden.
Repurpose and Recycle
The vintage feel can be a great way to add a touch of charm and intrigue to your garden. Recycle some old furniture and give it a new lease of life, upcycling something old into something new. Alternatively, why not repurpose a vintage piece and get creative to adapt it to the space you have available?
Feeling inspired? Combine your brand new garden furniture with synthetic grass to really boost the look and feel of your garden. Why not request a free sample today to find your perfect match?