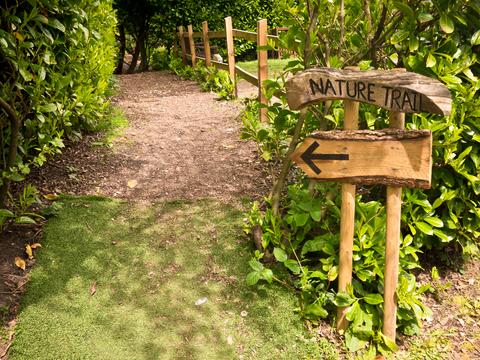 With spring in full swing, the seasonal bloom beckons us outdoors, to soak in the natural beauty and the first sign of sun peeking from behind the clouds.

Some of us may prefer to lounge in the garden, but others love to embark on nature trails to truly experience all the wonderful things spring brings.

Walking through a field meant for nature trails can be a bit of a disappointment though, especially when the grass appears beaten with mud patches that have dried in the spring sun, and flowers attempting to push their way past the soon-to-be overgrown weeds.

Unfortunately, this can ruin our spring bliss, and in some cases, may even confine us to our back gardens to enjoy the sun and bloom.

On the flip side, if your land is currently open for people to enjoy these trails, you may be wondering how you can enhance its aesthetics, without taking away from the aspects people love most.

Well, there are several ways to do so, some of which have been listed below.

Encourage Organic Growth

As a landowner, you may be a little strapped for time. However, taking an hour or so every day to encourage organic growth will be highly beneficial. This might mean taking advantage of the season and planting fresh flowers, or perhaps watering those attempting to grow. When planting flowers, you should consider their position; ideally you will want them to soak up the sun, but remember to water them daily for optimal, healthy growth.

Nature Trail Fun

If you notice a lot of families, or even couples taking your nature trail, you may be wondering how you can make it a little more fun for visitors. You can dot a few clues around the trail and set them on an adventure, or you can pop some fun facts on the trees about the wildlife that lives there. These are just a few ideas though; there are plenty more to take advantage of.

Grass a Little Worse For Wear? Try Our Solution…

If your nature trail mostly consists of a stretch of grass that looks a little worse for wear, there are two popular options. You can either try to encourage organic growth if you want to keep everything natural, or you can strike the balance between artificial and organic beauty with fake grass.

Not only does the latter help to save time for busy land owners who just don't have the minutes to spare to plant and water seeds, but it is also extremely durable. This will help you to avoid a similar situation a couple of months down the line due to heavy pedestrian traffic.

Fake grass is a cost-effective alternative that looks fantastic all year round. What's more is that this lasting green solution, coupled with nature's beauty, is sure to make your nature trail one of the most aesthetically pleasing in your area!

These are just a few ideas on how to achieve a blend of natural and artificial beauty, whilst keeping visitors thoroughly entertained on their way round.