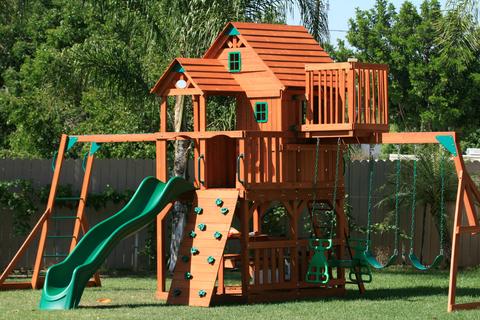 When we think of jungles, we often envisage tangles of tall grass, vines hanging from trees ready for a Tarzan-like enactment and big native cats on the prowl. Well, that's what our little ones tend to imagine at least.

Instead, we see them swinging from the monkey bars, playing with the family's tabby cat and using dry, muddy patches on your lawn as 'base'. Instead of your little ones imagining your yellow blades are lush green patches of grass though, why not consider fake turf.

Artificial grass is wonderful for numerous reasons. For starters, it is built and ready to combat heavy traffic and play, making it ideal for gardens and as playground grass too. In addition, due to its unique drainage system, it reduces the amount of time spent indoors waiting for the grass to dry. This means more time can be spent having fun playing outside, and thanks to the first signs of spring sun; this is the perfect season to install artificial grass.

So, you have the lawn sorted, now what? Well, a jungle explorer surely needs the right equipment and hiding spots in order to complete their journey, right. So let's take a quick look at a couple of ideas for the garden that will be perfect for your little ones.

Activity Centres

Whether your little one is four or almost in double figures, activity centres for the garden are a great choice, and the best part? They come in a variety of age-appropriate sizes and designs, making them ideal for children of all ages.

You might want to treat your youngsters to a giant wooden house, complete with a slide and swing. For the younger ones, you may prefer to start off small with a plastic playhouse; either way, there is an activity centre to suit every taste. Follow this link for further information on our installation service.

Children's Gardening Tools

Though your little one may be a jungle explorer, it doesn't mean they can't get stuck in with a bit of gardening in the meantime! In fact, they can even pretend they are planting a giant tree to climb into the sky or burying treasure beneath a special flower. Children's gardening tools are available at most garden centres and come fairly cheap too, making them an ideal part of a jungle explorer's collection.

Tasty Bites

Even jungle explorers get a little peckish when discovering new land and animals, so tasty bites like on-the-spot sandwiches and small fruit platters are sure to go down a treat! Though this isn't strictly for the garden, it is important that our little ones keep their energy up, and even making packed lunches for them to enjoy in the comfort of their activity centre is a great way to ensure they are fed and full.

These are just a couple of ideas for our jungle explorers. Do you have anymore that you would like to share with our readers?

Of course, you might want to find out a bit more about artificial grass and the range we offer, so please get in touch with Artificial Lawn Company today for more information.