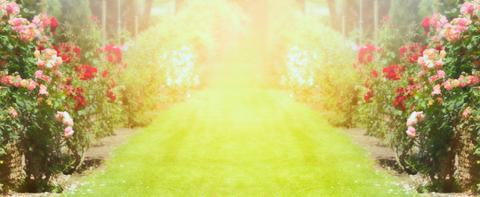 As we head further into autumn, you might be wondering how you can keep your garden looking neat, tidy and luscious, even as the trees go bare and the sky turns into a continuous shade of milky grey.
Well, an artificial lawn from the Artificial Lawn Company might just be the answer.
Our range of durable, top quality fake grasses are multi-tonal and composed from a mixture of curled and straight blades. This gives them a unique texture and realistic appearance, serving to enhance a garden's aesthetics, improve its durability and reduce its upkeep.
Of course, because a fake lawn stays green all year round, it is ideal for brightening your patch during the colder months, and it stays unscathed by the hot summer sun; but effort and ongoing expenditure aside, is it really a year-round improvement?
We like to think so, and so do our clients. If you still need a little more convincing, though, read on and see how a fake lawn is a lawn for all seasons.
The perfect backdrop for spring blooms
There is always a lot of colour in the spring, with blossoming trees and blooming flowers popping up all around. Sometimes though, a muddy and patchy lawn, run down by a long winter, can mean your spring garden doesn't hold quite the same appeal as it could. With an artificial lawn though, you will always have a lush green backdrop for your spring blooms, leaving you more time to focus on nurturing and enjoying the colourful treats the new season brings.
Puts the 'Great' in British summertime
Though we aren't renowned for our scorching summers and extended heat waves, our lawns can tell a different tale come British summertime. Whether flooded from excessive downpours or scarred, brown and sunbaked, a nice green garden in the UK can become a patchwork of dried up and dead grass very quickly. With a fake lawn from us, though, you can have that picture-perfect summer lawn all year round. Whether it's 30 degrees in the shade or a seasonal deluge, the grass will still look pristine.
Sets off the seasonal colours in autumn
Autumnal colours are some of the most beautiful nature has to offer, and with the leaves turning red and gold, you'll no doubt want to keep a bit of green in the background, to set it all off. Of course, that's easier said than done with the first frosts killing off fragile organic blades and fallen leaves piling up and decomposing on top of your lawn. That's why our artificial lawns offer the ideal solution, staying green and polished, even in the face of frost and other tough autumnal conditions. Plus, you get a rich green dramatically setting off the vibrant fiery tones of the season.
Keeps the bleak and dreary at bay during winter
Last but not least, you have the impact an immaculate and lush green lawn has in the depths of winter. It can be hard to enjoy your garden, whether that's through the window or out playing with the kids, when the weather is bleak, the sky is grey and the trees are all empty. With a luxurious artificial lawn, though, you will have a patch of green to enjoy, even when every tree and flower is bare. What's more is that your fake lawn will stay tough and attractive, despite winter storms, downpours and snowfall. A great investment, offering an excellent view year-round.
These are just some of the reasons an artificial lawn works so well in all seasons. Your home deserves to look its best, inside and out, all year long. You can paint the walls, clean top to toe and pull out all the stops for guests. But for that instant and evergreen kerb appeal, you need an immaculate green lawn, whatever the weather. That's where we come in. So browse our site and get in touch today!