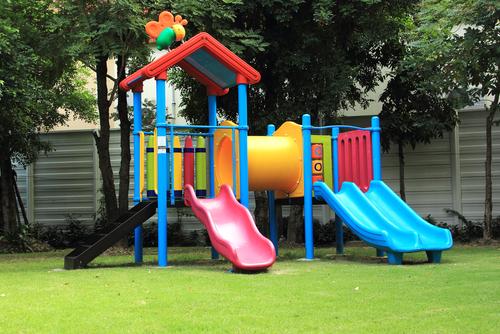 When it comes to providing a safe environment for kids to play in these days, playgrounds and parks are often in limited supply, meaning children are often forced to play games and sports on concrete and tarmac. While dedicated sporting areas are often equipped with spring loaded flooring and turf that is easy on the joints, the hard pavements and concrete of many playgrounds are not as child-friendly as a parent would like.
Playgrounds utilise springy, padded areas for children to run, jump and play without fear of hurting themselves. Much in the same way, you can now utilise your local artificial grass suppliers to create a garden that can be used like a child's playground, without fear or injury, while being entirely safe under your watchful eye in the back garden.
Additional Benefits to Your Home Playground
You might not have room for swings, slides and see-saw's but by adding artificial grass to your garden, you are giving your kids a soft, child-friendly place to play with their friends, practice their sporting skills and do so without the worry of painfully scraped knees, or even grass stains on their clothes.
Furthermore, you won't need to worry about any unwanted dog fouling that can often be present in local parks and you won't need to spend hours every week maintaining your garden; it really is that simple.
In fact, you will no longer need your lawn mower, your weed killer or fertiliser anymore, either; which begs the question - why wait any longer?
When you buy from artificial grass suppliers, you will be given the option of purchasing an underlay ( an extra layer of protection) to use underneath your new lawn. This layer will provide the necessary cushioning and padding you need to allow games and sports to be played comfortably.
Here at Artificial Lawn Company, we also offer our exclusive Play Lawn which is thick and dense to withstand heavy use, while maintaining the cushioned feel you want for your children.
Just Right for You
Whether you are in need of a child's playground in your back garden or a tranquil place of relaxation - we have an artificial grass to suit your needs. Say goodbye to a garden that demands attention and hard work from an already hectic life, and say hello to a hassle-free garden experience that is everything you need, and more.
For more information on the types of grass we supply, please give us a call on 01474 364320 today.