An artificial lawn from ALC is an excellent investment because it offers so many benefits, in addition to its obvious aesthetic appeal. Unlike real lawns, which are subject to the weather and wear easily when used by families, pets and sports lovers alike, artificial lawns are robust and resilient. They require very little maintenance and can be kept in top condition with a simple rinse down; saving time and hassle usually spent mowing and weeding real grass. As well as offering a perfectly manicured, low maintenance and practical long term alternative, fake lawns are also incredibly flexible when it comes to unconventional use.

Of course, the primary purpose of artificial grass is to give you an attractive and convenient garden surface. On top of this though, you have at your disposal a fun, unusual and versatile material to use in other projects. That's right. In the name of waste-not-want-not, you can use the left over pieces of artificial grass elsewhere in the home. View our website for an extensive range of luxury fake lawns!

Even if you have a perfectly square or oblong garden, complete with straight lines and no lumpy or bumpy bits, you will still end up with scraps and cut offs – perhaps you will even have a selection of the samples you first requested. The question is though, what do you do with those cut-offs and spare pieces?

Well, we have come up with a few fun ideas for you to try or draw inspiration from. Read on to see what they are.

Table Covers, Placemats and Coasters

Traditionally, a dining table will be draped with a cotton or lace table cloth. This will make the table more visually appealing, and it will protect it from heat and spillages. Now imagine substituting a standard table cloth for a patch of artificial grass; a little out of the ordinary, yes, but perfectly acceptable. If you don't want to go all out with a garden inspired table top though, you can cut smaller scraps into placemats and coasters for use anywhere in the home or office - bringing nature inside.

Rugs and Welcome Mats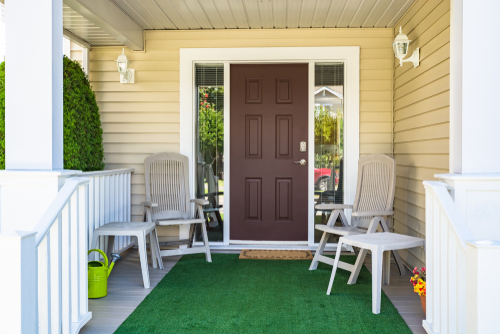 When you come indoors on a wet and muddy day, you cross the boundary and wipe your grass-stained feet on a hessian welcome mat. But what if you blurred the indoor/outdoor boundary and used a patch of artificial grass to wipe your muddy boots on? You will liven up any entrance, and the same properties that make it great for outside lawns will make it an excellent mat.

Drawer, Veg Box and Fruit Bowl Liners

If you have ever lined a drawer with newspaper for your onions or popped some kitchen towel in the fruit bowl to cushion the contents, you will know how useful a soft lining can be. Artificial grass is an excellent alternative to the normal kitchen and household liners; not only is it soft, easy to clean and non-perishable; it is quirky and adds a little something extra (but totally natural-looking) to even the most basic of dishes and storage.

These suggestions are just a handful of the possibilities when it comes to finding fun and alternative uses for the scraps and leftovers of your newly-laid artificial grass from the Artificial Lawn Co. There are plenty more ideas out there, and depending how adventurous you want to be, you can start small with a grass covered book or go big with what is effectively synthetic grass wallpaper.

The world is your oyster and artificial grass makes it that bit more interesting, so let your imagination roam and have fun with it.