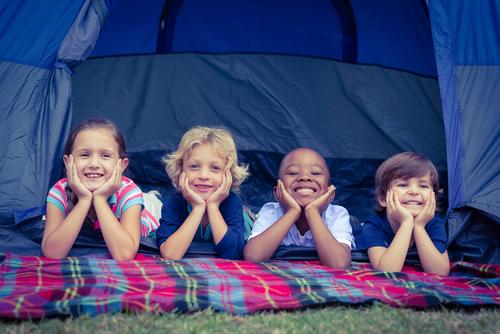 During colder weather, the kids are much more inclined to be content with a movie night, a few hours playing games with friends and spending a little more time in bed. However, summer is fast approaching and we know it won't be this easy for long.
You will soon be inundated with "I'm bored" and "Can I go here with my friends?" demands from the kids which can prove to be costly across the duration of the summer holidays. With many people having to reduce their hours or take a holiday to watch the kids over the holidays, it might be worth investigating a few options that are fun, entertaining and won't cost you the earth, too.
One of the cheapest and easiest ways to do just this is to set up camp in the back garden. Whether for just the night or for the weekend, your kids can enjoy the wonders of camping without having to leave the comforts of home behind.
If you have fake grass for gardens, then you're about to hit the jackpot because not only will the kids be entertained, but there will be a whole lot less muddy shoes and clothes to clean afterwards, too.
So, let's just clarify how great an idea this is: firstly, it's free as long as you have some camping equipment lying around. Secondly, it keeps the kids entertained and you get a quiet house for a least one night, and thirdly, it's a learning experience and rite of passage that all kids should experience at some point or another. Finally, if you have an artificial lawn, you're guaranteed to not have muddy footprints trawled throughout the house, afterwards. Sounds almost perfect!
The Highlights
Anyone that suffers from hay fever and other summer allergies can enjoy camping, too
No grass stained clothes or muddy shoes to contend with!
No creepy crawlies in the grass, so even your squeamish child who hates insects can get involved
Have home-cooked BBQ style meals prepared safely at home - no risk of food poisoning from undercooked chicken here!
Fake grass for gardens is comfortable to walk on and there won't be any lumps and bumps to contend with when it comes to a good night's sleep
When the weather is nice, weighing your tent down with pillows, cushions and bedding will ensure your tent stays put without the need for all those ground pegs, and will make garden camping as comfortable as can be. Hang up some garden lanterns for lighting in the evening and dig out some board games ready for a fun night ahead.
Camping at home is made so much easier with fake grass for gardens, and with a little bit of help from Artificial Lawn Company, you too could soon be enjoying a night under the stars with the family for next to nothing!
For more information on our range of available grasses, please visit our website or contact our team to discuss your needs.