The UK is quite a dynamic landscape with plenty of hills and mountains that keep the scenery interesting. While this is great for explorers wanting to get a view from up high, living on a hill comes with a mixture of pros and cons, ranging from the impressive views over surrounding countryside to the challenges of maintaining a sloped garden.
If you are a homeowner living on a hill or with a sloping garden, you may be wondering if it's possible for artificial grass to be laid on a slope and, if so, how easy the installation process would be. Our guide is here to answer your worries with a resounding yes! Artificial grass can absolutely be laid on a slope and aside from a few extra fixing spots at the top of the slope, installation is very similar to laying artificial turf on a flat surface.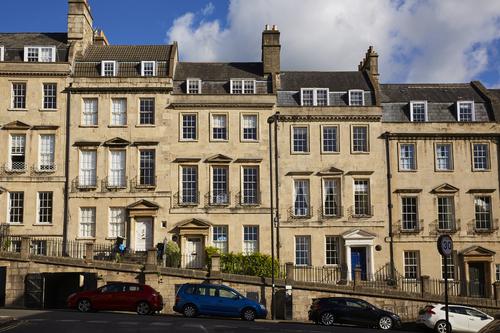 Why Choose Artificial Grass
If you have maintained a sloped garden for even one season, you will know that it takes a lot more effort to keep a natural sloped yard looking good. From heaving the lawnmower up and down, watering without causing puddles at the bottom of the slope, fertilising and weeding – it can be time-consuming and almost unbearable under the hot summer sun. Of course, there are other options to replace your garden, steps, tired planters and gravel, but it all takes away from the aim of having a lush, green lawn.
Artificial grass makes maintenance simple. Once installed and settled, you should only need to brush it semi-regularly to keep the blades standing tall and occasionally remove any loose leaf litter to prevent weeds. No regular watering, no lawn-mowing and no worrying about dry, patchy areas that make the rest of the lawn look tired.
Can Artificial Grass Be Laid on a Slope?
Absolutely! Of course, you could level your garden, however, depending on the angle of the slope this can be a very costly process, involving excavation, dirt removal or increased support if you want to level the dirt out rather than remove the higher sections. Dirt cannot simply be shifted against structures without proper support and protection (damp proofing) in place, otherwise, this can cause bigger problems further down the line.
If the idea of levelling your garden puts you off, laying artificial grass on a slope doesn't require too much more work than standard installation and we can provide advice should you wish to install your artificial turf yourself. However, installation services are available if you'd rather a professional take on the job.
Laying Artificial Grass on a Slope
Before beginning to lay artificial turf on your sloped garden, the area needs to be prepared by removing the top layer of grass and dirt, in addition to any large stones or rocks that could create uneven ground.
At the top of the slope and ideally around the perimeter of the sloped areas, timber framework needs to be securely installed. This is to provide timber edging that your artificial grass can be pinned or nailed to which should help to prevent it moving around on the slope with activity or sliding down after installation.
Cover the exposed dirt with a sand or substrate layer; this is to encourage draining through your artificial turf, preventing water from collecting on the surface or pooling at the bottom of the slope. Once an even layer has been distributed across the area, cover with a weed membrane. This will prevent any pesky weeds growing through your lovely new artificial garden and keep it looking good.
It's time to start laying your artificial grass! Do it gradually in sections, nailing or fixing the artificial turf into the top timber frame to keep it from rolling or sliding down the slope as you fit the remainder. Make sure to have patience when glueing down your joins - you may want to temporarily nail these in place while completing the installation to prevent movement or pulling.
If you had timber-framed around the outside of the entire slope, you can start nailing or fixing the edges in place once all the artificial grass has been laid. This prevents the drying joins from being pulled around too much and you can also step back and make adjustments where necessary before finishing the frame.
When your artificial lawn installation has been completed and you are happy with the results, it's time to add the sand infill. This helps to weigh down your new artificial grass and encourages the individual blades to stand upright. Once the sand has been distributed across your new artificial garden, give it a good brush with a stiff-bristle (not metal!) broom. Again, this will encourage the individual grass blades to stand straight and will help finish off the look of your newly installed garden.
Laying Artificial Grass on a Tiered/Terraced Concrete Garden
If part of your garden has been turned into a tiered or terraced concrete garden and you are worried about laying artificial grass on concrete – it's no problem! Artificial grass can be easily installed on a pre-existing or newly laid concrete pour or concrete paving slabs, even on partially sloped gardens with steps or a terrace. We've provided more information on how to lay artificial grass on concrete here. Just make sure to provide sufficient drainage on any concrete you are covering with artificial turf, otherwise, you could end up with unsightly puddles or increase the chance of mould or mildew from sitting water.
Artificial grass is one of the most versatile options for laying in your garden. Install in sloped gardens, use on patios or concrete paving slabs – you can even bring it into your home and use it as table covers, flooring or wall decoration! Requiring very little maintenance and just a bit of TLC every now and then, artificial grass is the perfect option for busy households and is well loved by pets and children around the country. Why not cut back on the time it takes to maintain your garden this year and treat yourself to some high-quality artificial grass?
Looking for help installing? Request a quote below.