Easy to install and maintain, artificial grass is rapidly taking UK gardens by storm. Perfect for households that may not have the time to properly maintain a grass garden, artificial turf can be quickly laid on most surfaces and requires little more than occasional brushing to keep the pile standing upright.
A few years ago, decking was all the rage in gardens, particularly due to the influx of garden design and makeover programmes that promoted its use. Today, many homeowners comment on how shoddy their decking has become and explore having it removed or replaced. However, artificial grass can be used as a quick solution to refresh decking and make the area more aesthetically pleasing.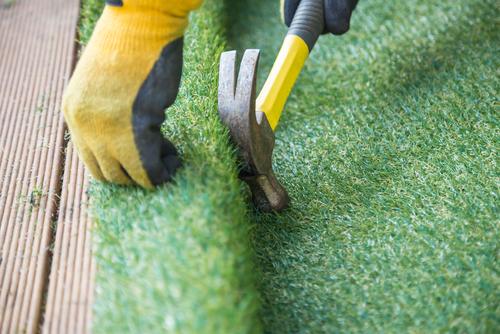 Will Decking Rot Under Artificial Grass?
As long as your decking was correctly installed and had measures to protect against the elements applied, there is no risk of decking rotting under artificial grass. In fact, it's an ideal surface to apply artificial turf as drainage and restriction of weeds have already been accounted for.
We've put together a guide that can offer advice and explore the process of installing fake grass on decking. All that is left to prepare is your choice of artificial grass.
Check the Quality of Installed Decking
When it comes to installing artificial grass on decking, you'll first want to ensure your decking is in good health. Otherwise, you'll soon find that you need to pull up the artificial grass and repair or replace the decking which can ruin a good job and cost you a lot more in both time and effort.
Check for Wide Gaps
The gaps between decking boards ideally need to be smaller than 1cm. Any larger and you will soon see artificial turf start to sag into the gaps, looking unattractive and creating a potential trip hazard. If you've got slightly larger gaps or a deeper tread or groove in your decking boards, it's advisable to fill or reduce where possible.
Clean and Clear the Surface
Remove all decoration, plants or garden furniture from the decking and ensure you give it a good scrub down, reapplying any protective surface where necessary. Ensure that all moss and algae are removed to stop growth underneath the artificial grass. Should you find any broken or rotted deck boards at this stage, it is advisable to remove and replace them.
Maintain Weed Membrane
When your decking was installed either by yourself or a professional, a weed membrane should have been applied underneath to prevent weeds growing through. Check your weed membrane is still intact, replacing where necessary. If you are unable to repair or replace your existing weed membrane, you can lay down a thicker overlay on the decking, prior to installing artificial grass.
Measure Gradient
Your decking will have been installed with a slight gradient for water drainage - check this is still in place and supports haven't sunk down at all. The gradient is great for water drainage with artificial turf but if it has noticeably increased, it could put strain on the fixing methods used for your artificial turf and cause it to pull away.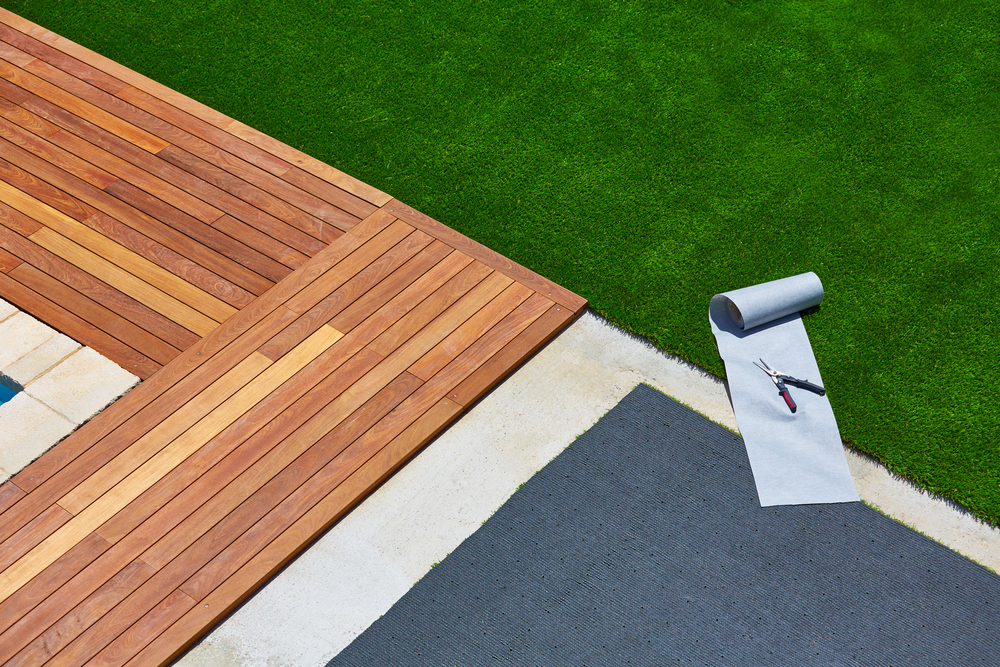 Laying Fake Grass on Decking
Prior to installing your artificial turf, you'll need to take measurements of the area you want to cover. Aim to lay the area with as few joins as possible to keep your pile looking consistent. You'll also want to order slightly more grass than the area you've measured to trim back to a neat fit.
There are a few options for putting artificial grass on decking, from stapling around the perimeter to glueing it down. As long as gaps are left to allow sufficient drainage, there is not a lot of difference between the two methods.
Depending on your requirements, you may want to have an overlay or shock-pad installed prior to artificial grass installation. An overlay is good for smoothing out deep-groove decking and can act as a weed blocking layer to prevent unsightly grasses growing through your nice new artificial turf.
Should you have children that are likely to play in the area, consider a shock-pad. It offers a nice protective cushion against falls and can be critical fall height rated to 1.5m. Shock-pads can be multi-layered if you need to provide a greater critical fall height rating.
Be aware that shock pads are made of a shock-absorbent foam and are considered unsuitable for use in areas where pets may choose to do their business.
Installation Process
Recommended Tools and Materials:
Joining Tape, Joining Adhesive, Stanley Knife (with replacement blades), Stiff-Bristle Brush, Fixing Material (Pins/Nails/Adhesive).
Start by rolling out your artificial grass overlay (where applicable) and trim back to fit the area. Once laid, walk over the overlay ensuring it's completely flat and allow to settle for at least an hour. At this point, you'll need to roll out your artificial lawn, allowing it to flatten and pile direction to settle
(Optional) Should you be installing a shock-pad, this goes on top of the overlay, following the same rules – trim back to a neat fit, walk over to ensure flat and allow to settle for approximately an hour
Once the area is prepared, it's time to lay the artificial grass. Consider which direction you'd like the grass to be laid. If it's constantly in your eye line from inside, it's advisable to lay artificial grass with the pile facing towards the property. Similarly, if you are installing artificial turf in your front garden, you'd likely prefer pile direction to face your guests as they walk towards the property. If you are unsure of which direction works best, approach an installer or design consultant for advice
Before fixing down, it's wise to give your artificial grass some time to settle and adjust to the environment. Consider leaving up to 12 hours before you start fixing down artificial grass. Any adjustments that need to be made prior to tacking down can be done much more easily
For any areas where you need to join sections of artificial grass, ensure the pile runs in the same direction on both pieces (unless you are aiming for the striped mown lawn effect!). Pull the sections of artificial grass together and fold back edges so you can apply joining tape down the centre of where the join will be. Trim back edges of the artificial grass where necessary and apply joining adhesive in two lines directly to the turf. Then lay the artificial grass down on the joining tape, leaving approximately 2-3mm gap for an invisible join. Seams should be weighted down, either with heavy planks, plant pots, stones or alternative suitable weighty materials until joining adhesive has had time to dry
Finish fixing the remainder of the artificial grass using pins, nails or alternative fixing material. Be aware of the height that artificial grass and overlays or shock-pads can add to the area, applying edging or diminishing strips where necessary to prevent trip hazards
To finish the artificial grass installation, use a stiff brush to gently brush the grass piles to make them stand upright
Now that you've installed your artificial grass, you only need to brush it occasionally to ensure the grass pile stays straight. Pay attention to areas that undergo heavy or regular footfall or activity, particularly areas used for children's play spaces. Make sure to remove debris and leaf litter so drainage is not blocked and remove any pet waste as soon as possible, washing down the area where necessary.
Following these simple maintenance tips will keep your newly installed artificial grass looking tip-top for years to come!
Looking for help installing? Request a quote below.