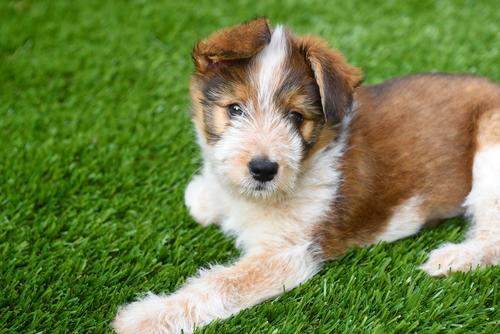 When it comes to looking after your garden, having an energetic pet dog can make garden and lawn work feel unending, as though you are just going around in circles. From balding or dry patches caused by regular toileting to divots and grooves created from excitable paws, your dog can be your natural garden's worst enemy; particularly if you've got a pooch who loves to dig or run muddy paws through the house when the weather turns.
Owning a dog and having a garden doesn't need to be a recipe for disaster – fake grass and dogs are a match made in heaven. With our range of dog-friendly artificial grass, no longer will you need to chase a muddy pup around the house, desperately trying to coax them into the bath before they jump on the furniture.
Why Choose Artificial Turf for Dogs?
Consider giving yourself peace of mind and choosing to install artificial grass in place of natural turf. There are plenty of options to choose from when picking dog-friendly artificial grass and even more benefits available when making the switch.
No More Discoloured Patches
A dog's garden is also their toilet but, unfortunately, dog urine can turn a once lush, green haven into a spotty, discoloured mess, and no amount of maintenance can rescue affected areas. We have an extensive range of fake grass dogs can pee on without impacting the lawn.
When installing fake grass for dogs, you remove the risk of damaged areas because of the plastic fibres, and when installed correctly, dog urine can drain away into the soil below the turf. When it comes to how to clean fake grass from dog urine, all you need to do is regularly hose the lawn down to remove any risk of odours.
Doggy number twos should be collected as normal and give the area a quick hose down to remove any remaining residue or germs. Any remaining stains can be scrubbed with a soapy water solution to get your artificial grass looking good as new.
Banish Flat Grass
Do you have a large pooch that likes to lay in a certain spot on the lawn? Have you noticed after some time the grass refusing to bounce back up to its normal bushy state or the grass beginning to thin? With artificial turf for dogs, the grass fibres will continue to bounce back to their original state even after a long, hard day of snoozing in the garden. Should artificial grass piles start to slow down in their return to a normal state, the area can be brushed with a stiff bristle brush to bring the bounce back.
Do Away with Digging
There's no doubt that digging can make your dog happy, but it can be a nightmare for homeowners who constantly need to fill in dangerous holes or clear up dirt brought in from muddy paws. With dog-friendly synthetic grass, your dog won't be able to dig up half the lawn while your back is turned to make a cup of tea.
Easy to Maintain
Not only great for pets, but you'll also spend less time maintaining your garden by using artificial grass, only needing to brush your lawn a few times a month (after the initial settling period) and remove any leaf litter that appears. There's less worry about discoloured stains and the artificial turf can be easily hosed down or spot cleaned as appropriate to remove stubborn waste.
Choosing the Right Artificial Grass for Dogs
When it comes to choosing the right artificial turf for your garden, not only will you need a durable option, but you want to ensure the finished product looks great. Luckily, artificial grass is an easy job for an experienced DIYer, although there are expert installation services available should you be worried about doing a good job.
Picking a Pile Length & Density
There are many fibre length variations available to suit different purposes in your garden, from longer piles that work well for grown-up gardens and terraces to shorter lengths that are great for sports, child's play and use by pets. Shorter pile lengths are considered more durable than longer variations and require less maintenance in terms of brushing.
Denser piles work best with pets and are able to stand up to increased footfall or longer periods of play, in addition to providing a more natural lawn appearance.
Shock Pad or No Shock Pad?
Installing artificial turf is done with several layers to provide an even surface and enable free draining of water and waste fluids. During installation, the surface turf will be removed and a layer of crushed granite stone or limestone chippings added to provide ample drainage. From here, a weed-prevention membrane is laid to prevent troublesome growth through your lovely new artificial garden.
Shock pads are an impact-absorbing surface made from bonded polyethylene pieces to provide an extra layer of support for children's play areas, thinner variations are also used on roofs and terraces to increase drainage properties.
While we supply fake grass dogs can pee on without any problems if there is suitable drainage, it's generally not recommended to use a shock pad as the material could potentially soak up urine and start to smell unless it is regularly hosed down and cleaned.
Will My Dog Like It?
While everyone's pets are different, typically dogs take very well to artificial grass in gardens as modern-day varieties are soft under-paw with the natural feel of real grass. In fact, we do a lot of work with Battersea Dogs Home, Crufts, Discover dogs and more! All have started to use artificial turf in their outdoor and indoor areas due to the low maintenance properties, durability and cost-effectiveness
In conclusion, choosing artificial turf for dogs is a personal decision based on how you'd like your finished lawn to look, although keeping in mind to choose a durable grass for the best results. Whether you install artificial grass across your entire garden or just a special spot just for your pup, treat the both of you this year and bring your garden back to brilliance with artificial grass.
Get in touch with our team today for more information.