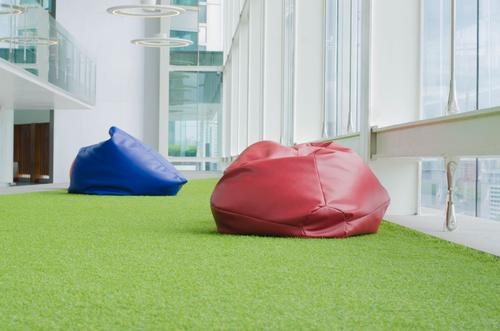 As well as satisfying the needs of residential and sports users, there is a variety of commercial uses for artificial grass that businesses can make the most of.
The natural look and feel of grass is highly appealing to prospective customers and business partners. Used correctly, you can create a pleasant and welcoming environment that anyone will enjoy being in.
It is in the interest of commercial businesses to present themselves in a manner that best represents the brand and is appealing to consumers. Below, we have listed a number of ways in which businesses can make use of artificial grass.
Shops
Shop floors can benefit from the use of the turf as part of displays, especially when selling sports and gardening equipment. The surface represents the environment in which the products are used and, while this may appear to be reinforcing common sense, from a marketing point of view this triggers senses in the customer's subconscious.
Exhibitions
Businesses attending exhibitions have to stand out from the crowd wherever possible. If your business turns up and makes no effort other than erecting a couple of boards, the chances are that customers will see your brand as just another stall.
Using artificial grass as an indoor carpet on your stand can make the difference between someone walking by and a visitor coming to you.
Reception Areas
As we have already mentioned, the natural colour of grass is welcoming and creates a pleasant environment. Reception areas should reflect the business and present the brand in a positive light.
There are far too many businesses that do not give their reception areas enough attention, presuming that a chair or two and a company brochure is the best way to present themselves. Bright colours are capable of lifting the mood, meaning that a lusciously green fake grass carpet can put your customer or associate in a positive frame of mind before beginning discussions.
Gardens
Outside areas should be well kept and presented immaculately, although this can also mean a lot of maintenance work for members of staff. With the synthetic surface, businesses can provide a glorious place for workers to head to on their breaks if they do not want to remain inside.
An office garden can also act as a retreat for members of staff when they feel the need to remove themselves from stressful situations, allowing them to return refocused and re-energised.
If you believe that your business can benefit from the use of artificial grass, please call the Artificial Lawn Company on 01474 364 320 today.