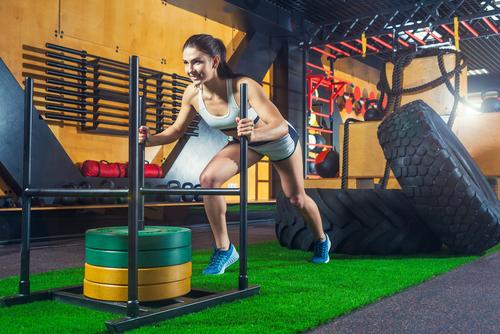 For those who are passionate about fitness, exercise is more than just a hobby or a means of staying in shape - it is a way of life. However, for those who lead busy lives or are less interested in fitness, it is more than easy to let exercise lose importance.
Going to the gym is one thing, but the closer your workout space is, the more inclined you will be to actually use it. For that reason, a home gym or personal workout space is ideal. Kitted out with the latest gym equipment and practical fake grass flooring, many people find exercising in a familiar environment far more preferable to working out in the gym.
Alternative Ideas
Of course, not everyone will have the available space or funds to create a full home gym. Gym equipment can be expensive, and an extensive range of top-of-the-range machinery can end up taking up a lot of room. Luckily, there are plenty of alternative ideas to suit every budget. Home gyms needn't be solely for those with a lot of spare cash - when planned out smartly and organised to incorporate only the necessities, they are actually more widely available than you might think. Of course, exercising outdoors is one option, but bad weather can soon hamper your plans. Bearing this in mind, an indoor workout space is much more practical, allowing the freedom to exercise however and whenever you want.
If you don't have a spare room available to turn into a home gym, you could try setting aside a corner of another room for working out. A handy way to save money is to stay away from expensive and complicated workout machinery that you don't necessarily need - a set of weights or dumb bells and a skipping rope can do exactly the same job at a fraction of the cost. Plus, these can then be easily packed away and stored after use, allowing your home to stay clean, tidy and free of clutter.
Fake Grass Flooring
Aside from investing in gym supplies and equipment, you also need to ensure the space you have chosen is practical and safe to exercise in. The intricacies of the design will come down solely to personal tastes, but there are a few musts that every home workout space should include. Good lighting, a space clear of loose wires and trip hazards, and a non-slip, exercise-friendly floor covering are all essentials.
Fake grass is the perfect surface to use. Choose a variety of artificial grass that is specifically made for sports, as this will have a cushioned under layer for maximum comfort and safety. The adaptability of fake grass makes it ideal for use for a wide variety of workouts, from traditional weight training to yoga.
With the inclusion of artificial grass, your home workout space will be looking stylish and efficient in no time at all!
For more information about our fake grass products and services, please give a member of our team a call today on 01474 364320.