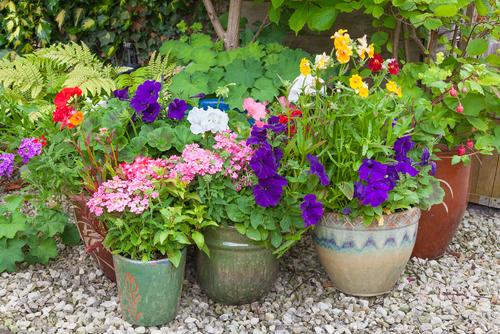 It is often said that variety is the spice of life - and this can also be applied to the garden. No matter the size or shape of your garden, a little creative input can add a unique twist to your outdoor area, giving it extra personality and truly making it a space you can be proud of.
Flowers, plants and stand-out landscape features are the usual go-to ideas for impressive gardens, but there are actually some simpler and easier ways to add an instant refresh to your garden. Artificial grass is one method of updating your garden in style, but your choice of garden containers can also help to boost the appearance of the garden.
From pots to planters to hanging baskets, there are plenty of different options when it comes to using garden containers to brighten up the look of your outdoor area. And the best part? Garden containers can be used in virtually any garden, from large expanses of outdoor space to the most compact areas and even balcony gardens! This means that you will never need to worry about your garden looking dull or boring again - with the addition of plentiful containers, your garden will experience an instant uplift.
Include Artificial Grass
So how can you escape the monotony of a dreary garden and turn your outdoor area into a vibrant and colourful space?
Traditional garden planters are one thing, but you should get creative in order to really maximise the full potential of your garden.
Artificial grass can work wonders in the garden - not just for updating the look of your lawn, but also for a myriad of other uses. A pristine lawn is one thing, but artificial grass can also be used in innovative ways to create a quirky, stand-out approach to the look of your garden. Line planters or pots with artificial grass as an alternative to flowers, or use the material as a base for your plant pots to stand on. In addition, artificial turf can also be used to add a much-needed touch of greenery to a balcony garden - bringing a taste of the great outdoors to the most urbanised areas.
Adding Individuality
When it comes to the containers themselves, character is the key. Choose pots and planters that reflect your individual tastes, allowing your personality to shine through and create a truly unique garden that matches your unique preferences completely.
Unleash your creativity and do some research into new ideas. Repurposing old or unused items from your home or garden, such as watering cans, empty paint pots or even old wellington boots can be a great way to incorporate a vintage feel, but bold patterns or bright colours can also add an element of fun to your garden.
However you choose to decorate your garden, make sure that you do it in style with the help of artificial grass.
Please get in touch for more information about our products, services, and the installation process.