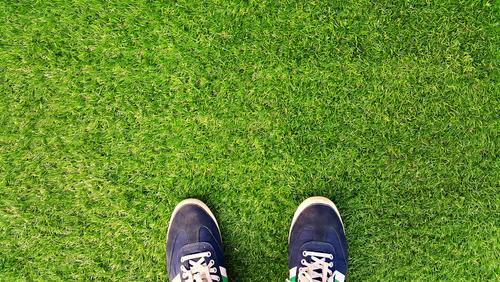 Ever since artificial grass was first used in the 1960s, there have been a number of myths surrounding its usage - we are here to set the record straight.
The use of the surface first came to prominence in 1966 at the Houston Astrodome. It replaced the mess of the real grass that was used for the stadium's initial season of hosting Major League Baseball the previous year.
Since then, the process used to manufacture artificial grass has greatly improved, resulting in a much better end product. However, unfair myths still exist despite the massive leaps and bounds that have been made over the years.
"Artificial grass is too expensive" - Wrong
Investing in synthetic turf does not mean emptying your bank account in order to afford and maintain your new surface. In fact, maintaining fake grass is cheaper and easier than real grass because the lawn will not require mowing, will not rip up and needs little more than a light brush after rainfall.
On top of inexpensive maintenance, the initial cost of buying artificial grass is not anywhere near as expensive as the myths would have you believe. With a wide range of fake grass to choose from, there is a surface to suit any budget.
"The turf looks fake" - Wrong
With modern day methods of manufacturing artificial grass, as opposed to those that were used over 50 years ago, you will be hard-pressed to tell the difference between synthetic and natural grass.
Not only does the surface perfectly mirror the aesthetics of real grass, it also replicates its soft and natural touch, too. The feeling of grass between your toes is one of life's small pleasures, and walking across the manufactured surface perfectly emulates that feeling of walking barefoot across a pristine lawn.
"Synthetic turf is only good for sports" - Wrong
Although artificial grass was originally created for indoor sports, today the surface serves a wide range of purposes, including:
Residential gardens
Playgrounds
Displays and exhibitions
Roof gardens
Interior decoration
Because of its low maintenance, the surface is ideal to fulfil many residential and business requirements. In saying this, artificial grass is, of course, a great, cost-effective solution for sports clubs due to its durability, even when play begins to get on the rough side!
Once you look past the myths surrounding fake grass, you are able to realise that investing in artificial grass could be the answer you are looking for. If you want to bring costs down whilst maintaining a remarkably green lawn all year round, fake grass could be the solution for you.
For more information, please call the Artificial Lawn Company team on 01474 364320.