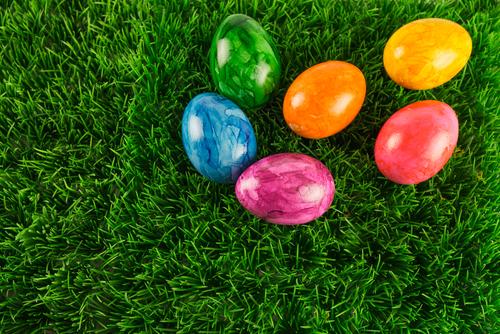 Easter is almost here, and with everyone excited about the number of chocolate eggs on offer, planning an Easter egg hunt is fun for family and friends.
Thanks to the extended bank holiday weekend, Easter is one of the few times of year when everyone is at home together. This makes it the perfect time for fun activities that both young and old can enjoy.
Egg hunts have been taking place at Easter for many years, sending children (and adults) out into the garden and around the house to look for chocolate eggs. With artificial grass, Easter egg hunts can become much safer and more enjoyable for all involved.
Planning
When you have decided to organise an Easter egg hunt, the first thing to do is to plan how many eggs you will need and where you will hide them. For this, take into consideration the age of those taking part - if the majority of your participants will be toddlers or young children, you won't want to hide eggs in tough or hard to reach places.
Once you have considered the age of the participants, think about how many people will be taking part. Are you incorporating your Easter egg hunt with a party? Or is this part of a small get-together? If you are expecting larger numbers, invest in smaller eggs - not only will this keep the cost down, but it will also allow for extra space to hide more eggs!
Hiding the Eggs
Not only have you got to consider how easy the eggs are to find, you also need to remember that, once they have been found, they will be eaten! For this reason, you should avoid hiding eggs in dirty places.
Hiding eggs outside can be difficult for this very reason, especially with lawns that have been pulled apart and are filled with unwanted bacteria and germs. On an artificial lawn, the surface is much cleaner, allowing you to hide eggs on the lawn - you may want to do this with young children who can't reach a lot of hiding places.
Using Artificial Grass
For seasonal activities such as Easter egg hunts or other outdoor fun and games, using artificial grass is a much safer and cleaner alternative. Whereas real grass can easily become muddy during bad weather, fake grass simply requires a brush through and is perfectly fine to play on.
The last thing you want is for your Easter egg hunt to end with mud trampled throughout the house, leaving you having to clean up for the rest of the weekend.
If you would like more information on installing artificial grass in your garden, please call our team on 01474 364320.