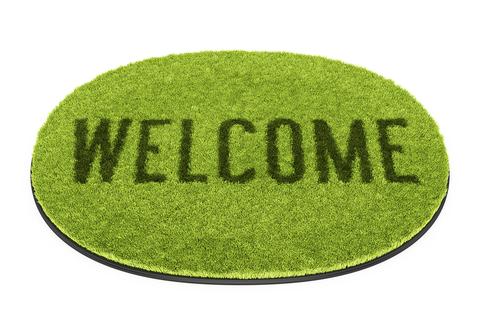 One of the most popular advantages of artificial grass is its versatility when it comes to shaping. Cutting turf into particular patterns or strange shapes can be rather difficult, but artificial lawns are much more malleable and manageable in many different arrangements.
Even if you aren't planning to create fun shapes or fancy designs with your artificial lawn, the vast majority of residential gardens are not perfect squares. This means that sometimes, once the artificial grass installation process is complete, you are left with offcuts, scraps, or other irregularly-shaped segments of artificial grass.
Obviously, you don't want the offcuts to go to waste, but just what do you do with them? The following eight ideas might give you some inspiration.
Welcome Mats
As cheesy as they may be, the truth is that we all have some level of appreciation for unusual and offbeat welcome mats. And, after all, what could be more offbeat than a little scrap of the outside welcoming you inside? Not only is artificial grass aesthetically pleasing and a perfect display of British eccentricity, but it's also eminently practical. Since artificial grass can be easily rinsed down, any collected dirt or dust can be washed away with a quick spray of the hosepipe.
Coasters
Cut a larger offcut into several smaller squares, and you could find yourself with a selection of highly unusual coasters. With their strong resilience to heat and friction, squares of artificial grass can make great coasters.
Shoe Cupboard Surface
The cupboard or rack that stores your family's shoes might be a wonderful piece of artisan craftsmanship, but it still contains shoes, and with shoes come mud – especially if children are involved! Laying down some artificial grass could be the ideal protection, especially since any accumulated mud or muck can be washed away with ease.
Diorama Base
Have you ever considered sculpting a scene from history, or a favourite play's final act? What about a child's history project, or a work of fauna-inspired art? Whatever the project, if you want to get creative, a well-sized artificial grass offcut could be just the tool you need.
Table Centrepieces
Your dining room table might have a wonderfully natural wood veneer or a stylish, modern composite finish, but in either case, the eye could be drawn to a stylish centrepiece. What better base for an eccentric and out of the box design than a rhombus, hexagon, or classic circle of artificial grass?
House Numbers
Have you ever noticed that many people's houses have numbers that are really hard to see? They're just so small, so subtle, and so out of the way - but you don't have to go down that route. Take a craft knife, some glue, and just the right kind of backing board, and you could make your very own house number. The postman will never lose your parcels again!
Bird Feeder Décor
Just because you've installed artificial grass doesn't mean that you want your garden devoid of wildlife. When it comes to bird feeders, so many of them can seem so very aggressively artificial. Solve the problem with a well-trimmed offcut of artificial grass secured to the table where the birdbath sits, and you've got yourself a nice, natural-looking spot for your feathered friends to hang out.
Windowsill Lining
Many of us have window box gardens, both indoors and out, but there can be a very stark drop off where the box begins and the windowsill ends. What if you could blur the line there a little? With a little careful cutting and adjusting, artificial grass could turn the surface that your vases, pots, and window boxes sit upon into a lovely extension of your garden.
Artificial grass is clearly the kind of versatile, practical, and expressive medium that could find a home in any property. Contact us to find out more about the benefits of artificial grass and what it could do for your garden, and beyond.