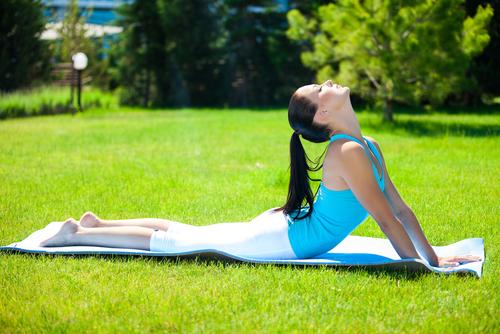 There's something about warmer, sunnier climes that makes us crave salads, fruit and healthier food options compared to the colder months of the year. There's something about the sun shining and days being longer that inspires us to exercise more and make the most of being outdoors, that isn't always as prevalent the whole year round.
Despite these healthy aspirations and urges during the summer months, the prospect of being stuck in a sweaty, stuffy gym for an hour or so, week in, week out isn't always appealing. Exercising outdoors is a great way of doing the things you enjoy in a setting that works for you. Sure, you don't have access to the gym equipment, but you'd be surprised how you can make your environment work for you.
Working Out at Home
There are so many ways you can take your usual workout outdoors without the need for gym equipment and stuffy classes. These exercises and workout tips will be even more satisfying if you have artificial grass in your garden as you won't have to worry about muddy clothes or ants and twigs in your hair.
Go Outside
Take to the streets, find a local park or even a public footpath and just do it. Walk, run, cycle; do whatever feels good for you and feel your heart race while taking in fresh air. Experts claim that running barefoot can increase the benefits of exercising outdoors, too, so why not try it out in your nearby park?
Make the Most of Your Garden
With just a mat, an exercise ball and some motivation, you can fit in a great workout that is just as challenging as anything you could do in the gym. Planks, ab crunches, press-ups, squats, lunges, back extensions, knee tucks, tricep dips, shoulder curls and so much more are all easily achieved on your artificial grass lawn - no gym membership in sight!
Exercising with just your own body weight is a great way to get the heart racing, but if you're looking for something that little more challenging, why not include some raise and press exercises using free weights or kettlebells? You could even try and make use of what you have lying around; fill a watering can or use stone garden ornaments for your bicep curls - you'll be exercising your mind with the creativity, too.
If you're looking for something a little more disguised, why not do some gardening? Weeding and pruning, as well as digging borders, are all quick and easy ways of getting your heart rate increased.
There's something about summer that makes us want to connect with the natural world around us, and we think it's wonderful. Now is the time to put your fake lawn to use, get fit and healthy, be at one with nature and save yourself some money in the process.
For more information about what type of artificial grass would be suitable for your garden, please contact our helpful team here at ALC, on 01474 364320.