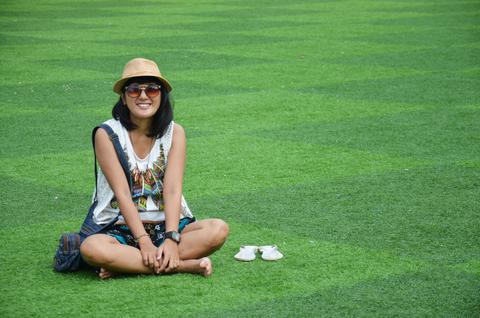 If you have an artificial lawn, it will look picture perfect whatever happens. From torrential downpours all winter long to scorching hot summers and anything in between, nothing will faze it.
As pristine as you will want your artificial grass to look at street level though, it is a different story behind closed gates. When you have artificial grass in the back garden and a fun-loving family to keep entertained, you need to come up with creative ways to turn the space into somewhat of a playground.
Of course, you will still want a neatly manicured look for the most part, especially if you want your garden bordered by pretty plants and topped off with a well-kept seating area. Tucked away in a corner though, there should be some fun features. If you're particularly taken by the idea, you could even dot some fun features around the whole garden. For example, you could use your soft but durable artificial lawn as a backdrop for giant board games.
Read this www.artificiallawn.co.uk blog to see how you can use a little bit of spray paint and a lot of imagination to bring your artificial lawn to life, ready for all the fun and games.
Chess
Chess; the classic game of skill. Though the game itself can be challenging, what could be simpler than spray painting black and white squares onto your artificial grass? That is all it takes to make a chess board. As for the pieces to move around the board, you can get creative. You can use stone garden ornaments (how about gnomes?) or you can ensure your board is large enough to accommodate people-sized players.
Snakes and Ladders
A childhood favourite, Snakes and Ladders is the ultimate board game. There are ups, there are downs, and there are some mighty tense moments. Now imagine a Snakes and Ladders board big enough that you can climb the ladders and slide down the snakes yourself. The trick to this one is to avoid overcomplicating it. Keep the design simple and make use of colour.
Extreme Hopscotch
Hopscotch is a playground game that is stunningly straightforward. Instead of grabbing chalk and drawing your court on the pavement though, you can use spray paint or chalk paint on your artificial lawn and create a course of hopscotch courts in your very own back garden. You can decide between a series of challenging courts and one epic oversized one. Once it is done though, you and your nearest and dearest can hop to your hearts' content.
Twister
Twister is a party favourite for children and grown-ups alike. The game calls for flexibility, strategy and good old-fashioned luck. You can make the most out of the various different coloured spray paints available with this one, but be sure to keep all of the spots in uniform lines and at equal distances apart. All you need to finish the game off is a spinner with corresponding colours. These are easy enough to make with some card and coloured pens. Once it's all setup - and dry - you're all set to play!
Noughts and Crosses
Last but not least is the sweet and simple game of Noughts and Crosses. Straightforward enough, all you need to do is spray paint a giant 3x3 grid onto your artificial lawn. For the Os and Xs you can either use washable chalk paint or you can make 3D pieces from plastic or wood. You can even improvise with two planks of wood crossed in the middle (X) and hula hoops (O). You and your opponent can then move your items into place in real time. This game will test your strategy, work your brain muscles and give you a bit of exercise - all at the same time.
These five games are just a few suggestions of how to turn your artificial lawn into a giant playground. There are plenty of other ideas out there, and if you struggle, you can always try making up your own. The trick is to have fun, use your imagination and make the most of the versatility artificial grass affords.