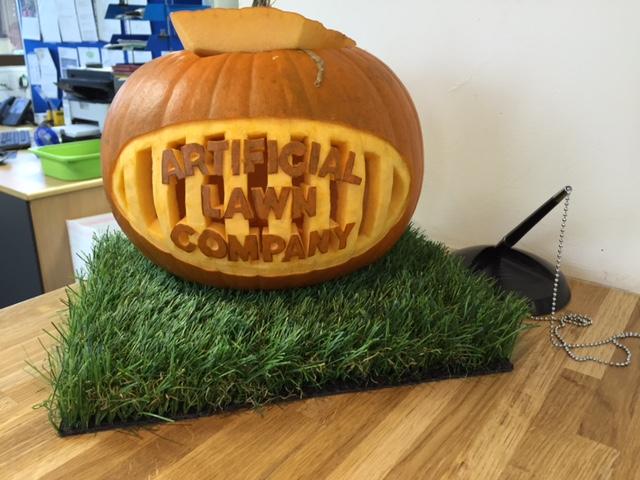 As we build up to the end of October, it hits home that it's just a few more days until Halloween! If you're into celebrating the traditional end of summer/day of the dead festival, then you might want to start thinking about how you are going to decorate your home and garden. Many people go all out and create elaborate stories and decorate every room in their house, but for those wanting to get merely in the spirit of things, getting ghoulish in the garden will suffice.
When planning your Halloween Garden grand design, make the most of your natural landscape. If you have trees, decorate those and transform them into a focal point. If you have a big enough porch; add a skeleton in a rocking chair or turn your garden into a graveyard or pumpkin patch. If you have an artificial grass lawn, you might find some of these ideas easier to create.
Ghastly Graveyard
Buy or make some tombstones, add a few mounds of soil as a freshly filled grave and maybe have a fake hand peeking through the soil to really give the trick or treaters a shock. Go all out and have a Zombie Lurch watch over your graveyard - warding off the ghouls and demons, but welcoming in kids for some sweet treats.
Pumpkin Patch
Transforming your garden into a pumpkin patch will work amazingly well on an artificial lawn. Carve as many pumpkins as you possibly can, and have some lit up with torches and some with super ghoulish mounds of earth and 'worms' hanging out the head. Make a Pumpkin King scarecrow to watch over your patch and guard your house too.
Pumpkin carving can be as simple or as complex as you'd like. Sticking to traditional Jack O' Lantern faces is always a winner, but for the more adventurous among you, you might want to be a little more creative. Imagine delicate creepy trees and complicated serial killer portraits that have layers of shaved pumpkin as well as carved flesh to create a multi-layered effect. Imagine intricately detailed Halloween scenes and simple, striking designs. The pumpkin is your oyster!
We had a go at carving our own pumpkin for Halloween this year, and we are pretty pleased with the results. Let us know what you think.
Wickedly Witches
Go all out with a witches' den in your front garden. If you can find a smoke machine, it will add an eerily lifelike feel to the centre cauldron, tended by the wicked witches making a gruesome brew. Decorate trees with eager-eyed ravens, cobwebs and bats, and fake-board-up some of your windows for the run down shack look.
However you decorate your garden; we're sure it will look every bit as spooky and uninviting as you want it to. If you have artificial grass, you can do even more with your ghoulish garden because of the low maintenance required. If that sounds like something you'd be interested in, please contact us and start your artificial lawn journey today.