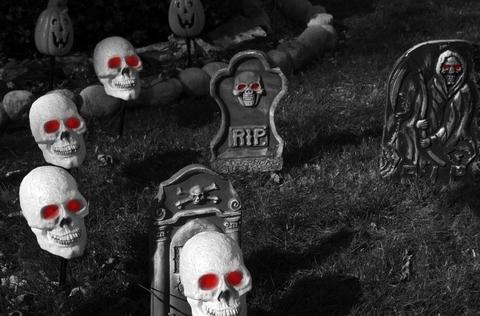 Summer is over and we are now into autumn, and we all know what that means! Yes, that's right; Halloween is well and truly on the way. For all of the avid Halloween fans out there who love to dress up and decorate in the spirit of this holiday, we have a few tips on how to can incorporate your love of artificial grass into this year's spooky season.
Below we have compiled a few Halloween scenes that you can try creating with fake grass.
Haunted Forest
There's nothing spookier than a good old-fashioned haunted forest, and the best part is that it is super easy to create. All you need is some fake cobwebs, artificial grass and a creepy backdrop to set the scene. The backdrop can be made with or by the kids; all you need is a sheet of black paper, some coloured chalk to draw the trees and some spooky-looking eyes, and you're all set! As for the fake cobwebs, consider hanging them in the corners of the room for an eerie atmosphere.
You can even use LED lights or Jack-O-Lanterns if you want to turn out the lights in true Halloween spirit. If you wanted, you could also make a black wreath or similar Halloween decoration to hang on your living room door as a taster of what's in store for Trick-or-Treaters!
Pumpkin Patch
There's nothing more traditional than carving pumpkins on Halloween, but why not take it to the next level with a full-on pumpkin patch on your windowsill? You can use artificial grass as a base for a more natural feel, and then you can carve some scary faces in a few pumpkins before placing a candle in each and popping them on the windowsill for everyone to see!
If you are feeling daring with your pumpkin carving skills, you could try a few famous figures in the world of terror such as The Joker and of course, Halloween's Michael Myers.
Graveyard
Our final Halloween scene is a graveyard setting, complete with tombstones, zombies and artificial grass for special effect. For zombies, you could get a few scary paper mache hands to pop out from the grass, and for tombstones you could use a couple of spare boxes and paint to create a wonderfully spooky scene. Spooky, simple and effective.
Here at the Artificial Lawn Company, we have a number of different grass varieties to choose from, so you can create a wonderful Halloween setting using any one of these three ideas, or indeed, one of your own!
If you are looking to purchase fake grass in the spirit of Halloween, please take a moment to look through our range of grasses. Alternatively, feel free to get in touch with us directly - we would be happy to help.
Have a spook-tastic holiday!