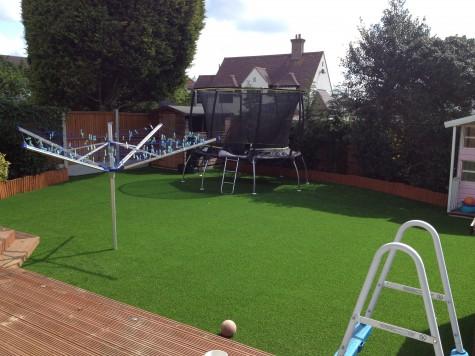 Here at Artificial Lawns we are often asked by our customers how to clean fake grass once it is installed. Fake grass is a product that lasts for years, wearing well throughout all weathers whether it is hot sunshine or heavy rainfalls. Spending thirty minutes a week on your fake grass will leave the grass looking good while remaining safe.
The first thing you need to do is pick up any large debris from your artificial lawn, things like twigs, branches or rubbish that has blown from surrounding areas.
You then need to use your leaf blower to remove any smaller debris. The leaf blower works well at fluffing up flattened grass to if you point the leaf blower to the tips of the grass blades. Ideally you need to do this on a monthly basis, more so if your lawn is used continuously.
If you have dogs or cats that urinate on the grass then it is a good idea to pour white vinegar on the areas they urinate, leave the white vinegar to soak through for a few minutes and then rinse it away with water. If you have 1-2 pets then doing this monthly is fine but the more pets you have the more often it will need to be done.
It is recommended that once a week you get your hose out and give the lawn a very quick clean with some plain water straight from the tap to keep it clean and looking good.
That's it - cleaning your synthetic grass lawn really is that simple!