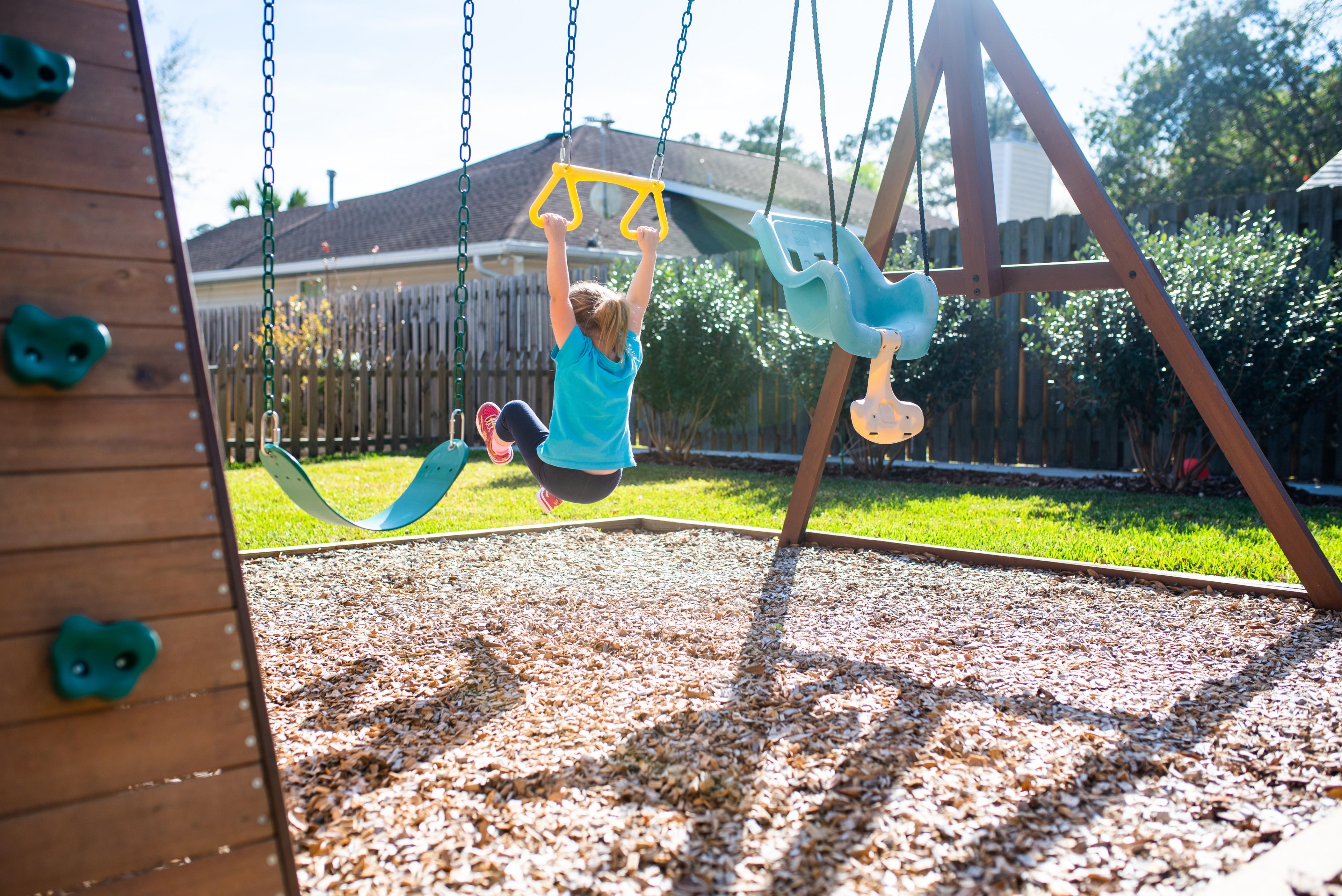 Artificial grass is rapidly growing in popularity amongst homeowners due to its versatility and easy-care design. Despite the robust nature of synthetic turf, lots of families shy away from it as an option because they believe it to be unsuitable for children and all that comes with them – including play equipment.
We are experts in fake grass and regularly install it in playgrounds, as well as nurseries, schools, and activity centres. The flexible blades are kind on small bodies should they fall over, whilst the W-shaped fibres ensure the lawn springs back to life after heavy use, unlike natural grass. Using artificial grass for a playground is perfect, and there's no reason why you can't replicate the fun of a play area in your own garden using some play equipment and a fake lawn.
If you're thinking about it, you might be wondering how equipment is fitted safely into the grass. Most equipment is big enough and heavy enough that it doesn't need to be fixed down, but one of the staples of any good playground – a swing set – does. For those thinking about installing fake turf underneath their garden play equipment, keep reading as we explain how to anchor a swing set on artificial grass.
1. Finalise the Placement
When your lawn is properly installed and ready for use, you need to decide on where the set will go. Due to the nature of installing fake grass under a swing set, we'd recommend you choose a location in your garden that will remain suitable for years to come. You need to ensure the area you choose allows the swing to move backwards and forwards without hitting anything else, and that it's not a high traffic area of the garden that could cause disruption, such as right by the back door.
2. Mark the Anchor Spots
Once you've measured where you want the swing set to go, you need to mark where the anchor spots are. Most swing sets have anchors on the sides of the legs/frame, and you need to ensure you mark out exactly where these anchors are on your lawn. It's important you get this right, so make sure you measure two or three times for added accuracy.
3. Make Small Slits in the Grass
When you're confident in your anchor markings, make sure you separate the blades of grass around it and use a Stanley knife to cut two intersection diagonal lines (an X). The X should be large enough for the ground anchors to slot into. You need to make sure you cut the backing of the grass so that the ground anchors can easily slot into the subbase below.
Artificial grass can also be easily penetrated by stakes so there may be no need to cut slits in the lawn to anchor down the play equipment.
4. Anchor the Set
The final step is to anchor the swing set into place following the instructions given with the equipment. This will usually involve using an electric tool or a wrench to ensure the anchor is secured tightly and deep enough.
When the anchors are in, that's all you need to do.
Why Choose an Artificial Grass Play Area?
You might be wondering why you should choose fake lawn for your play area in the first instance. If so, here are some key benefits for you to consider:
No mud – play area can be used all year round with minimal mess

Soft landing – the fibres are soft to the touch and with the subbase below provide a gentler surface should a fall occur

No lifting – artificial grass is securely installed which means it isn't susceptible to moving, unlike natural lawn which can come loose or break off over time

No scuffing – you don't need to worry about the patch of lawn under the swing set dying from frequent scrapes; artificial lawn bounces back in no time

Quick installation – it doesn't take much longer (if at all) to install artificial grass under a play area with equipment compared to natural grass, plus it lasts longer
Get Artificial Grass Installed
If you're based in London or across the south east and would like to find out more about installing artificial grass into your play area, please contact us and we will be happy to advise, whether you're a nursery, school, or private resident.