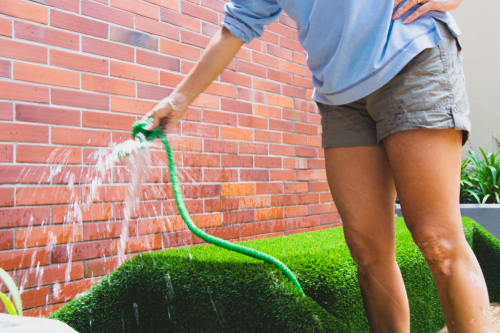 An artificial lawn is a superb addition to any garden. It can be used as an alternative to the traditional grass lawn or as a way to brighten up an otherwise plain courtyard or terrace. As with any form of garden surface, artificial grass does require a certain amount of maintenance, though nowhere near as much as other surfaces such as gravel or real grass.
Our range of quality artificial grasses is made with the best technology, ensuring durability, flexibility and longevity. That said, even a top quality artificial lawn will only last so long if it is not cared for properly. It is important to remember that 'low maintenance' is not 'no maintenance'. You need to be aware of the proper ways in which to maintain an artificial lawn, no matter how little work need to be done, in order to prolong and preserve it for as long as possible.
Though this proper maintenance may be more effort than you had originally anticipated, it is far less work than maintaining a real lawn and it will save you hassle and money in the long run.
So read on for five simple steps to protecting and preserving your artificial lawn.
Routine Titivation
In the same way you have a daily routine to keep yourself clean and tidy, your artificial lawn needs a specific regimen and routine titivation to stay in top condition. The first and most frequent thing you need to do is clean up any debris on the lawn (dirt, leaves, pet hair etc.). If your grass is particularly dirty or if it has been a couple of months since it was last washed, you can use a hose or a gentle jet spray to wash it down. If you do give it a rinse, let it dry naturally after going over it with a soft bristled brush. After removing debris you should top up the sand and give the grass a vigorous brush to distribute it evenly. If you feel the need, use some sort of herbicide or protective treatment to prevent weeds etc. ruining the turf. Make sure that any chemical substances used on the grass are safe for children, pests and the environment.
Regular Brushing
As well as using a brush when topping up the turf's sand, you should give your artificial lawn a brush a minimum of once a month. By brushing your lawn on a monthly basis you ensure that the lawn's pile stays in top condition; standing upright and keeping its bounce. It is best to use a soft bristled brush for this step in lawn maintenance and bear in mind that during the dry and dusty summer months, your lawn may require brushing on a slightly more regular basis.
Seasonal Awareness
Just as your artificial lawn may need more frequent brushing during the summer months, there are other seasonal specifics that can help to protect and prolong your artificial lawn's life. In the autumn your lawn will be subject to more natural debris than normal and falling leaves will fill up the lawn quickly. They will need to be removed from the surface to help drainage and reduce the risk of moss or weed growth.
Proper Protection
Keeping your lawn out of harm's way is the best way to make sure it doesn't meet an untimely end. If you are painting the fence or doing some garden DIY work then take the same precautions as you would when decorating the house. Lay down some sort of protective covering to protect the grass from spillages or damage and when you are done, gather it up and dispose of it. Prevention is as important protection, so be sure not to BBQ, bonfire or use lit substances on an artificial lawn because high quality artificial grass is made of high quality (and highly flammable) synthetic material. Even if the potentially fireproof sand is present, it is best to err on the side of caution.
Remember Nothing Lasts Forever
Your artificial lawn is an investment and whilst it will serve you well in the long term when properly cared for, it will not last forever. If you take your lawn for granted then you are likely to overuse, under maintain and speed up the deterioration of it. If however you make a conscious effort to protect your investment, it will likely prove beneficial long term. By making little behavioural changes - like banning heels, sharp objects and chewing gum from the lawn - you will be able to prolong the life of your grass and spend less money replacing it before its time.
There you have five simple ways to get the most out of your artificial lawn. If you already have an artificial lawn then use these care tips from now on, it is never too late to start a proper maintenance regime. If on the other hand you are looking into artificial grass for the first time, get in touch with the Artificial Lawn Company today - we will be happy to offer help and advice where we can.