Artificial grass is a low-maintenance solution for your home that can reduce your utility bills, your water usage and even the amount of time spent on chores. Our artificial lawns put the power back into homeowners' hands, reducing the amount of time spent caring for a finicky lawn that always has a dry, brown patch, no matter how much care you take over it or time spent sowing, watering and mowing.
With all the benefits available to your home and outdoor space, it's quite easy to get overexcited about the prospect of taking back your weekends and holidays, saying goodbye to your lawnmower and kicking back on your new soft, natural-looking artificial garden. However, don't forget, many people use their gardens in different ways, from entertaining friends to running laps with the dog to providing a safe and clean space for the kids to play in and we are thrilled to advise that artificial grass is suitable for all of them!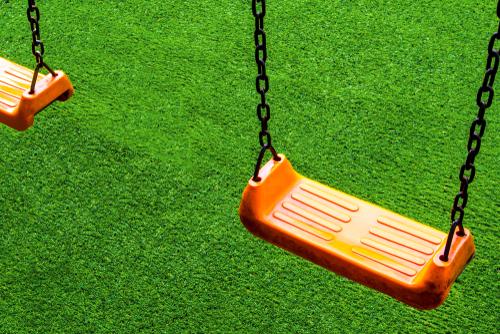 Our artificial grass is popular with residential family homes, not only due to our ten-year guarantee across the entire range but also for the increased durability of our dedicated Play Lawn that has been designed with busy kids in mind. If your kids would rather be outside, no matter what the weather, give them the space to get outdoors without worrying about muddy shoes and grass-stained knees.
From New-borns to Newly Walking
Our artificial lawn undergoes a manufacturing process that includes sewing each individual blade into the backing material, ensuring long-term durability for your garden and resilience against small, inquisitive hands. Not only can you trust that your artificial grass won't become patchy from being pulled and poked, but our lawns also offer fantastic bounce-back properties, ensuring your lawn looks healthy and natural even after it's withstood a toddler tantrum.
Are you a family with young children in the stages of learning to walk? Avoid carpet burns and give them a softer landing. Not only does our artificial grass feel luxuriously soft under touch or underfoot but it can provide a springy surface for tots learning to toddle. Paired with our Grassflex 35mm underlay shock pads, you can provide a safe surface for under toddler-friendly garden playground equipment, with a fall height safety rating of up to 1.5m for your peace of mind.
The Runners, Jumpers and Sports Enthusiasts
Are your kids always on their feet and have reached the age when you are, more often than not, telling them to sit down and sit still rather than telling them to get up and get active? Outdoor play is key to your child's development but sometimes it's not always possible to get to the park or out for a run-around. Our artificial grass can take the stress out of having the kids cooped up on rainy days and provide them with the freedom to enjoy themselves without worrying about them creating a muddy mess of the grass.
Artificial lawn offers a fantastic surface to enjoy ball sports, from 5 a side games to friendlies played with jumpers for goalposts - and there's no need to worry about kicking up divots and running the grass bare. Even with the chaos of rough and tumble play, you will be delighted to see your artificial grass always bounce back and looking fantastic. If it does start to look a bit flat from thundering feet, a quick brush with a stiff bristle broom will have it looking natural again in next to no time at all.
Less Time Needed to Clean, More Time for You
Running a family household can be exhausting with the unending piles of washing, forever answering to the calls of Mum, Dad or "Oiiii!" and breaking up petty squabbles - and it can often seem like there is no time that you get to yourself. Artificial grass can provide you with a much-needed slice of relaxation, a peaceful, green space that doesn't require constant upkeep and maintenance to keep it looking fantastic.
Not only is it easy to keep, but cleaning artificial grass is no hassle, simply wash down in minutes', easily removing sticky spills or chocolatey marks using a garden hose. Stubborn marks can easily be removed with a bit of washing-up soap and a gentle scrub, keeping your lawn looking luxurious even after hosting a busy children's birthday party!
It's no wonder that artificial lawn has become increasingly popular across schools and nurseries too in recent years, considering the fact it can be easily washed down and brushed to rejuvenate the area, not something that is easily achieved with carpets and rugs that seem to absorb and attract crumbs and dirt.
How to Clean Artificial Grass
Taking care of your artificial grass couldn't be easier and takes much less time than the weekly summer mowing a healthy lawn needs to keep it from looking overgrown. During the spring and summer months when the rainfall is lower and there is more dust and pollen in the air, a weekly rinse down with the garden hose will prevent dirt accumulating in the fibres and keep your artificial lawn looking luxuriously bright and green, exactly as a healthy lawn should!
Once a month, or after a period of heavy use, make sure to sweep your artificial lawn with a stiff bristle brush to put the bounce back in your fibre blades. You can do this by brushing opposite to the pile direction and removing any tangled leaves, litter and dirt. While a stiff bristle brush with fibre bristles is the most highly recommended piece of kit for cleaning your artificial grass, a soft-pronged rake can always be used, although avoid any metal pronged or steel-bristled brush as this can tear up and put holes in and damage your lovely artificial lawn.
Family home with kids and pets? Cleaning your artificial lawn of pet messes is just as simple, a quick spray down with the hose to remove urine spots and remove any remaining marks left behind once you've picked up the solid waste will keep your lawn looking and smelling fresh. If you haven't been able to get to a mess quickly, turf deodorisers are available to remove any lingering odours and if you are worried about bacteria left behind, a homemade solution of half white vinegar and half water can be used to disinfect your pets preferred toilet area.
Peace of Mind Artificial Lawn for Your Home
Each option of our artificial grass range comes with an 8-year guarantee, ensuring you can relax in your fantastic new artificial garden without worry. Found a fault with your artificial grass? We will replace it for you at no extra charge and get your lawn looking great again. At the Artificial Lawn Company, we've got you covered, simply get in touch with our sales team at your earliest convenience and they will be happy to help.
DIY or Professional Installation
We can provide you a complete installation service for your new artificial garden, taking care of everything from topsoil removal to brushing through the infill sand and those extra finishing touches. Alternatively, check out our comprehensive guide to carrying out your own artificial lawn installation. We explain each step in full, with tips and images to make the process easier for beginners and experienced DIYers alike.
Get in touch with our sales team today to learn about how we can transform your garden to a luxurious year-round green paradise that requires little maintenance and offers the perfect place for your children to run free and safe.