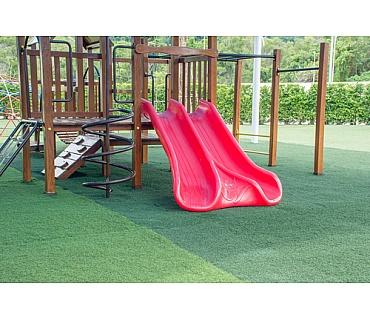 During the winter, it can be risky to let children out on the playground. The biggest risk could be that they slip, fall over and hurt themselves due to poor conditions. It's because of this, it's hard to imagine the playground busy during the cold and wet period.
However, it can become reality. It's practical, safe and you may think that artificial grass prices are high, but it is an investment that will pay for itself over time. Having artificial grass saves money on maintenance and is also completely safe for all children.
It's Practical
Artificial grass is extremely practical. It's easy to maintain meaning that groundskeepers can spend less time caring for the grass and more time on other things. It doesn't require any mowing and that alone will save endless hours and hundreds of pounds. There is also no need to buy any products to improve the condition of the grass because it will stay lusciously green all year round.
Even the rain won't be able to keep the kids inside as the drainage system soon kicks into action, clearing away moisture. Kids will forget about the weather and will love being outside running around on the playground.
It's Safe
Children can be clumsy, they can slip and trip on anything and everything. It can be difficult to ensure that kids stay safe when in the playground, but with artificial grass, it's one less thing to worry about. An impact-absorbing Grassflex underlay acts as protection against any hard falls. It has a fully certified 1.5 critical metre fall height; child safety is the most important thing when it comes to the playground.
Tough and flexible, the care of artificial grass doesn't include any substances that may cause harm to the children meaning they are safe to crawl, lay and run on it. Here at Artificial Lawn Company, we also offer wet-pour rubber surfaces in different shapes, colours and thickness to give you added protection elsewhere.
Still Worried about Artificial Grass Prices?
The price of artificial grass is increasingly less than the price of care and equipment that needs to be used on regular grass, and it also saves so much time. It will last longer and won't need half as much care.
You can't put a price on children's safety and it's vital to remember that, although it might cost you now, it will provide endless hours of fun for the children, all whilst keeping them safe.
If you're interested in installing artificial grass in your school and need more information please call us on 01474 364320, alternatively email us at sales@artificiallawn.co.uk.