During the winter, allowing children to roam free throughout the playground can be risky business. From falls and slips to an array of other injuries, these concerns can leave the playground empty and unused for much of the year. This is especially true in the UK, where rain isn't exactly a rarity.
Despite this, this isn't the way that things have to be. Not only is artificial grass for the playground a suitable alternative to other turfs, but it's also the one that provides the most security. Synthetic lawn comes with a multitude of benefits, including cleanliness, practicality, affordability, and efficiency.
It's Clean
Bad weather doesn't just bring the dangers of slipping and sliding. The lure of the playing field also brings the everyday terror of the muddy pitch, the unclean boots, and the browned and cracking PE kit. With the best artificial grass for the kids' play area, though, this is something you need not concern yourself with.
An artificial grass playground surface requires no soil. No soil means no mud. No mud means no bashing the boots together, cleaner PE kit, cleaner kids, and no messy footprints in school, the sports hall, or the hallway back home after practice.
It's Safe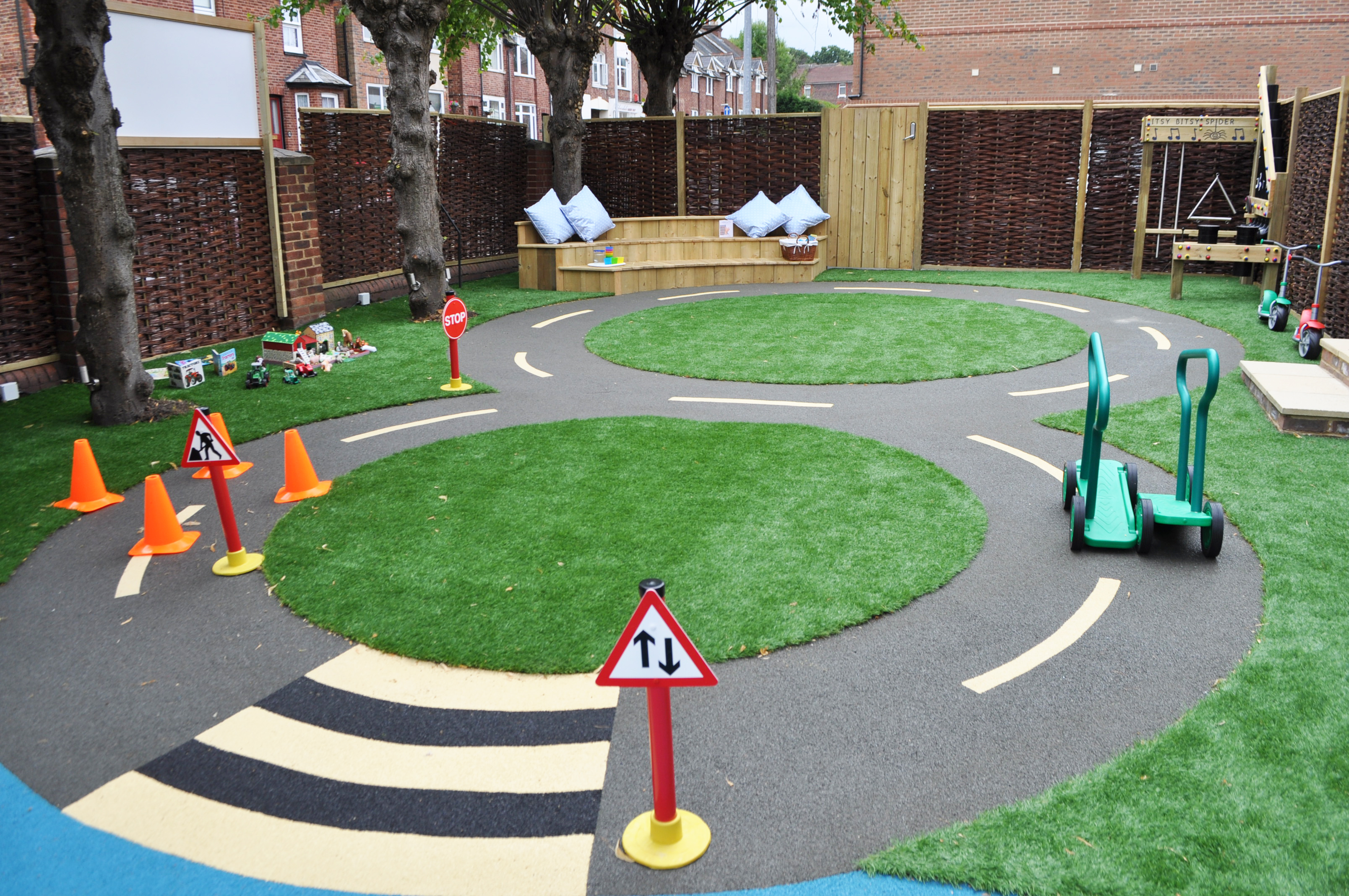 When it comes to rambunctious children, bumps and falls aren't exactly rare. It's no secret that children are forever changing and growing, meaning that they're having to constantly adjust to their new bodies. As a result, they often find themselves falling, slipping, and tripping over all manner of objects and terrains.
Guaranteeing the safety of kids in the playground is no easy feat; however, your chosen flooring can make the world of difference. Although stone and concrete are among the cleanest options, they're not very forgiving when it comes to tumbles. In fact, concrete is responsible for many injuries, including cuts and grazes that need to be immediately cleansed and patched up.
Therefore, the installation of synthetic lawn means that these issues won't need to concern you. In order to protect little ones against trips and falls, we place an impact-absorbing underlay beneath the turf. This underlay comes with the guarantee of a 1.5 metre fall height, meaning that all guardians can rest assured that the kids are protected. There's no denying that child safety must be placed at the top of the priority list as far as a playground environment is concerned.
It's Practical
While upfront costs may seem high, the savings that emerge from artificial grass' eminent practicality last on and on across the surface's lifespan. With no growth-related care to worry about, groundskeepers can focus less on time-intensive tasks like mowing, watering, and fertilising, and redirect their attention to alternative tasks.
Even the rain won't be able to keep the kids inside as the artificial grass' inbuilt drainage system takes swift and decisive action to completely clear away any excess moisture. Kids will forget about the weather and will love being outside running around on the playground or playing field.
Still Worried about Artificial Grass Prices?
The artificial grass for playgrounds cost is increasingly less than the price of care and equipment that needs to be used on regular grass, and it also saves so much time. It will last considerably longer and won't need even half as much care.
Although it might cost you now, it will provide endless hours of fun for the children, all whilst keeping them safe. Also, always remember – the safety and security of children are ultimately priceless.
If you would like to learn more, or you are interested in installing artificial grass for the school playground, sports centre, or home, and need more information, please call us on 01474 364320. Alternatively, you can email us at [email protected].