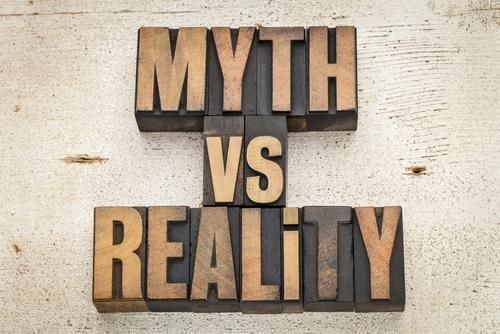 Many of us are a little naïve when it comes to a subject we don't have extensive knowledge on, the human mind will often lean towards the first thing it hears on a subject and this can be hard to shake.
That being said, there are always two sides to a story, and there is a high chance that what you thought to be true and correct is actually a myth. Still in doubt? We blitz three of the most common myths on artificial grass, here.
It looks fake!
The main reason people may think that artificial grass looks fake is that it looks so lush and perfect; not at all the accustomed norm. It is, in fact, incredibly difficult to tell the difference between real grass and fake grass because they look and feel identical in comparison.

Not only this, but there are many different lengths, fibres and styles of artificial grass, so it's entirely up to you what look you opt for. Who wouldn't want a lush garden all year round?
It costs an arm and a leg
Let's take a moment to consider the cost of artificial grass in the long term. If you factor in the cost of your lawnmower, the electricity is uses, fertilisers, pesticides and cleaning muddy footprints off your carpet - along with the most important of all; your time - it works out to be an investment worth making in the long run

With a fake lawn, when it has been installed, that's it; job done. Alongside this, artificial grass is very affordable thanks to our extensive range. It is durable and lasts for many, many years; not forgetting, it is most likely to increase the value of your home, too.
I've heard it's unsafe, especially for pets and children?
Quite the opposite; in fact; there is less scope for dirt and allergies and lack of chemical exposure from grass fertilisers and pesticides.
While it is true that back in the 1960's, fake grass used to be produced in quite a different way, but things have advanced in leaps and bounds since then. These days, artificial grass is manufactured from safe and environmentally friendly materials. So it works out to be even safer instead, and in addition to this, pets and children absolutely love artificial grass!
So, we rest our case; artificial grass is the way to go, and, if you still don't believe us, visit Artificial Lawn Company for more information.
Alternatively, give our friendly team a call for even more benefits and advice on artificial grass. We'll have you on your way to a beautiful, lush lawn to be proud of in no time!