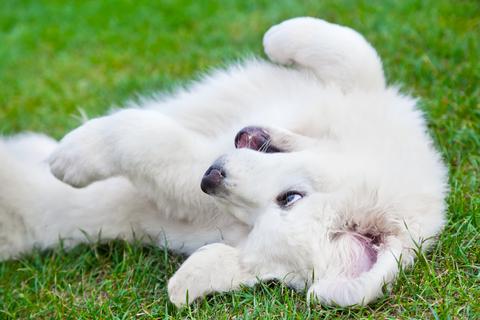 So, you've just got your new pup, and you're planning to commence training once they've settled in. However, you're a little unsure on some of the basics, such as potty training. Don't worry though, as in today's article, we will be talking about a few tips for potty training, as well as a couple of ideal surfaces for them to learn on.
Be Firm but Fair
Commands are a huge part of any training, which is why it is so important to ensure you remain firm (but fair) when it comes to giving your pup an instruction. When you let them into the garden, for example, teach your pup to associate words like 'Toilet' and 'Go' with regards to relieving themselves. This can help them to know when (and ultimately, where) to go.
Of course, offer praise when they obey the command, but when they don't, it's important not to make a fuss of them. Similarly, if your pup has an accident inside the house, try to avoid telling them off unless you see them do it. This avoids confusion on behalf of your pup.
Routine
Ideally, you will want to set a routine for your pup to go outside for toilet duties. This could either be after waking up in the morning, afternoon or following a meal or drink; which will also help with association. You need to be strict with this routine and only start to decrease the frequency of trips to the garden if you are certain they understand going indoors is a big no-no.
Surfaces
In terms of training surfaces, you, of course, have the newspaper option, where pet owners gradually move pups closer to the garden after learning to go to the toilet on the paper. However, if you'd prefer to start as you mean to go on i.e. outside, artificial grass is fantastic for dogs. Not only can mess be cleaned away quickly and with ease, but it is also a soft surface that your pup will thoroughly enjoy playing on. If you're interested in installing fake grass for your puppy's potty training, see our collection of pet-friendly lawn styles and choose the one that's best for you.
These are just three potty training tips for dogs. Do you have any more that you'd like to share?
To find out more about how fake grass can benefit your pup's potty training stage, get in touch today to speak to a specialist about artificial grass for dogs or see our website for our products.