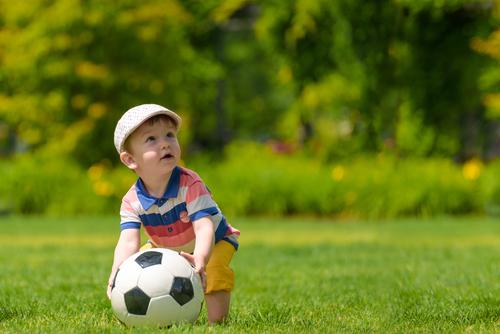 Whether you are a parent or you work at a school; ensuring child safety is a number one concern and is never far from the forefront of your thoughts.
Children go outside to play; often getting very messy and sometimes hurt. That's what children do, and there isn't too much you can do other than trying to minimise the risk of injury.
Keeping Kids Safe
This is much easier said than done, as children are always up to mischief. When it comes to playing outside and getting involved in all the rough and tumble, falling over on grass can leave a child with nasty knocks and hard to clean grass stains.
Should they be playing on an artificial lawn, the chances are that when they fall over, they will get right back up again - drama free. Best of all, there won't be any grass stains in sight.
Artificial grass is designed to be much softer than the real thing and is built to withstand prolonged use, meaning children can play as rough as they like and your fake lawn will remain in excellent condition. ALC make use of an impact-absorbing underlay called Grassflex, which has a fully-certified 1.5-metre critical fall height.
Artificial Grass for Schools
Many schools are beginning to take advantage of artificial grass as it is much cheaper and easier to maintain. On top of that, artificial grass enables students to get outside as much as possible, even during damp weather.
After rainfall, brushing out moisture in the artificial grass will ensure the surface is suitable for use again; meaning that the children won't have to be stuck indoors at lunch time.
As well as for play time, artificial grass can also be used for sports with certain types of lawn designed for such usage. Whether you are looking to install an all-weather pitch or area outside, or are even looking to make use of fake grass inside, ALC will have an option for you.
How We Can Help
If you are based in London, Kent or Essex, we are able to offer an installation service and provide helpful advice on how to look after your fake grass and keeping your area in tip top condition.
Should you require any further information on how the Artificial Lawn Company can assist in turning your garden or school setting into a safe and child-friendly environment, please get in contact today. You can email us at sales@artificiallawn.co.uk or call our friendly team on 01474 364320.