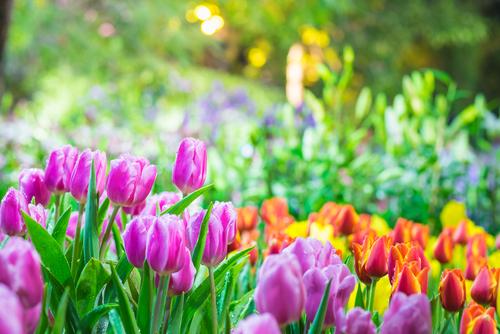 For all you gardeners out there, the long wait is over. Winter is very nearly done and we can't wait to get stuck into spring and our gardens again, and we're sure you will all agree. Spring fever abounds and nothing is going to get in our way!
However big or small your garden is, it will always need a little TLC, especially after a long and cold winter like the one we have just experienced. With a few years of gardening under your belt, you might still consider yourself something of an amateur, or perhaps something of a dab hand. Whichever statement best describes you; spring gardening checklists are always helpful.
Early Spring
Clear drainage areas of any stray leaves and debris that may have accumulated over winter

Clean your decking or patio

Order any seeds or tools you might need for the year

Plant your perennials

Prune and cut your trees to stop any buds from blooming early

Rake your grass to remove debris and leaves. This is especially important with a fake lawn, as it will not break down into the soil

Repair any broken fencing or trellis while there are fewer flowers or roots to disturb

Clear spring weeds before they have a chance to get deep-rooted in your garden

Top dress your flower beds with compost or manure but try not to dig down just yet
Mid Spring
Stop feeding the birds now. You'll need them to help keep your garden going and with plenty of flowers around, there will be a constant supply of insects in the ecosystem

Clean your birdbath and feeder, ready for next winter

Plant your annuals

Add another layer of mulch to the soil, to prevent weeds later on in the year
With the right amount of prep work done in early spring, you can sit back and relax until summer. Your fake lawn doesn't require any fertilising or mowing, just an occasional brush to remove debris; another job well done.
You now have your checklist in place and a handful of jobs to be getting on with, so, what else is there left to do? Pencil in a garden project; build a fire pit, construct some raised beds or even start your own compost heap? 2016 is your gardening oyster, so take a bite!
For more information on our complete selection of fake lawns, please visit our website or contact us today for a quote.