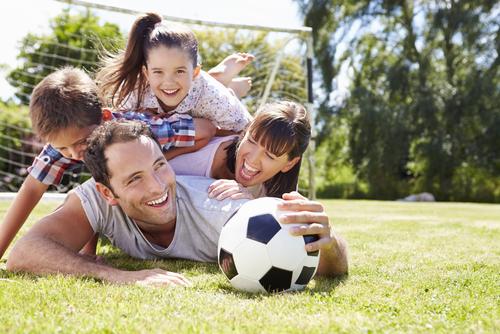 Keeping the kids thoroughly entertained during the school holidays can be difficult and expensive, especially if you're looking at going to activity centres and swimming pools. Factoring in the random trips to the cinema, bowling alley and the beach, and it soon adds up. However, we have a plan! Spend a little time on a rainy afternoon creating some homemade bits and pieces for summertime garden fun and you'll wonder why they ever even left the house!
So, if you enjoy spending time in the garden over the summer months, then this one is for you.
It goes without saying that before the fun can begin, your garden will need a little prep work to get it up to scratch. If your lawn is looking patchy, yellow and balding, unfortunately, there is no amount of lawn seed and water that can revive it in time to make the most of this summer. Luckily for you, fake grass for gardens is readily available and even better than the real thing! So, put your garden tools down, put that lawn mower away and get ready to have some fun!
The Setting
Picture this: an afternoon whiled away in the glorious sunshine surrounded by your loved ones or a lazy evening of alfresco dining in the early evening sun. Throw in some fun games and activities that the whole family can enjoy, and you'll soon have some great memories to look back on.
What's more, thanks to your fake grass, there will be no muddy footprints or grass stained clothes; making summer ideal for gardens, once more.
The Games
Now, when it comes to the games and activities that you can enjoy in your garden, you are truly spoilt for choice.
Of course, trampolines and paddling pools are great, but variety is the spice of life!
Our favourite summertime garden activities include:
Swingball tournaments - old school fun
Chalkboard on the fence Pictionary - for temporary fun in the sun
Mini golf - will keep you entertained for hours
Giant Jenga / Giant Scrabble / Giant Kerplunk - giant everything!
Waterblob - protects your lawn and is safe for kids of all ages
The Perfect Summer
Whether you make your own garden fun or buy in games and activities, be sure that you have a good time in the garden this summer. Not only is our range of fake grass for gardens perfect for all activities in all weather conditions, but it will look good all year round, too.
For more information on the range of grasses we have available at a price you'll love, please visit our website or contact our team to discuss your needs.