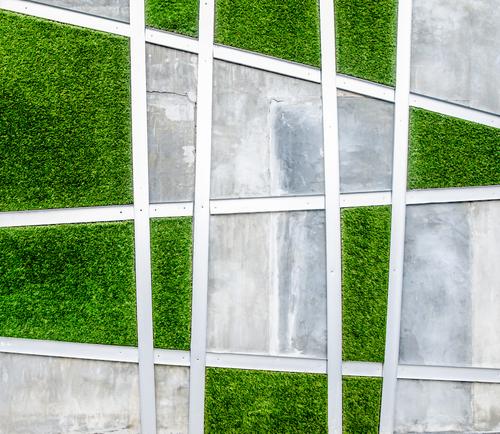 While it may be tempting to focus on the similarities between artificial grass and natural grass, the reality is that there are a number of notable differences, too. For instance, the former is much easier to maintain as it needs no mowing, no water, and it won't go brown in the summer or muddy in the winter. The beauty of artificial grass is its flexibility and endless possibilities, enabling it to easily be used for some truly innovative and quirky ideas.
Here are ten quirky and low maintenance ideas that can really bring your garden, business, or outdoor area to life.
1. Birdwatch Hide Camouflage
Many birdwatching hides are fitted with natural grass atop their roof, and some also feature camouflage print canvas carefully affixed to the exterior. Far fewer can claim to have a coating that closely resembles the rolling grass of the countryside connected to every flat surface of the structure. Offering the perfect way to blend into any space where you might be worried about upsetting the nearby wildlife, artificial grass can totally transform your birdwatching hide.
2. Tabletops
In addition to being extremely hygienic and easy to clean, there is something wonderfully eccentric and inviting about putting your plates down amidst a tiny field of green. A great idea for children's birthday parties or even a quirky garden party, artificial grass is a wonderful conversation piece and something deeply original for your outdoor dining experience.
3. Outdoor Furniture
Take a moment to imagine the luxurious feeling of relaxation that can come from lounging atop an outdoor sofa or deckchair that has been adorned with artificial grass. Because of its flexibility with all shapes and sizes, plus how easy it is to apply, artificial grass can cover furniture of almost any kind with the texture and feel of a well-manicured lawn.
4. Wall Gardens
Trellises and wooden frames allow spaces for vines and creepers to make their way up walls, turning gardens into truly vertical spaces. However, while putting natural turf on walls isn't really possible, artificial grass presents a very different proposition. Turn your garden's greenery into something all-encompassing and give a very different background contrast to the space behind your trellis.
5. Steps
There's something incredibly freeing about the feeling of grass between your toes, and because of the precision and flexibility afforded by artificial grass, it makes the perfect unique step covering. Whether it's a step up to your front door or steps to access different levels of your garden, the addition of artificial grass is sure to make a real difference to your outdoor area.
6. Exterior House Covering
Imagine the unique and eye-catching notion of grass flowing across the exterior of your property. Some may call it strange or eccentric, and while it may certainly be an unusual look, it is also a personal and unique style. If you're not afraid to stand out, this may be the option for you!
7. Abstract Lawn Art
The shapes and styles that you can cut artificial grass into are far more varied and eclectic than what is usually possible with natural grass and plants. If you are hoping to add a more artistic feel to your garden, artificial grass can definitely help.
8. Flags, Logos and Emblems
If you are a particularly passionate supporter of your local football club or are a business hoping to place your company's logo in a prominent position outside the office, artificial grass could be the solution you are looking for. With artificial grass, flags, logos, emblems, crests, and more are all entirely possible to recreate, giving you plenty of opportunities to personalise your outdoor area.
9. Outdoor Board Game Space
If you were just using natural plants, designing, installing, and maintaining a giant back garden chessboard would be difficult, but not impossible. Paving slabs could be white, and the green spaces could replace black, and pieces of the necessary size and shape could be found. But if you wanted to move onto more complex games, with more complicated board layouts, maybe Ludo, Scrabble or even Risk, the complexity of the process would make things difficult. With artificial grass, though, you can cut your lawn into almost any shape you desire.
10. Play Equipment
The mystery and imagination of playtime can only be dramatically enhanced if you should walk into the back garden and find a castle or a climbing frame that appears to have just grown up out of the ground. It's certainly also a far easier surface to grip onto, and could well make the playspace last a lot longer, although perhaps the biggest value is the weird and wonderful stories and games such a creative addition to the playspace could inspire.
Artificial grass is much more than just a low maintenance alternative to traditional turf spaces. In the hands of the right people with the right ideas, it is an artistic medium. Your garden, business, or outdoor area can be your canvas, so go forth and express yourself.