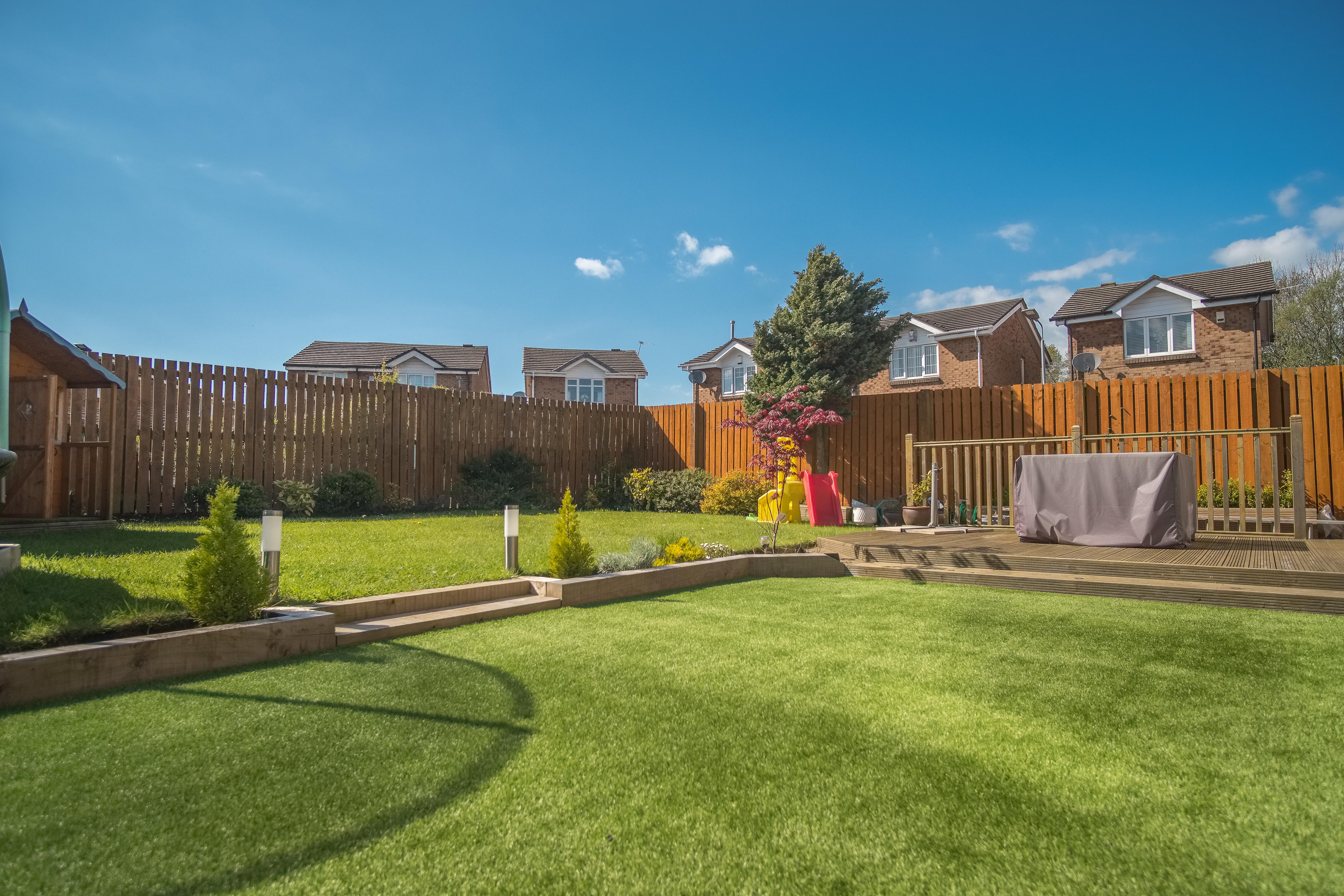 Artificial grass is an increasingly popular option for residential gardens, but like anything, it's hard to know what the best type to choose is. Artificial lawn in all its varieties is a great option for laying down in gardens. In the same way, there are different types of carpets to choose from for your living room, there are different types of residential artificial turf grass. Before you make the commitment to buy, you should carefully assess which type of residential artificial grass will work best for you and your needs.
Some types of artificial grass will be more suited for industrial applications in places like playgrounds and pet kennels and, in most cases, you won't need something as heavy duty in your garden, but that begs the question: what is the best artificial grass for residential use?
Well, the answer to that question depends on your lifestyle!
Artificial Grass for Families
There are many reasons why families might choose fake grass for their garden space. Family life can be hectic, especially for those with young children. Spare time is at a premium and when it does arrive, the last thing busy parents want is to spend it mowing the lawn, picking out weeds and cleaning up the mud that has been churned up on the lawn and traipsed through the house.
The solution? Artificial grass. No mowing, no trimming, no de-weeding, no watering and no mud; perfect for young families who like to get busy outdoors! For residences with children, we'd recommend:
Longer pile length

Resilient fibres

Natural look

Soft feel
Our Active Lawn is a great choice for any family garden. The lawn itself is comprised of 40mm long W-shaped fibres. The blades have lots of bounce-back which allows the fibres to spring back to their pristine upright position – no matter how much rough and tumble they endure. The colour is a four-tone mix to ensure the most natural look, and the super-soft blades are incredibly comfortable underneath little feet. Our Active Lawn is by far our superior option for residencies that house children and want the grass looking great - even after lots of use.
Artificial Grass for Pets
A widely communicated misconception about fake grass is that it isn't suitable for homes with pets, but that's simply untrue. When adequate drainage is provided and the right synthetic lawn is chosen, fake grass can be an excellent choice for those with four-legged companions. For example, there's no reason why dogs, cats, rabbits and guinea pigs can't all enjoy the feel of fake grass underfoot, so long as their owners choose a pet-friendly option.
When it comes to a checklist for fake grass for pets, things you should look out for include:
Sorter pile length

Resilient fibres

Natural look

Soft on paws
A shorter pile length is good for pets because it requires less maintenance and will be easier for you to clean when they do their business. Not only this, but it's more hardwearing so can withstand any potential digging and rough play. We have a few options that suit this brief, starting with our Landscape Lawn. This two-toned lawn has a 30mm pile length so is great for those who like the look of a freshly cut lawn. It is made up of durable C-shaped fibres that have excellent bouncebackability. Paired with the affordable price, it is a great looking option that also boasts excellent durability and is easy to clean and look after.
A cheaper alternative would be our Easy Lawn. It has a 25mm pile length which is optimum for pets, and the three-tone colour mix looks just like real lawn so your pets won't be confused. The mixture of straight and curled pile feels exceptionally soft, but if you want added comfort, be sure to add a shock pad underneath.
Artificial Lawn for Landscaped Gardens
If you don't have pets or children and instead require fake grass to enhance your garden and transform it into a sanctuary of relaxation, the world is your oyster. You have lots of options to choose from, but you'll want to ensure whatever lawn you do end up picking is:
Extremely realistic

Soft underfoot

Thick pile density

Multi-toned

Premium quality
For those who prefer a slightly longer lawn, the Comfort Lawn should be considered. It is 38mm long so is a good in-between length for those who can't decide between freshly cut grass and slightly longer blades. It has a super soft four-tone colour mix that looks extremely realistic, and the mixture of straight and curled fibres only add to the ornamental quality of this lawn.
If you love the look of the Comfort Lawn, but prefer something slightly longer, try our Luxury Lawn. The 40mm long blades really do give this turf a regal quality and boast a bright and vibrant olive green appearance. The individual memory fibres of our Luxury Lawn have been developed to withstand everything the natural elements bring whilst retaining a beautifully natural and soft look and feel.
Lots of people take great pride in their outdoor space, and if you're one of those who has a green thumb, look no further than our Supreme Lawn. As the name suggests, this is our top of the range fake lawn. The 45mm long pile is exceptionally comfortable to walk on and even better to look at. It's our most realistic looking fake grass, so if your garden is the pride and joy of your home and you want something will emulate real grass, this is the best option for you.
Get Artificial Grass for Residential Use
Buying artificial lawn is a big decision and not one that should be taken lightly. If you need help in finding the right lawn for your residential property, please don't hesitate to contact us. We can arrange to send you samples and discuss your requirements with you in more detail, making sure you get the right solution for your needs. Alternatively, read our complete buyer's guide for more information.