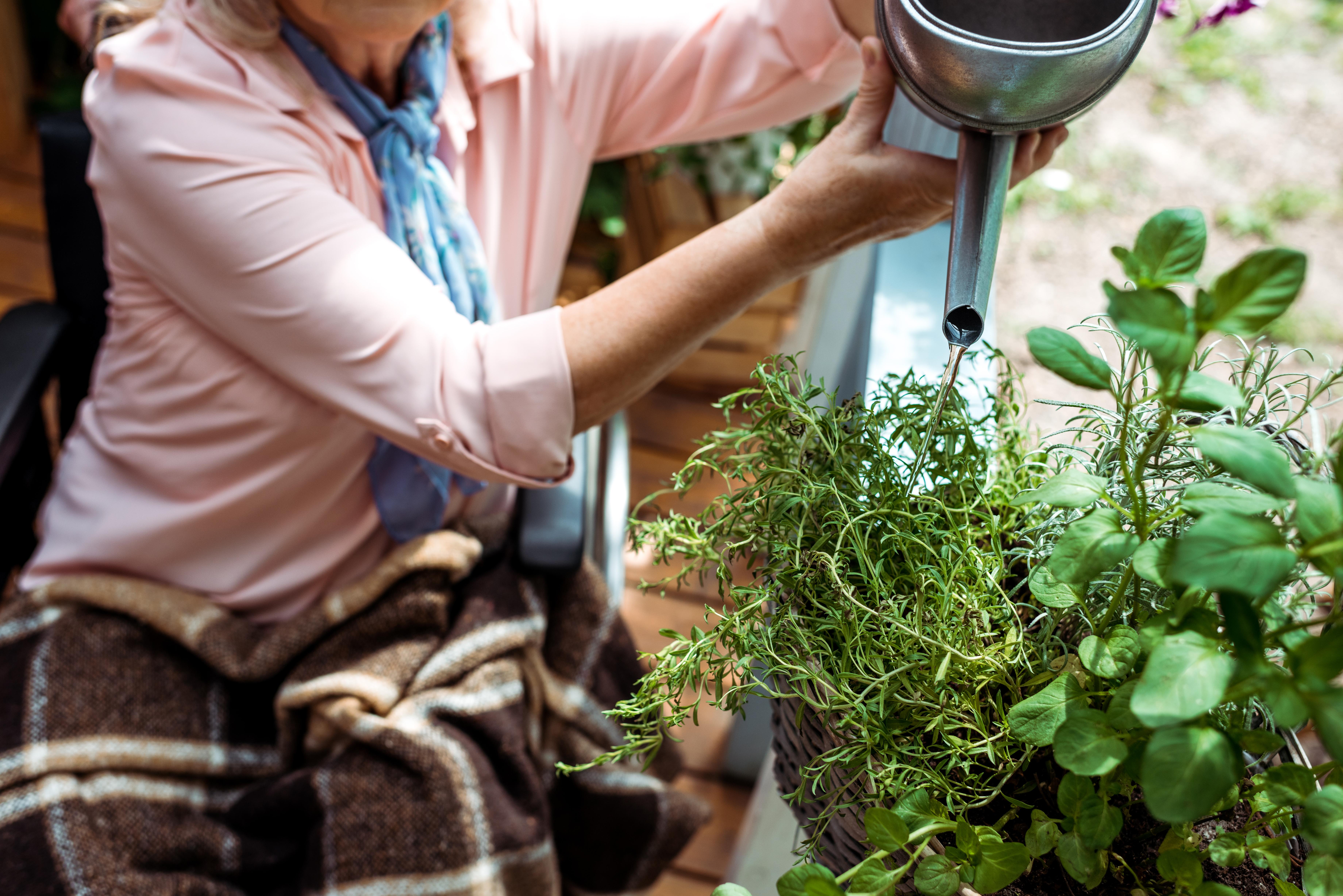 Gardening is an excellent form of therapy for people from all walks of life, and it offers a wealth of health benefits, both physical and mental. From reducing your risk of a stroke to providing stress relief and burning calories, there is a lot to be gained from gardening, and it can be enjoyed by everyone.
Aids for disabled gardeners make getting out in nature accessible to everyone, meaning everyone can reap the rewards of giving their garden some TLC. If you or someone you know is looking to spend more time outdoors but are unsure of the aids available to provide help and support, we've put together a list of items that could come in handy.
Rolling Garden Seat
Gardening can be arduous, and depending on the size of your garden, it can also be a time-consuming task that requires breaks in the middle. For those with limited mobility or who require time to recuperate between tasks, a rolling garden seat is ideal.
There are multiple options, but generally the seat is comprised of a stool (cushioned or not), four wheels, and a pull/push handle. Some rolling garden seats also have an internal storage area which means you can place your tools, a drink, and other gardening items within the seat for easy access and transportation around the garden.
In order for the seat to roll, it is important that the garden is friendly for wheels. This means no cobbles or steps that could prevent the seat from moving seamlessly, although there are lightweight options available that can be carried where necessary.
Easy Grip Tools
Gardening tools can be fiddly and tricky to hold, posing a problem for those who have difficulties with gripping things or who need additional support for their arms or hands. The good news is, there are lots of tools available that have easy grip handles. Some have longer handles whilst others can be paired with arm cuffs similar to those on crutches for additional arm support.
These types of tools allow everyone to cultivate their flower beds, rake their soil, and plant new life in their garden independently. You can add all manner of easy grip tools to your arsenal, including a garden weeder, a trowel, a cultivator, a fork, and a hoe.
The handles on easy grip tools are ergonomically designed and feature rubberised materials that are non-slip, allowing you to use the tools even in wet weather. For larger tools like rakes, you can buy add-on handles that attach to the existing handle, but that transform it into an easy grip tool.
Artificial Lawn
Artificial lawn might now seem like the obvious choice for disabled gardeners, but it can actually make things a lot easier – and safer. When artificial lawn is laid, the ground beneath it is professionally levelled out, ensuring there are no hidden dips, bumps or lumps that could pose a trip hazard.
In addition, artificial grass requires little to no maintenance because it doesn't need to be meticulously watered, mowed, or treated with weed killer. This is ideal for those who are looking to create a low maintenance garden that is more suited to their needs.
Not just this, but the lack of soil means it's far safer for those with walking difficulties to manoeuvre their garden because there are no slip risks. Wheelchairs also roll over artificial grass far more smoothly.
Paired with clear walkways and proper disabled garden access in the form of lowered steps and ramps, artificial grass can be one of the best options for disabled gardeners.
Raised Planters
Getting down on the ground to cultivate plants and flowers isn't an option for some disabled gardeners, especially those in wheelchairs and those who find it difficult to bend down. In this case, raised planters are a great tool. You can grow just as much in them (albeit on a smaller scale), but they are far easier to access and require no bending down.
The great thing about raised planters is that they can be specifically designed to suit the needs of the user, and can be made to the exact height that works best. There are more than 1.2 million wheelchair users in the UK, and the height of raised planters for them is recommended to be anywhere between 61cm and 76cm, though it depends on the user.
For those with limited mobility, planters can be made to standing height. They can either be purchased and adjusted, or regular planters can be securely stacked on things like crates or tyres. They can be dotted in any formation, although bordering a lawn is the most common option as it allows for greater accessibility.
Garden Kneeler
Some people are able to bend down, but they find the hardness of the ground unforgiving on sensitive joints. This is where garden kneelers come in handy as they ease the pressure on the knees by providing an ergonomic cushion that is both more comfortable and supportive.
Some garden kneelers are foldable, whilst others can be flipped upside down and used as a stool. This offers more versatility to those with multiple needs.
Buy Disabled Garden Aids
There are a number of retailers online where you can buy disabled garden aids, or you can try your local garden centre. For artificial lawn, we can help. You can take a look at our fake grass range on our website to see what options are available to you. If you want more of an idea of how each type looks and feels, you can request samples online.
Once you know what type of lawn you want, you can request an installation quote from us if you're based in the South East of England and Greater London. All we need are the measurements of the area you want to cover, and what the existing base is, e.g. turf, gravel or concrete. We will then provide you with a quote for your project, and you will have the option to pay in one go or to use our 0% finance option.
We will then discuss a time and a date to come out fit your smooth new lawn for you. If you would like more information on how we've helped create accessible garden spaces and how we might be able to help you, please contact us.