The flexibility of artificial grass lends itself to many uses, although using fake grass as an alternative to carpets may not be one that immediately springs to mind.
Interior design is constantly evolving. More and more homeowners are choosing original methods to make their homes unique and installing artificial grass indoors definitely fits the bill. It can give your home a brand new and more welcoming feel, even if it is just used for a small dedicated section in a room.
Artificial grass is also nice and easy to clean; simply vacuum the dirt or for stubborn marks some warm, soapy water will have your grass looking good as new.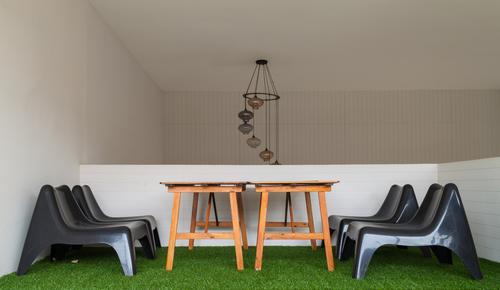 Artificial Grass as an Alternative to Carpets
As artificial grass requires no water and is made from synthetic materials, installing the surface is really not much different to laying a new carpet. For the more quirky-minded, artificial grass is an appealing option if you wish to put your own unique spin on the décor of your home. Covering desks or tables, or even whole pieces of furniture!
Bringing a piece of the outside inside does have its uses. If you live in a home without a garden, installing a section of artificial grass can act as your own piece of greenery. This can be utilised as the ultimate chill-out zone with the calming effect of feeling grass on bare feet while never having to worry about a turn of bad weather.
Why Use Fake Grass Inside
Homeowners use synthetic grass inside simply because it has the ability to completely transform a home for the better. Popular residential uses include installing artificial grass in a conservatory or using it to make a welcoming and inviting children's play area.
Due to how fake grass is made, the surface is much safer for children to play on than traditional carpet, which can cause carpet burns and do little to cushion falls. Artificial grass will not cause injury to children when playtime gets rough, as can so easily happen. You'll never have to worry about carpet stains from juice again, spills and messes can be effortlessly mopped up on an artificial grass floor.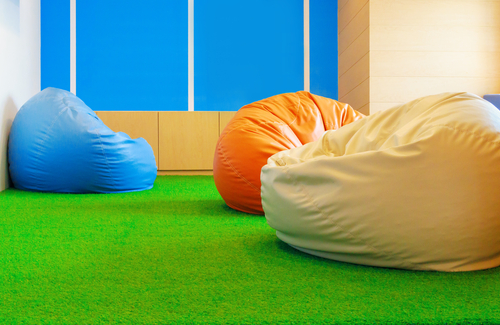 Artificial turf is also perfect for use in sensory environments. Young children will love running their fingers through the artificial turf and the bright green colour invokes feelings of calm and safety.
Another use for synthetic grass is indoor putting greens - ideal if you or someone you know doesn't fancy braving the weather for a round of golf. Our artificial grass is available in various lengths, ensuring nothing gets in the way of your perfect putt.
Consider transforming your home office with artificial grass, use it under your desk for that "outdoor feeling" while you work. Surely there's no better feeling than being able to sit at your desk while running your feet through the grass. Alternatively, transform your working space and add some artificial grass to your walls for a truly striking décor.
If you've got pets with no regular access to the garden, it can be great for giving your pet a feel of the outside without worrying about them digging! The easy maintenance and ability to clean means even if your pet chooses it as their preferred toileting space, you can have it looking fresh in no time.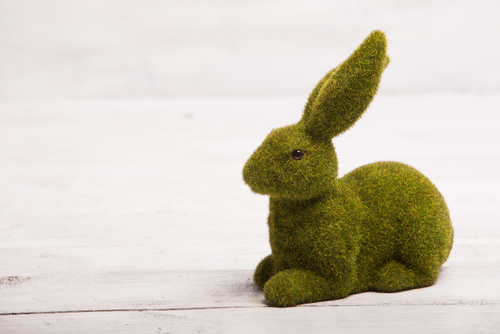 With artificial grass, the possibilities really are endless. As well as an alternative to carpets, fake grass can be used for other decorative purposes through being installed onto walls, desks, tables and other surfaces.
It's not just for residential use, many businesses are utilising artificial grass for reception areas and exhibitions due to its welcoming traits, further proving that synthetic turf really can be used for all purposes.
If you want to find out more about how you can use artificial grass in your home or business, please call our team on 01474 364320.
Need some inspiration? Request a sample pack below.