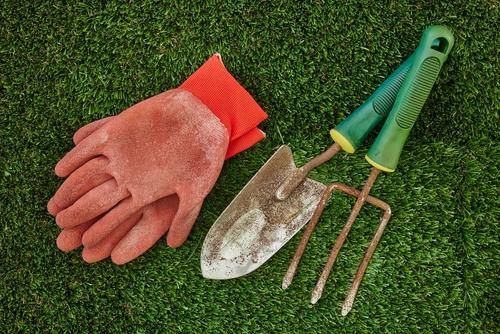 You've just had your artificial grass garden installed, the infill has been added and you've given it the first brush down and it's safe to say, it's looking pretty gorgeous right now. You might be wondering, how long will this last? Will I have to regularly replace my artificial turf to keep it looking this good? The answer is a resounding no! It's actually very easy to maintain your artificial grass and it doesn't even require day-to-day attention.
Remember though, low maintenance does not mean no maintenance. You will need to ensure that the little bits you need to do definitely get taken care of. Otherwise, you could end up with a flat, unhappy-looking artificial lawn that requires a lot more tender loving care to get it back to brilliance.
Just After Installation
After your artificial lawn has been installed, you will have been advised of the internal sand infill that is applied to help the individual blade structure. To ensure this does its job, you will need to lightly brush your artificial grass regularly for the first 6-8 weeks after installation takes place.
Take note of any heavy rain or winds you have over this time as the infill may be lifted out by adverse weather and may need to be refilled. Once the infill has settled after the initial eight-week period, you won't need to worry about this.
As an alternative to brushing, you could also use a leaf blower or garden vac to gently blow the artificial grass in the opposite direction to which it's leaning to ensure it remains upright.
Maintaining Artificial Lawn
After you've had the "settling period" your artificial grass should only require semi-regular attention.
Light brushing using a stiff bristled brush will keep turf looking tidy and only needs to be done a few times a month or on areas that receive heavy footfall. Avoid using metal bristle brushes as these can rip and damage your artificial grass
Regularly remove leaf litter or natural debris. If left, leaves can compost which encourages mould and weed growth which can be more difficult to remove. Rotting debris can also block drainage causing water to collect on the surface of your artificial lawn
Twice a year, consider treating your artificial garden with weed killer solutions. Seeds and spores are carried on the wind and can easily be deposited on your artificial grass, rooting down into the ground below
Once a month, you may want to hose down your fake lawn to remove any build-up of dust and particles carried over from traffic. If you live in a particularly busy or dusty area then you should do this more often, possibly once a week to keep your grass looking nice and green
If you have pets or children or regularly entertain guests in your garden, you'll likely want to brush your artificial turf more often to prevent flattened areas and compacted infill
While light maintenance is recommended, if you and your family or pets spend a lot of time in your garden or have a lot of over-hanging trees and greenery, you will want to carry out basic maintenance more often.
How to Clean Artificial Grass
In a busy family home, spills and food messes are a given but worry not - your artificial grass garden is so easy to clean, you'll be tempted to make the kids eat out there permanently!
Drink spills can be easily mopped up and allowed to drain through into the ground below. Should a sticky residue get left behind, this can be easily wiped away with warm water or a gentle soap-water mixture
Food mess should be removed as soon as possible and the area cleaned using warm water or a half-and-half mixture of water and white vinegar which works effectively against bacteria
There are artificial grass cleaners specifically designed to remove bacteria and stains from your artificial garden. They remove the risk of using unsuitable cleaners that could potentially cause damage to the surface
Your artificial grass is designed to be resistant to stains, but the key lies in reacting quickly to wet or dry messes and mopping up or removing them as soon as possible.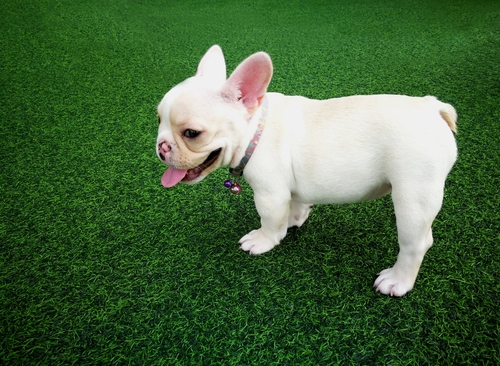 Cleaning Pet Messes from Artificial Grass
Artificial grass gardens are gradually becoming more popular with pet owners due to their low fuss maintenance requirements. As a pet owner, there are a few things you can do to ensure your artificial grass stays clean.
Clean artificial grass of dog urine by hosing down the area at your earliest convenience. Your pet is likely to use this area frequently as a preferred toileting area so a regular wash down with warm soapy water will keep it looking and smelling fresh
Remove pet messes with a plastic poop-scooper or the inside-out bag method. Never use metal forks or spades as this can damage your artificial lawn. Then, give the dirty area a quick hose down
If you find an area has stained, you can wash down with a half-and-half vinegar and water mix or a watered-down mix of washing up liquid to remove any lingering bacteria and eliminate tough stains
Maintaining Your Artificial Grass Over Winter
Over the winter months you are likely to use your garden less, however, you may have sheds or other storage facilities that you still need to access.
Never forcefully remove snow or ice, instead, this should be allowed to drain away naturally through your artificial lawn into the soil below
Should you need access to the garden, avoid walking across snow as this can compact and damage the artificial turf below
Brush away loose snow with a stiff bristle brush or plastic spade; avoid any metal garden tools as this can damage your fake lawn
Use of salt is not recommended for your artificial garden as over time the build-up can block drainage channels, preventing water from draining away
Keeping Your Artificial Grass On Point
There's no doubt you are feeling quite proud of your artificial garden and look forward to using it or showing it off. While regular maintenance is the best way to keep your garden looking fresh, we have some additional recommended tips to ensure you get the most out of your artificial grass.
Avoid placing any heat-related items or furniture on your artificial lawn. This includes BBQs, fire-pits and fireworks
Don't let any harsh chemicals come into contact with your artificial garden including greases, fuels, battery acids and bleaches as they will tarnish and discolour the grass over time
Ask any smokers to keep off your artificial garden unless you are absolutely sure there is no risk of ash or hot embers landing on the area that can cause burns or melting of the material
Rotate heavy objects like furniture and pools to other areas of the garden to prevent permanent flattening of artificial grass
Never wear studded or stiletto shoes on your fake grass as these will puncture and damage the surface, sometimes causing rips and tears that will start to lift. The same can be said for keeping sharp items or broken glass off and away from artificial grass gardens
Remove mirrors or mirrored surfaces from your garden to prevent reflected sunlight heating up your artificial grass and damaging the surface. The same effect can sometimes happen if sunlight is reflected from energy-efficient windows and doors, due to a reflective inner layer designed to keep heat in/out of homes. Consider installing shades, awnings or shutters on problem doors and windows to reduce the harsh reflected light
With careful and regular maintenance, your artificial garden will continue looking fantastic for years to come. Should you find that some areas have become lacklustre or damaged, a small area replacement is easy enough to carry out. If you are unsure, it's always wise to call in the professionals, rather than attempt a half-hearted DIY job.
This guide has been written for artificial lawn installed in the garden, however, you aren't restricted on where your artificial turf goes. You could use fake grass to spruce up old decking or rejuvenate a paved area. You could even bring some of the outdoors inside by using artificial grass as an attractive rug or carpet. Wherever you have it installed, we hope your artificial lawn brings you years of joy!