Many of us are keen to get out into the garden to enjoy our private green spaces whenever the weather permits. However, if the garden is looking overgrown or a little worse for wear, it can soon turn an enjoyable space into an unwelcoming one. Take the stress out of maintaining your lawn by installing an artificial grass garden and give yourself more time to relax.
There is an abundance of artificial grass garden designs to base your ideas on and no two gardens need look alike with the variations in space and shape. Making your garden look good can be as intensive or as simple as you like - your only restrictions are time and your budget. From creative artificial grass ideas for front gardens through to quirky, inventive, or inspired designs for your back garden, the sky really is the limit!
However, before diving into a complete garden redesign, make a rough sketch of what you'd like your garden to look like when it is completed. This will give you an idea of how much you need to change and the materials required, in addition to assisting in the budgeting process.
Should you wish to install a below ground pond, for instance, map out the rough dimensions. Make a list of the supplies you'll need - pond liner, decorative stones, equipment required for filtration, fish etc. Price up the supplies you require for the project and see how that impacts other aspects of your garden design. You may need to reconsider certain design choices if the budget quickly gets taken up.
If you want to update your garden but are struggling for inspiration, we've got a selection of our favourite artificial grass garden design ideas that are perfect for bringing your private oasis to life.
Open Green Space
Your garden doesn't need to be full of flowers to look good! Having an open green space of artificial turf brings vibrant colour to your garden while removing the risk of patchy areas, unsightly weeds, and muddy puddles.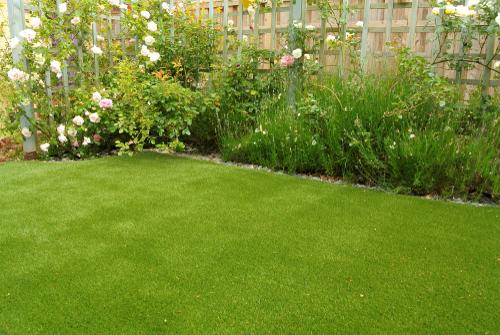 Additionally, replacing your lawn with fake grass means less time spent mowing, weeding or maintaining and more time spent enjoying your outdoor area. Similarly, opting for a classic but attractive open green space is perfect for smaller or square shaped gardens with fake grass using minimal effort.
It's easy to transform an open green space like this through the use of paving slabs, edging and building in flower beds for a splash of colour. Think about the sort of garden furniture you would like and go bold with soft furnishings such as pillows. Don't forget to add areas of shade using parasols, awnings, and tree too.
Colours and Coordination
If a colourful garden is a must, build in or leave space for flower beds that you can fill with an assortment of beautiful flora. Raised flower beds are especially good at breaking up open area and adding some much needed dimension to your overall décor. Additionally, when using flower beds to border areas, make sure to leave at least a metre between the edge of the artificial lawn and the end of the bed. This allows for a variety of plant sizes to grow within the flower bed, making it more interesting to the eye.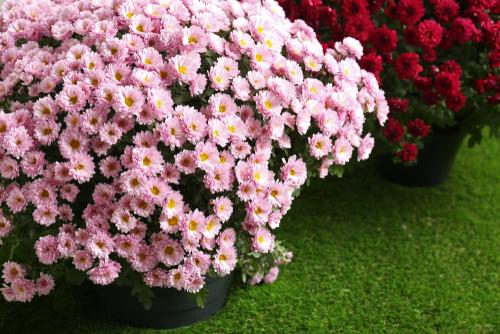 When adding flowerpots or beds to paved areas, consider coordinating them with the colour of your slabs. Sandy coloured slabs work great with gentle pastel tones like soft pinks and delicate blues, whereas grey, white and black paving looks fantastic alongside bold coloured blooms in red, orange and yellow. Alternatively, coordinate your flowers to the seasons; soft colours such as white and pink during the spring/summer switching to brilliant reds and bright yellows in the autumn.
Water and Fire
Giving your garden a man-made feature can instantly transform its overall look and add something incredibly special. This could be as simple as a small fire pit to gather around on those crisp summer evenings, right through to an expansive garden pond. Not only a fantastic conversation starter for your garden guests, water features encourage a tranquil, relaxing environment. Conversely, firepits allow you to spend more time out in the garden and are great for entertaining.
Similarly, even the smallest gardens can benefit from a stand-out feature or focal point. Small gardens with artificial grass can incorporate these ideas through unobtrusive but eye-catching additions like small fountains, freestanding waterfalls, or a chiminea to really bring your garden to life.
Garden Structures
Gardens also serve as additional space for you to take advantage of and can be improved with residential structures for storage, as a guest room or just as somewhere to unwind during the summer months. Summer houses come in a variety of shapes and sizes or can be custom-built to your specifications.
Ideal for creating a shady area to escape the summer sun, garden structures can also be used for temporary accommodation or even as an added revenue stream if you choose to rent them out. In addition, summer houses are easy to accessorise with garden lights and soft furnishings to add a more homely and relaxing atmosphere.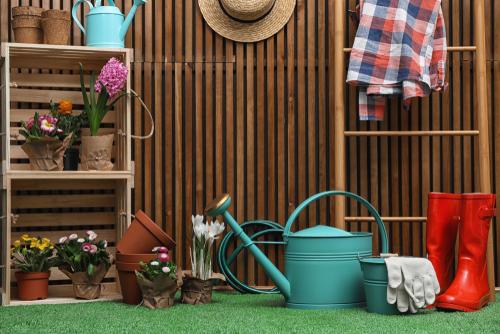 Raised Areas
Adding different heights and experiences to your garden is an easy way to make it look more aesthetically pleasing. Terraced flower beds using stone and brick can be extremely effective while adding areas of decking brings a sophisticated atmosphere. Similarly, if you like the idea of flower beds but aren't really the green-fingered type, why not opt for artificial grass border ideas to cut down on the maintenance work that traditional flower beds create? Decking and patios is also serve as a fantastic way to add areas for outdoor dining with the option to add a roof for shelter against the wetter weather.
Grow Your Own
Dedicating an area to fruit and vegetables can be enormously rewarding. Not only do you get to tend to a garden and be engaged with nature - which has huge benefits for physical and mental health - but you also get to eat the literal fruits of your labour! Easy plants to grow include herbs, tomatoes, onions, potatoes and peas and this also presents a great way to encourage children to get involved.
When planning a grow your own garden, you should carefully consider the sorts of plants you'd like to grow with the space available. You don't want to overcrowd your plants or cause competition for nutrients, after all. With an artificial lawn in the centre, small bushes and plants can make a great border that adds something special to almost any garden experience.
Benefits of an Artificial Grass Garden
One of the biggest overhauls you can carry out for your garden is replacing real grass with artificial lawn. Laying artificial grass isn't a difficult task, although it can be labour intensive depending on the garden size and surface you are replacing. Uneven areas or slopes will need to be carefully levelled using sand or an underlay and there are several types of artificial lawn available, so be sure to thoroughly investigate your options.
Fortunately, the benefits far outweigh the negatives:
No more giving up your precious spare time to mow, weed, or maintain the grass
Accessible all year round without the risk of tracking mud and grass into the house
Easy to clean by simply spraying down with water, which is particularly useful if you have pets
There's also no need to worry about high foot traffic as artificial turf won't wear down with heavy use, unlike real grass. If you are unsure about undertaking such a project, then it's always wise to consult a professional or seek installation services.
These are just a few artificial grass garden design ideas to help you spruce up your garden. Get designing, planning, and go enjoy your private green slice of paradise!
Looking for help installing? Request a quote below.