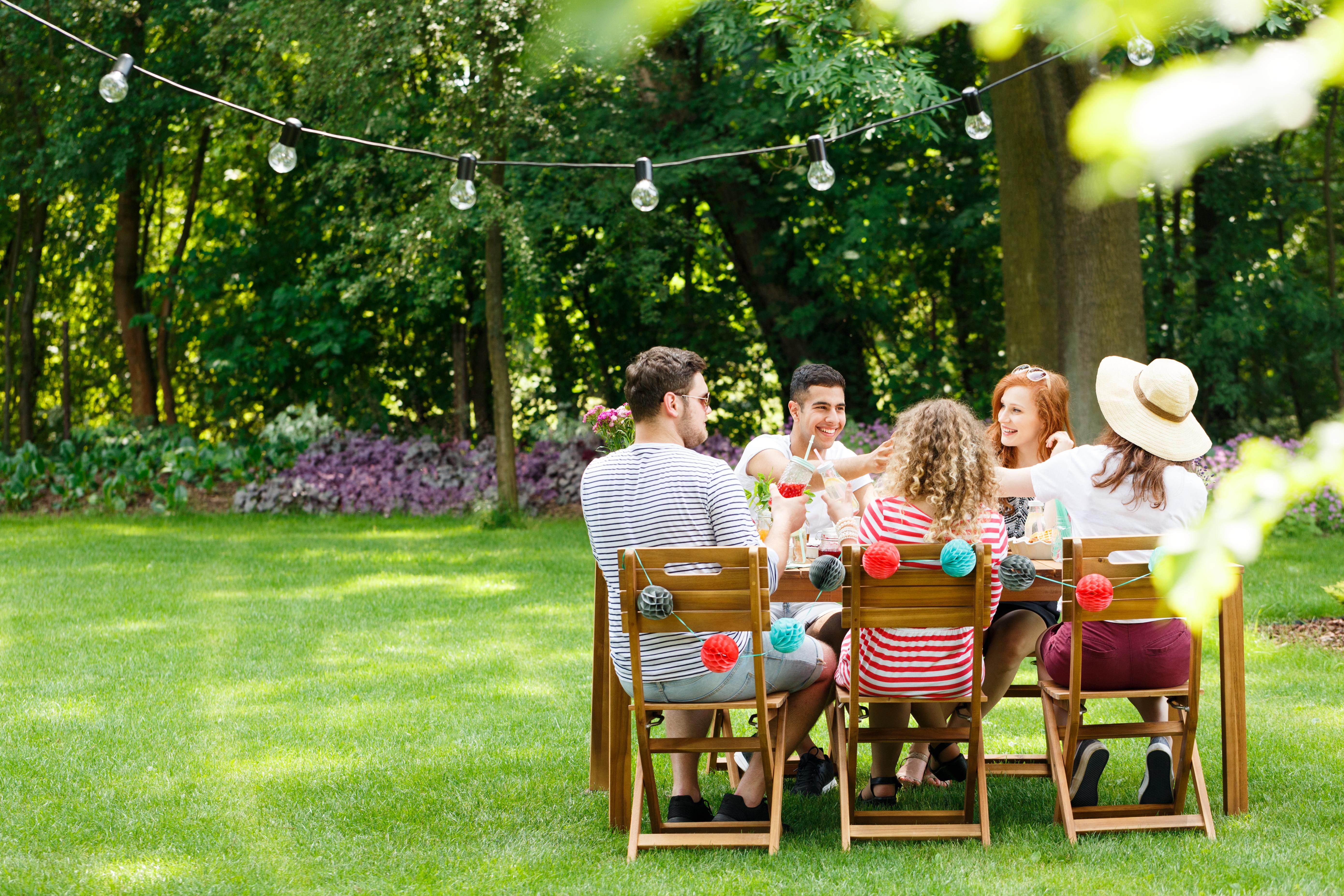 Garden parties are a summer essential, and as the warm weather draws to a close, there's a good chance you'll be planning a final blowout before we move into autumn. After a tumultuous year, you probably want to make your garden party as special as possible. Previous ones might have been nothing more than an umbrella and some plastic chairs, but it's not as hard as you might think to throw a showstopping party in your garden.
We've put together this essential guide on how to throw a garden party, full of tips covering all aspects of outdoor event hosting, including how to decorate your garden for a party and what to do at a garden party. So, if you have an outdoor party coming up soon, carry on reading to find out more about how to host a memorable event in your garden.
What Do I Need for a Garden Party?
If you've never hosted a garden party before, you're probably wondering what you need to get started. Here's a list of the basics you need to get your party off the ground:
A good size garden capable of holding 10+ people comfortably

Lights to illuminate the area if the party will be hosted after dark

Ample seating for everyone to sit back and relax

A canopy/gazebo to provide shelter in case it rains
If you have all of the above, you have the basic foundations of a successful garden party, but to take it to the next level, you'll need to do a bit more than just put some tables and chairs out, starting with the preparation.
Preparing Your Garden for a Party
At a party, the atmosphere is everything, and that's why it's so important for you to properly prepare your garden. If you have a grass lawn, you'll need to make sure it's trimmed so that people can see where they're walking.
You've likely planned your garden party well in advance, so if you're hosting at the end of summer, you'll have ample time to get your lawn in good condition following the harshness of summer. Oftentimes, the hot sun and UV rays can kill grass and cause dead patches, so make sure you water your lawn well in advance and sow seeds if you have completely bald patches. These spell bad news for party goers in case the ground is wet on the day of the party. Shoes will get muddy and people might sink into the ground, not to mention the mess if it rains. For this reason, you need to prepare your lawn well in advance.
If you have artificial grass, you don't need to worry about preparing your lawn because it will look beautiful and luscious all year long. You won't need to give a second thought to mud, simply give it a brush beforehand to make sure there is no surface debris.
Other things to do to prepare your garden include tidying up borders, getting rid of weeds, and cleaning decking/patio slabs if you have them. It's also worth getting your garden furniture out and inspecting it, checking to make sure it's in good condition, safe to use, and clean for people to sit on.
Decorating for a Garden Party
Once your garden is in a condition that is suitable for guests, you need to think about decoration. All good parties have a theme, so if yours does, buy small decorations that will emphasise this. If you've spent a lot of time and effort getting your garden to look presentable, you might not want to go all out and potentially ruin your hard work. This is understandable, but you needn't worry. Small accents like themed bunting and themed fairy lights can easily be looped over your fence without causing damage.
If you have a bench or table, you can also add in centrepieces to tie everything together without detracting from the beauty of your garden. Of course, the main way to bring your theme to life is through fancy dress, so get your guests all dressed up for an evening of fun!
Garden Party Entertainment
What is a party without entertainment? A simple gathering. You need some entertainment to take it to the next level, but is the hardest part for a lot of people. We recently compiled a list of garden games for kids, perfect for birthday parties and keeping little ones entertained. Games such as skittles, snakes and ladders, and the sack race are perfect for such events, and they're playable on all garden surfaces, too.
It's not just children who need occupying at a party – check out our list of garden games for adults for inspiration on how to keep your friends engaged at your garden event. From croquet to giant Jenga, there are a lot of different options to suit everyone and every garden, ensuring your party is fun and memorable.
Hospitality
Once you've got your atmosphere, decoration, and entertainment sorted, the only thing left to sort out is your hospitality. What we mean by this are drinks and food. A barbecue is an obvious option, and it works well for almost everyone. Barbecues keep people out of your house, meaning you have fewer rooms to tidy up at the end. The only thing to note with a barbecue is that if you have an artificial lawn, make sure you keep the barbecue off the grass for fire safety reasons.
We'd recommend putting the barbecue close to seating, so maybe put the barbecue on the patio and have guests sit under a gazebo so they can eat undercover. If you don't want a barbecue, try a platter and place it on a table under the marquee to keep it dry.
Get Your Garden Party Ready
If you're thinking about hosting a garden party soon and want to shave some time off the preparation, speak to us about how an artificial lawn can help.