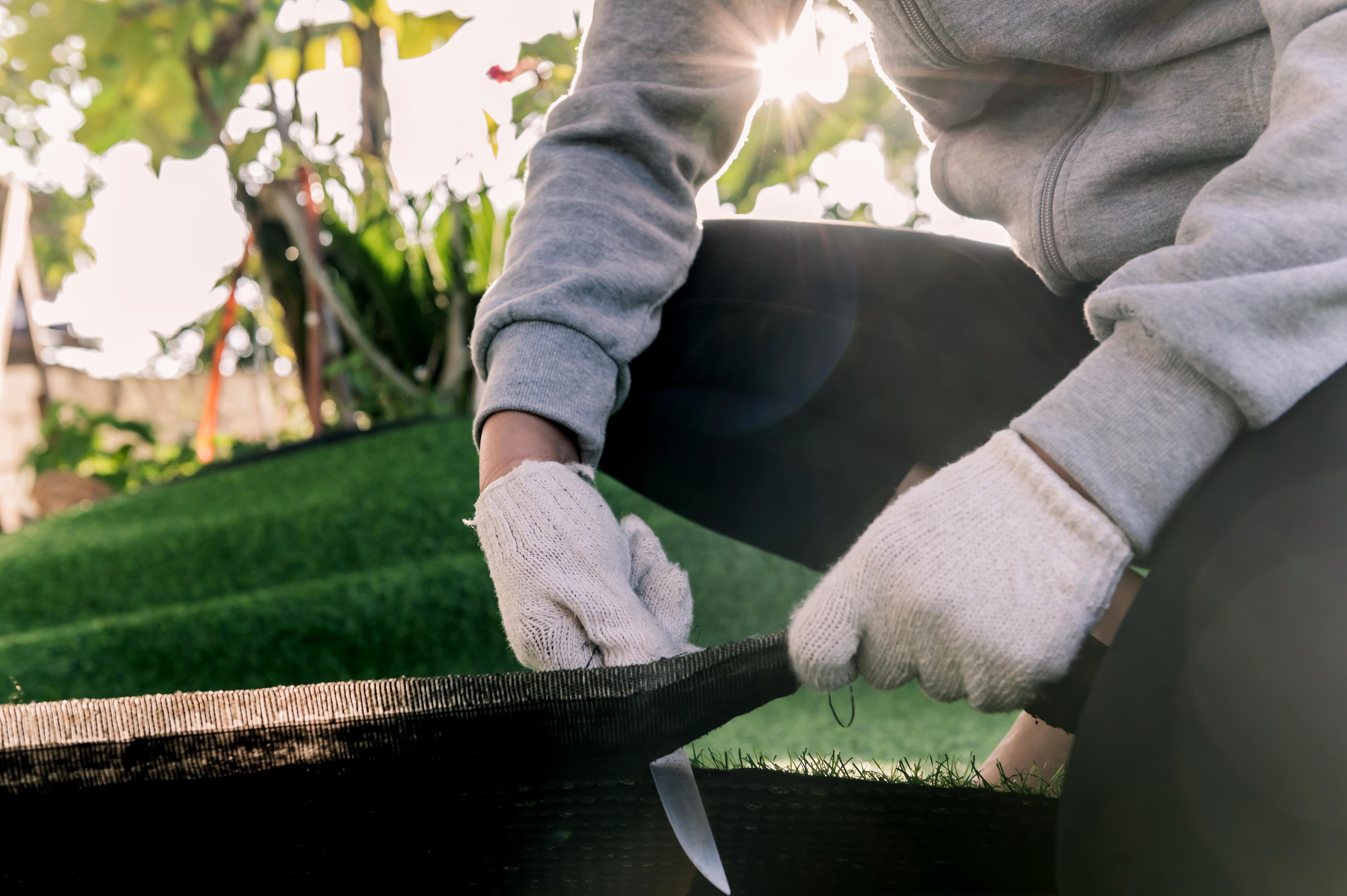 When you make the decision to replace your existing lawn with synthetic turf, you have a series of other choices to make thereafter, including how to install your artificial grass. You can either go down the route of completing a DIY fake grass installation, or you can choose to get your turf installed professionally.
Both options can produce great results, making it difficult for people to know which one to go for. If you're debating whether to do it yourself or to pay for a professional artificial grass installation service, here are some of the key things you'll want to consider.
Overall Finish
The decision to invest in artificial grass is typically borne from two main factors: low maintenance and good looks. You want your grass to look the best it can, free of join lines, lumps, bumps and imperfections. A professional installation is the only way you be guaranteed an outstanding finish.
The Artificial Lawn Company team has been installing fake grass for more than 20 years. Our team is among the most experienced and qualified in the industry. There's not much we haven't seen or done. From installing grass on hilly surfaces to cutting the lawn to suit a number of odd-shaped obstacles, we've done it all, and we achieve a five-star finish every time.
There are no join lines, the surface beneath the grass is properly levelled, and obstacles of any shape don't stand in the way of the grass sitting flush and looking smooth through the entire garden. Unfortunately, a DIY installation doesn't carry the same guarantees.
Even if you follow our step by step artificial grass installation guide, the finish won't be as professional as if a team of installers had done it for you. This isn't to say that you can't still achieve great results, because you most definitely can, but if your garden has any slopes or curved areas, it will be considerably harder for you to get a professional-quality finish.
For the best quality end result, we'd always recommend hiring professionals.
Installation Timeframe
Installing artificial grass is a lot harder than most people think, mostly due to the amount of preparation work that needs to be done, as well as the level of precision needed to achieve a high-quality finish. This can take time, especially if this is your first experience installing artificial grass. The process can be done in less than a week by yourself, but if you're working or have other things to do during that time, it could take longer.
A professional installation team will work quickly and efficiently, ensuring they cause minimal disruption to your everyday life. We understand how important a garden is, and we want you to be able to enjoy your new space as soon as possible.
A team of professional fake grass installers will be able to prepare your garden and lay your grass faster than if you were doing a DIY job, but if you have the time to dedicate to it, it might not be so much of an issue and could be an enjoyable project for you.
Manual Effort
As mentioned, installing fake grass isn't easy. You will need to put in a lot of work purely to get your garden ready for artificial lawn, and this can be a manual process. Depending on the type of surface you're working with, you may need to put more or less work in. For example, if you already have a real lawn laid, you will need to remove it and level out the surface. This is quite tricky, and if you have a big garden, it can take a long time. You can do it slightly easier by watering the sod in advance to make it softer, but you'll still need to put in a shift to pull up the top layer. Hiring equipment like a turf lifter can also make this process much easier but then you'll also need a skip to dispose of the removed turf / soil.
You then need to buy the proper subbase and add it to your base to level out the surface. This is a really important step. If your subbase is uneven, so too will your lawn. An uneven surface will create gaps along the seams, and this is both unsightly and a trip hazard. The subbase you put down also needs to be free draining and promote excellent drainage otherwise your new lawn will not last as long as it should.
A professional team will remove your existing garden surface using professional tools, and they will also remove the waste for you, so you don't need to worry about hiring a skip or making multiple trips to your local waste centre.
They will then level out the ground and use an aggregate mix for the subbase, taking care of things like roots and old ponds as these could sink over time, meaning they may require a different type of subbase. If you're doing a DIY installation, make sure you read our guide to artificial lawn subbase so that you're using the best option for your garden.
If you do a good job of levelling out the garden and using the correct subbase, you stand in good stead for an excellent finish on your lawn.
Installation Advice
Here at Artificial Lawn Company, we complete artificial grass installation in London, Essex, Kent and Surrey, but we provide our high-quality lawns nationwide across the UK. We realise that some people simply want to be hands-on with their garden project, and many of our customers live outside our installation catchment area. That's why we've put together a how to install fake grass DIY guide.
Our team follow the same process, and we've made it as clear and easy to follow as possible. If you follow each step carefully, you can achieve professional quality results by yourself. That being said, if you don't feel confident doing it yourself, or if you don't have much time to spare, please get in touch with us to discuss our installation service and to get an initial quote.
Many people wonder about the artificial grass installation cost. We do charge a fee for our service, but we also offer our customers the option the spread the cost through a 0% finance plan. If you'd like more information on our installation process, our finance plans, or if you've bought a lawn from us and want more advice on installing it yourself, please call us on 01474 364 320.